Armin van Buuren Brings ASOT Festival to Ultra 2015 Megastructure With Special Guests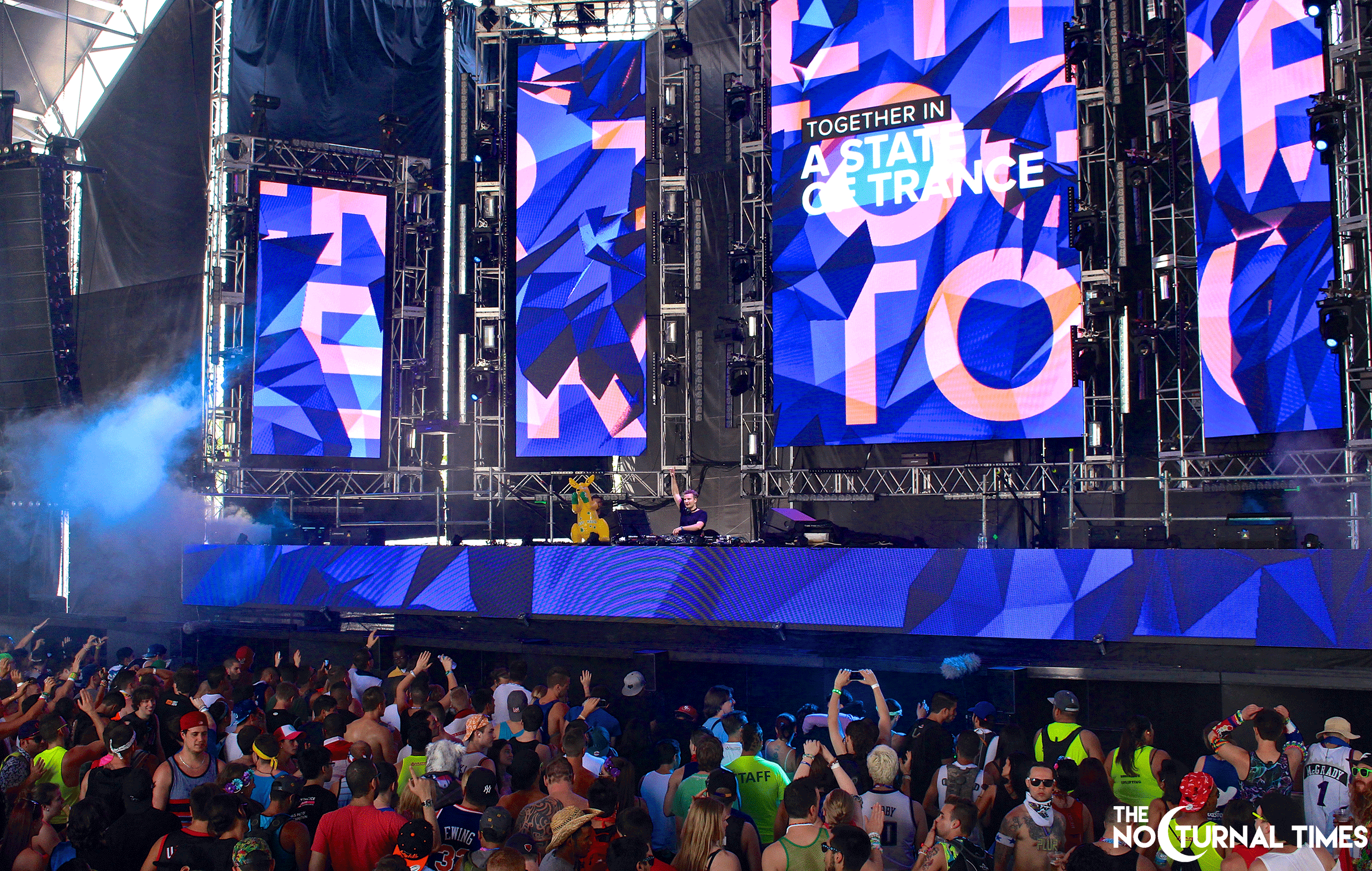 Making its grand return to the notorious Megastructure at Ultra Music Festival this year was Armin van Buuren's globally acclaimed A State of Trance. The five-time DJ Mag number one brought along some friends and label mates to celebrate the 700th edition of his renowned ASOT series, which has become an annual Miami Music Week highlight.
On Sunday, March 29, 2015, thousands of trance fans and dance music enthusiasts gathered at the Megastructure monstrosity. Packed from wall-to-wall, festivalgoers poured from all ends of the structure to catch a glimpse of their favorite DJs on the roster, including Armada Music label boss and ASOT originator, Armin van Buuren.
The diversifying lineup included a variety of trance and progressive acts as live sets from Paul van Dyk, Eric Prydz, Andrew Bayer, Markus Schulz, Andrew Rayel, MaRLo, Heatbeat, Mark Sixma, and of course, Armin van Buuren served as the Sunday soundtrack in sunny Bayfront Park.
Kicking things off at noon, Mark Sixma set the mood for the eleven-hour spectacle, which was broadcasted live from start to finish. As the day progressed, the crowd continued to grow as Armada artists Heatbeat were to follow. Heatbeat took the stage at 1 p.m., incorporating their own tracks "Rocker Monster," last year's banger "Aerys," and tons of Heatbeat remixes, mash-ups, and unreleased IDs.
At 2 p.m., MaRLo began his perfectly packed out set with an intro mix of "Haunted" featuring Jano as well as additional vocal tracks, including his new "Hold It Together" featuring Christina Novelli, and a mash-up of "Black Is The Visions" with vocals by Cara Dillon. Crowd favorite "Boom" had the dance floor waving their hands from side to side in unison as MaRLo brought out a blow up kangaroo proudly signifying his citizenship of Australia. One of the live set highlights was MaRLo's remix of the Marcel Woods "Advanced" as it blasted throughout the Megastructure.
Andrew Rayel followed with an eccentric combination of "Find Your Harmony" productions, new remixes, and mash-ups. Highlights of Andrew's spectacular set included: Armin van Buuren & Andrew Rayel vs. ID vs. R3hab & Swanky Tunes feat. Max C – "EIFORYA" vs. ID vs. "Sending My Love", a mash-up of three Armin van Buuren tracks with W&W "Together" vs. "Intense" vs. "Bigfoot" vs. "Ping Pong," and a personal favorite, Jorn van Deynhoven & Andrew Rayel vs. Calvin Harris feat. Example – "We'll Be Coming Freaks." This young talent made complicated DJ skills seem simple with his seamless mixing and track selection.
The Coldharbour connoisseur and Miami native, Markus Schulz, gave Ultra his signature style as usual. Tunes showcased from his recent "Scream" album series included "Message In The Sky" featuring Seri, his Klauss Goulart collaboration "Fireworks" featuring Paul Aiden, "Destino" with Tove Lo's "Habits (Stay High)," and Beat Service vs. Markus Schulz & Ana Diaz "Nothing Without Fortuna (New World Punx Mash-up)." Slaying unicorns throughout the course of his one hour and fifteen minute trance showcase, Markus closed with the latest single release from New World Punx, "Memories" featuring Cara Salimando.
Next up was Anjunabeats DJ and producer, Andrew Bayer. With a prime set time and an airplane hanger filled with animated trance fans from all over the world, Mr. Bayer is no stranger to ASOT and was undeniably eager to impress. At 5:45 p.m., Andrew dropped "Do Androids Dream" in all 3 parts, Above & Beyond's "Hello," as well as their remix of New Order's "Blue Monday." Pounding out his own productions, Bayer proceeded with "England," "The District," and finished with a mashup of his own "Once Lydian" with Above & Beyond's "Group Therapy" classic, "Sun & Moon," which features Richard Bedford.
Progressive house at its finest, Eric Prydz provided a diverse ensemble during ASOT setting the tone to deep and dark. Having never been part of an "A State of Trance" event and typically not considered as a trance artist, fans were curious as to what sound they might hear from Prydz during the ASOT Festival. Sure enough, the legend stuck to his proverbial guns and provided a plethora of unreleased Pryda and Cirez D tunes. No one can deny singing and moving along to "Everyday," the vocals of "Generate," and his stunning remix of CHVRCHES "Tether," while Eric's young daughter Leja joined him in the Megastructure booth.
The originator and man who started it all, Armin van Buuren, provided ASOT-goers with a 1.5-hour showcase in the Megastructure, beginning with his ASOT 2015 included "Safe Inside You" featuring Betsie Larkin, which was released under his Rising Star moniker. This marquee performance took to the faster and harder side of trance as Armin raised the BPM to 138 and played some serious uplifting tunes.
With his passion visibly shining through, Armin smiled as he played Lange "Imagineer (Alex MORPH remix)," Jordan Suckley's "Droid," and a powerful mash-up of DJ Tim & Misjah & John Askew vs. Martin Luther King's "Access." More classic Armin gleamed through in the form of "Communication (Paul Oakenfold Full On Fluoro Mix)," Gaia "Empire Of Hearts, " and not to mention, "Together (In A State Of Trance)," the official ASOT 700 anthem. As the clock struck 10 p.m., van Buuren concluded with a purely unforgettable Megastructure finale as John Lennon's "Imagine (Scott Bond Rebooted Bootleg/Armin van Buuren Edit)" blared through the massive sound system and serenated the thousands who remained in "A State Of Trance."
Trance icon Paul van Dyk delivered a one-hour closing DJ set and served as an integral part of the celebration. In typical PvD fashion, the BPM remained high as he threw down some massive tracks including Paul van Dyk & Jordan Suckley "City Of Sound," Max Graham & Maarten De Jong "Lekker," and a brilliant mash-up of Ummet Ozcan vs. Paul van Dyk & Las Salinas "Here & Now" vs. "Crush." Then the classic van Dyk tracks hit the waves of the structure as Paul turned out with Estiva vs. Paul Van Dyk & Plumb's "I Don't Deserve You" with "Dinodrums," and a phenomenal finale, taking us back in time with "Home" featuring Johnny McDaid.
Van Buuren provided fans with a live Main Stage performance on Saturday, March 28, where he debuted the Mark Sixma remix of his latest production "Another You" featuring Mr. Probz, which is the first single from his forthcoming studio album due out later this year.
Photos: Mark Mancino