Armin van Buuren ASOT Year Mix 2017 Mixes the Year's Biggest Dance Tracks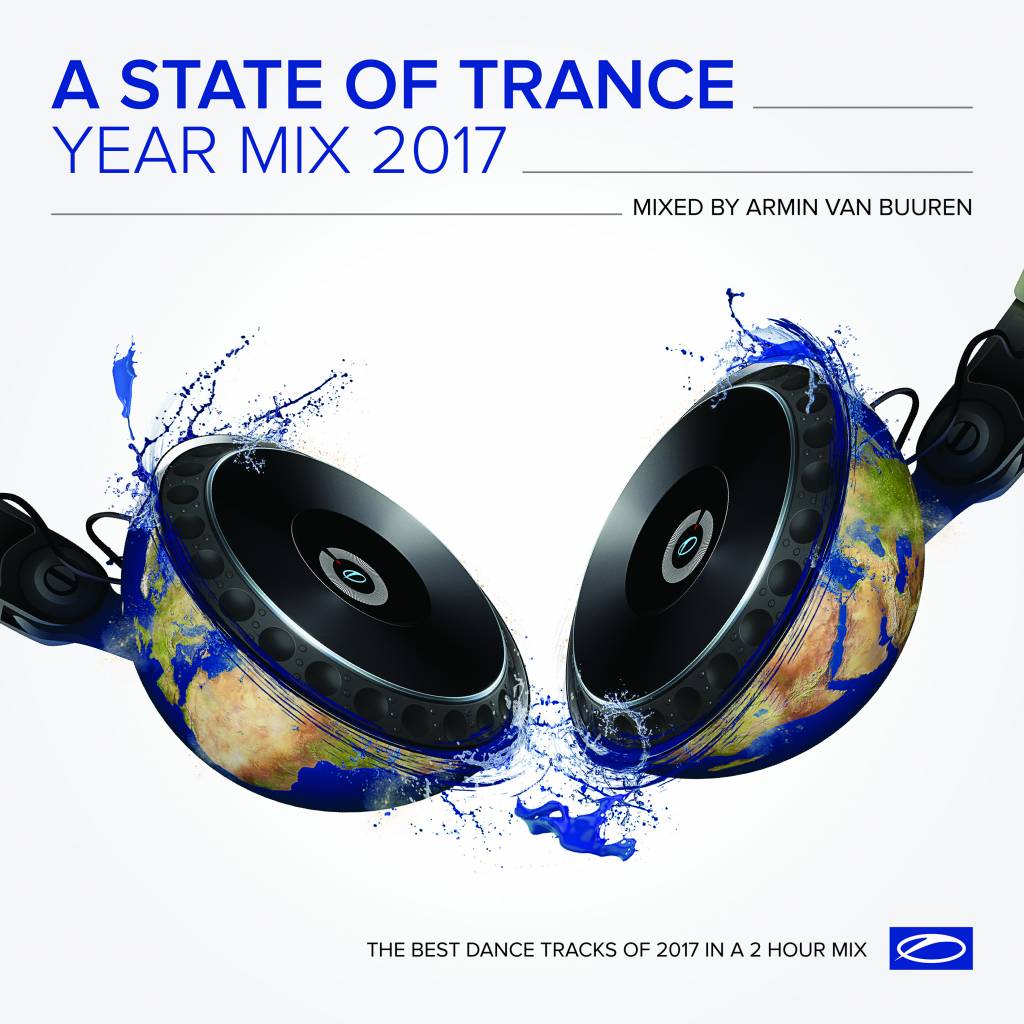 Mixed by Armin van Buuren himself, the highly anticipated yearly tradition continues with two hours of the best trance and progressive tunes of 2017. The A State of Trance Year Mix 2017 is now available on double CD and wherever you listen to music.
For the fourteenth consecutive year, Armin van Buuren has created a timeless mix comprised of his favorites tracks and the results of fan voting for Tune Of The Year. Before closing out his ASOT radio show with one hundred of the biggest trance tracks in one hundred and twenty minutes, Armin has released the full Year Mix today (Fri., Dec. 15) for your listening pleasure.
The A State of Trance Year Mix 2017 starts off with a "Once Upon A Time" intro leading directly into the deep progressive beats and building up in bpm to melodic and serious uplifting. These 105 tracks from another amazing year in music include many of our personal favorites like Gareth Emery & STANDERWICK feat. HALIENE "Saving Light," Super8 & Tab "Cosmo," Ferry Corsten presents Gouryella "Venera [Vee's Theme]," Davey Asprey "Fallout," Eco & Driftmoon "Trust In The Wind (Driftmoon Rework)," Ton TB  "Electronic Malfunction (Paul Denton Remix)," Bryan Kearney & Plumb "All Over Again," and Armin van Buuren vs Vini Vici feat. Hilight Tribe "Great Spirit," to highlight a few.
A true musical masterpiece, the Year Mix is beloved by trance fans far and wide. Locking himself in the studio for months to prepare the sought-after mix, Armin's hard work and dedication are the integral components of getting this mix done to perfection. The years will come and go but the sound that defined 2017 will forever live in the ASOT Year Mix. Listen to the full two hour mix over and over with us.
Armin van Buuren – ASOT Year Mix 2017 full track listing:
CD1
1. Armin van Buuren – A State Of Trance Year Mix 2017 (Intro – Once Upon A Time)
2. Omnia & DRYM – Enigma
3. Yoel Lewis – Tuviana
4. Sound Quelle & Max Meyer feat. Brandon Mignacca – Andromeda
5. Rodg – Right Away
6. Sultan + Shepard – Bloom
7. Seven Lions & Jason Ross feat. Paul Meany – Higher Love
8. Ferry Corsten – Blueprint
9. ATB & Andrew Rayel – Connected
10. Above & Beyond feat. Zoë Johnston – My Own Hymn
11. Alpha 9 – Burning Heart
12. Gabriel & Dresden feat. Sub Teal – This Love Kills Me (Gabriel & Dresden Club Mix – Above & Beyond Respray)
13. Deadmau5 – Polaris
14. Cosmic Gate feat. Emma Hewitt – Tonight
15. Equador – Bones Of Man (Gareth Emery Remix)
16. Andrew Rayel & Christina Novelli – Lighthouse
17. Andrew Rayel & Emma Hewitt – My Reflection
18. Above & Beyond feat. Justine Suissa – Alright Now (Above & Beyond Club Mix)
19. Ana Criado – Still There's You
20. Armin van Buuren feat. Josh Cumbee – Sunny Days (Club Mix)
21. Denis Kenzo & Hanna Finsen – Dancing In The Dark
22. Ferry Corsten feat. Niels Geusebroek – Waiting
23. Gareth Emery & STANDERWICK feat. HALIENE – Saving Light
24. Denis Kenzo feat. Sveta B. – Just To Hear
25. Giuseppe Ottaviani with Tyler England – Firefly (Omnia Remix)
26. DIM3NSION & Rama Duke – Here With Me
27. Dash Berlin feat. Bo Bruce – Coming Home
28. ilan Bluestone & Giuseppe de Luca – Frozen Grounds
29. Armin van Buuren – My Symphony (The Best Of Armin Only Anthem)
30. ReFeel – Always (Venom One Remix)
31. Armin van Buuren – I Live For That Energy (ASOT 800 Anthem)
32. Super8 & Tab – Cosmo
33. Cosmic Gate & JES – Fall Into You (Sunny Lax Remix)
34. Armin van Buuren & Garibay feat. Olaf Blackwood – I Need You (feat. Olaf Blackwood)
35. Armin van Buuren and Sunnery James & Ryan Marciano – You Are
36. MaRLo & First State – Falling Down
37. Alpha 9 feat. Koven – Only Good Mistake
38. Andrew Bayer & ilan Bluestone – Destiny
39. Mangal Suvarnan feat. Eshani S – Insanity
40. Alexandre Bergheau – Summer's Gone (Yoel Lewis Remix)
41. Ruben de Ronde X Rodg X Ben Gold – BombSquadKittens
42. Super8 & Tab – Pressure
43. Above & Beyond feat. Richard Bedford – Northern Soul
44. Protoculture – The Descent
45. Orjan Nilsen – Hi There Radio
46. Sultan + Shepard feat. Nadia Ali & IRO – Almost Home (Mark Sixma Remix)
47. Protoculture – Pegasus (Vigel Remix)
48. Orjan Nilsen feat. Rykka – The Hardest Part
49. Armin van Buuren vs Human Resource – Dominator
50. Armin van Buuren – This Is A Test (Arkham Knights Remix)
51. NWYR – Voltage
52. KhoMha – Laberinto
53. Abstract Vision – Bombshell
CD2
1. Kyau & Albert – Trace
2. Assaf feat. Nathan Nicholson – Lost Souls (Radion6 Remix)
3. Robert Nickson – Heliopause
4. Alexander Popov – Awake The Flow
5. Kyau & Albert – Mein Herz (Davey Asprey Remix)
6. 4 Strings & Denise Rivera – In The Middle Of A Dream
7. Ben Gold – Kingdoms
8. FloE & DJ T.H. feat. Kate Miles – Like A Miracle (Denis Kenzo Remix)
9. Ferry Corsten presents Gouryella – Venera [Vee's Theme]
10. Ben Gold x Omnia – The Gateway
11. Tom Fall – Kaamos
12. Avancada vs Darius & Finlay – Xplode (Grahham Bell & Yoel Lewis Remix)
13. Beatsole – Before I Wake
14. PureNRG – Prophecy [Istoria 2017 Anthem[
15. RAM & Arctic Moon with Stine Grove – A Billion Stars Above
16. The Noble Six – Firewalker
17. Davey Asprey – Fallout
18. Solarstone & Meredith Call – I Found You (Giuseppe Ottaviani Remix)
19. Aly & Fila – Beyond The Lights
20. Aly & Fila, Philippe El Sisi, Omar Sherif, Karim Youssef – The Chronicles (FSOE 500 Anthem)
21. David Gravell – Melbourne (DRYM Remix)
22. Allen Watts – Arizona
23. David Forbes feat. Emma Gillespie – Shadows (Cold Blue Remix)
24. RAM feat. Stine Grove – Forever And A Day (Giuseppe Ottaviani Remix)
25. Giuseppe Ottaviani – Lumina
26. Giuseppe Ottaviani & Jennifer Rene – Home (OnAir Mix)
27. Paul van Dyk & Ronald van Gelderen feat. Gaelan & Eric Lumiere – Everyone Needs Love (PvD Club Mix)
28. MaRLo – Onaj
29. Aly & Fila with Ferry Tayle – Concorde
30. Paul van Dyk & Pierre Pienaar – Stronger Together
31. Craig Connelly feat. Jessica Lawrence – How Can I (John O'Callaghan Remix)
32. Neelix – 1000 Sterne (Talla 2XLC Uplifting Rework)
33. Jorn Van Deynhoven – Rising High
34. Scott Bond & Charlie Walker vs Trouser Enthusiasts – Sweet Release
35. Aly & Fila & Ana Criado – All Heaven
36. Dogzilla – Without You (Will Atkinson Remix)
37. Susana – Only Summer Knows
38. RAM – RAMexico
39. Cold Blue – Once In Time
40. Steve Allen & Sarah Lynn – A Broken Child
41. James Dymond & Chris Schweizer – Spectrum
42. Eco & Driftmoon – Trust In The Wind (Driftmoon Rework)
43. Gaia – Saint Vitus
44. The Space Brothers – Shine (Jorn van Deynhoven Remix)
45. Ton TB – Electronic Malfunction (Paul Denton Remix)
46. Bryan Kearney & Plumb – All Over Again
47. Heatbeat – Mechanizer
48. Shinovi – Indian Summer
49. Armin van Buuren vs Vini Vici feat. Hilight Tribe – Great Spirit
50. Alchimyst feat. Staccato – Deva
51. W&W x Vini Vici – Chakra
52. DRYM – Wraith
53. Will Atkinson – Leave A Message
54. Armin van Buuren – A State Of Trance Year Mix 2017 (Outro – A Magical Party)