Alvin Risk Reveals New 'Holograms' Project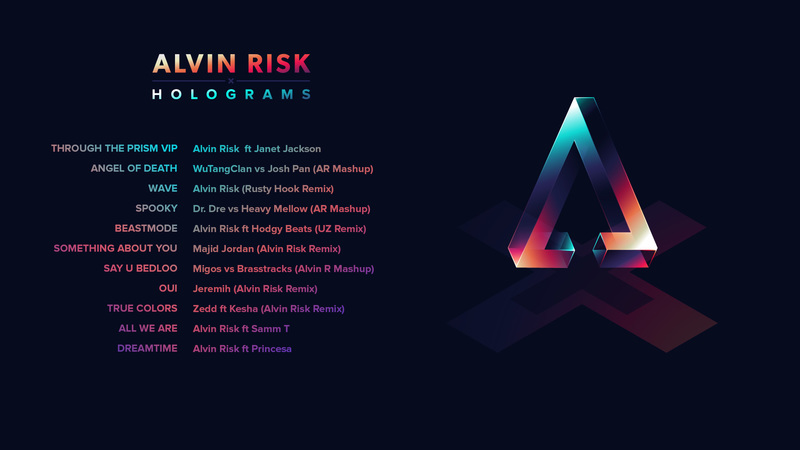 'Holograms' is the latest project from OWSLA and Fool's Gold-famous DJ and producer, Alvin Risk
Alvin Risk's new project, Holograms, is his personal collection of tracks with new exclusives and features Janet Jackson and a remix of Zedd's "True Colors" featuring Kesha, which was approved by the Interscope artist himself.
"Holograms is a glimpse of some songs I've been working on for the last few months. It feels good to have them all in one place and present them like a movie trailer," said Risk.
The collection of 11 songs crosses genres and features hip-hop, R&B and pop. Risk also debuts his original track "All We Are" featuring Samm T. His mashups are put together very smoothly and are more than pleasing to the ears. Listen and download it for free at alvinrisk.com.
The mixes versatility takes listeners though a journey consisting of various tempo's, which can easily cross moods that are suitable for most occasions; from listening in your car to getting ready for a night out. His samples are ingeniously used throughout and include WuTangClan, Dr. Dre, and Jeremih.
Risk recently released his single "Beastmode" on Fool's Gold Records which Complex described as "the kind of record that runs through you with the impact of Marshawn Lynch." The song can also be heard on the collection. He's also been a part of massive collaborations like, "Try It Out" with Skrillex (featured on Call Of Duty: Black Ops II), and "Electro" with Hans Zimmer (released on The Amazing Spiderman 2: The Original Motion Picture Soundtrack).
Risk has performed on the biggest stages around the world including Coachella, Lollapalooza, Ultra Music Festival, and EDC Las Vegas, as well as toured alongside the likes of Skrillex, Zedd, Steve Aoki, and Kaskade.