10 Things Not to Miss at Electric Forest 2023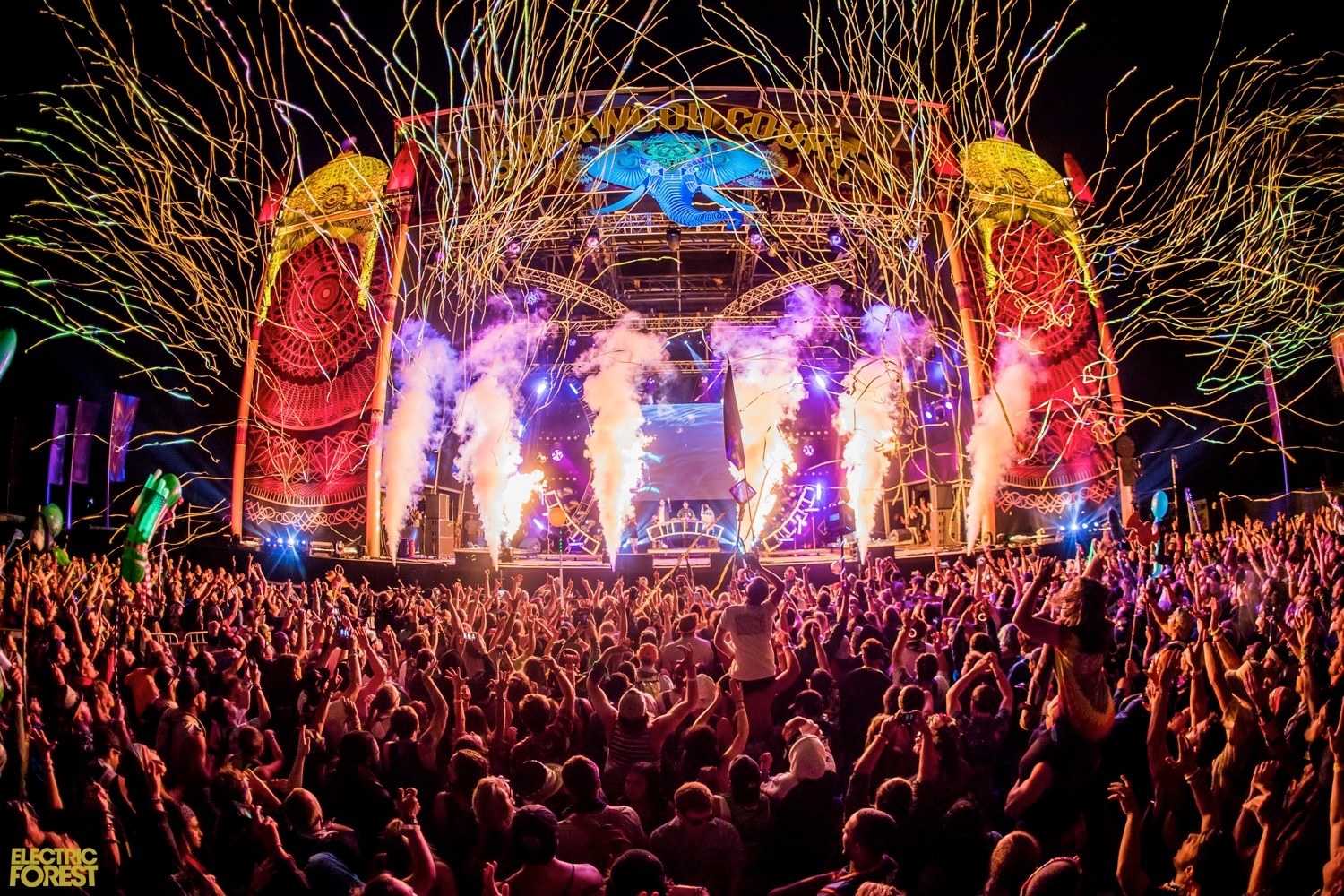 After anxiously waiting for this special time of year to arrive, the time has finally come for festival lovers to indulge in all the whimsical experiences the most magical place in the world has to offer. Three more sleeps until the Electric Forest gates open, and we've never been more excited for this moment.
Since 2011, Electric Forest has held one of the most uniquely curated music festival concepts to date, and it continues to leave attendees spellbound year after year with its one-of-a-kind, enchanting production elements. Electric Forest isn't just a festival, it's home.
On top of its eye-catching, enchanting production, diverse musical programming, and immaculate vibes all around, there's always something new and uncanny to discover at Electric Forest. Even dedicated EF goers who return year after year claim that they discover something new each time they attend. This in itself speaks volumes about the continuous dedication put into this unparalleled festival's overall production elements.
No matter where in the Sherwood Forest you reside, you're bound to find yourself completely mesmerized by all of the beautiful secrets the forest has to offer. This year's quickly approaching rendition of Electric Forest has a wide array of new additions and immersive experiences planned, and lucky for you, we've curated a list of ten things you won't want to skip out on during this year's edition. Happy Forest!
Attend a Secret Pop-Up Set
With the festival grounds being so vast, there's not always going to be a scheduled performance at each stage at all times. If you have some downtime because your must-see acts aren't performing, exploring the forest and bopping into unexpected sets is a must. We once experienced Sven Lions (Seven Lions' alias) going b2b with Dimibo at The Observatory who completely shocked everyone with a random psytrance set. Another year, the Honeycomb stage hosted a spontaneous birthday party celebration for an artist that was on the lineup. To this day, we have no idea who was performing or whose birthday they were celebrating. But it was the most lively birthday party of all time. If you hear music that sounds intriguing to you and you don't know where it's coming from, just follow it. You won't regret it.
Partake in a late-night RV afterparty
After all the scheduled performances end inside the forest and they close the festival grounds for the evening, don't worry, several after-parties always keep the festivities going over at the RV campsites. You never know who you'll find mixing behind the decks with other fellow EF performers. Last year, John Summit and Subtronics (Subjohnics) went b2b all night long and their set is still being talked about to this day. The best part of it all is that anyone can join in on all the after-hours thrills. We strongly suggest making it a point to stay up past the festival closure time at least one night and experience this night-into-day aspect of the festival.
Find Your Electric Forest Soul Mate at the Matchmaker Station
Every festival goer dreams of someday finding their "rave bae". Luckily, Electric Forest has its very own matchmakers on-site over at The Hangar to help you with all your love life needs and pair you up with your match made in heaven. When you arrive at their intrinsic kiosk, festival personnel make you fill out a dating profile and then present you to a specialist that'll help you find your perfect Electric Forest soulmate. It's not every day you hear of a music festival offering a service as unique as this, so if you're currently looking for love, we highly suggest making a pit stop here at some point. Chances are, your EF soulmate is somewhere out there waiting for you.
Indulge in All the Amazing Food & Beverage Vendors
There's no debate that the food and beverage vendors at Electric Forest are incomparable to those at other festivals. No matter where on the festival grounds you reside, there will be a delicious treat or drink available for purchase. This year, attendees are thrilled about the return of the world-famous Spicy Pie and the retro-inspired Cereal Sundae Bar after not partaking in all the food-loving fun this past year. Some other fan-favorite vendors include The Cheese Bodega, Buena Vida's agave-infused drinks, Island Noodles, Wookiedogs, Paula's
Pancake Palace, Grilled Cheese Incident, and many more. Remember to stay hydrated and consume at least 1-2 big meals throughout the day to make it through the bustling four-day weekend!
Stumble Upon a Heartwarming Performance at the Piano Located in the Middle of the Forest
There are plenty of videos roaming the Internet featuring various EF artists playing surprise performances in the middle of the forest. Not on a stage, but on an acoustic piano placed in the most random location you could possibly think of. These performances are never announced last minute anywhere, they're just performances you stumble upon if you're in the right place at the right time. Last year, the one and only Porter Robinson played his acoustic versions of singles from his latest Look At The Sky album. A few years back, we also witnessed Said The Sky playing sentimental piano covers to festivalgoers that happened to be in the area. This piano was placed strategically to highlight the significance of sharing the gift of live music with others. And it's absolutely beautiful.
Find Something to Trade at the Trading Post
The Trading Post is one of Electric Forest's most rare and iconic treasures. It gives festival goers an opportunity to barter and trade just like in the olden days. Their only rule is that no one is allowed to trade in anything made of plastic or that specifies it was "Made in China," making the entire experience just that more wholesome and meaningful. Those who choose to participate in all the barter and trading fun can exchange anything from handmade clothing and jewelry to buttons, pins, and other valuable knick-knacks. With so much to offer all around the locale, there's something that's bound to catch your eye. The best part of it all is that you can also listen to some of your favorite artists playing while trading since there's a stage right next to the Trading Post.
Attend This Year's Specially Curated EF Events
This year, the EF curators went all out with their specially curated events, and we're totally here for it. On Thursday, June 22, The Observatory will be hosting Electric Forest Radio's "Deep In The Forest" event, featuring Infected Mushroom, Cosmic Gate, Nils Hoffmann, EMBRZ, and Massane. Bassruh will be making its annual return to Tripolee on Friday, June 23 with names like Champagne Drip, DJ DIESEL, Ganja White Night, and many more. On Saturday, June 24, ODESZA's Foreign Family Collective fans can partake in the shenanigans over at The Observatory with a unique lineup featuring Golden Features, Devault, MEMBA, Kasbo, Phatoms, and Ford. The final curated event of the weekend will be put on by BLOND:ISH's very own Abracadabra imprint, presenting soundscapes by the brand boss herself, Amémé, Bontan, Malóne, Miane, and Azzecca.
Catch Headliners That Haven't Performed in the Forest For a While
This year's star-studded Electric Forest lineup features renowned artists that have not returned to Sherwood Forest in quite some time. Deep house guru Lane 8's last soul-stirring, performance was back in 2016, almost six years ago. Headliners Above & Beyond and Illenium have not returned since their mesmerizing 2017 sets, and ODESZA's last live performance was at the Ranch Arena in 2019 before the pandemic hit. We can't even begin to put into words how ecstatic we are to see these highly appraised names in music make their grand EF comeback this time around! Their sounds are an absolutely perfect fit for the EF vibe.
Partake in All the Psychedelic Wedding Chapel Festivities
Going back to the topic of love, not many festivals are recognized for including wedding chapels to allow lovers to tie the knot in the most marvelous way possible. Electric Forest is known for its all-encompassing psychedelic chapel, a place where thousands of attendees have experienced some pretty crazy weddings (and other activities). Some attendees only partake in all the excitement for fictitious purposes but others seriously plan to host their fairytale forest weddings ahead of time and have an officiator present. Whether you're the one actually getting married or you're simply there to partake in all of the trippy chapel's amusement, it's never a bad time inside the chapel. All are welcome at this wedding chapel where peace, love, unity, and respect are highly valued. Random drag shows take place here too by the way, so make sure to scope one out throughout the weekend.
Leave a Gift and Get a Gift at the Giving Tree
The Giving Tree is a symbol of Electric Forest's wholesomeness and devotion to humanity. When visiting the tree, festival goers must leave a gift (or multiple gifts) dispersed around the tree so that someone else who needs it or finds a deep sense of interest in it can pick it up in exchange. Chances are, doing this will make someone's day just as finding something that resonates with your soul will make yours. This tree is a beautiful representation of what good karma signifies, so partake in this positive karmic cycle and see what good things come your way after leaving a little something for someone else to enjoy.