Moby, Pasquale Rotella, Paul Oakenfold, Markus Schulz to Speak at EDMBiz 2016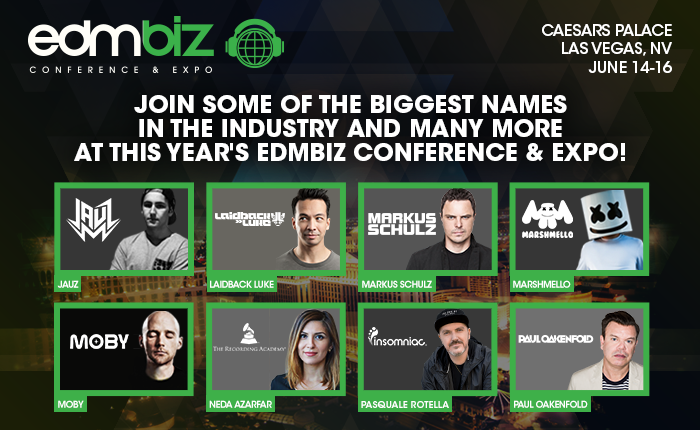 EDMbiz 2016 calls upon dance music icons, Insomniac Founder and CEO for fifth installment
Relocating to Caesars Palace for an expanded fifth annual installment, EDMbiz Conference & Expo kick-starts EDC Week 2016 in Las Vegas on Tuesday, June 14 – Thursday, June 16. Confirmed artists to partake in EDMbiz 2016 at Caesars Palace include: Moby; Paul Oakenfold, Markus Schulz, Junkie XL, Laidback Luke, Jauz, Marshmello, Danny Howard, and more.
Hosted by KCRW's Jason Bentley, the annual electronic gathering, EDMbiz 2016, will host three days of buzz-worthy panels and enlightening keynotes. Join other likeminded dance music enthusiasts for a gathering of industry professionals, peers, and the biggest names in the business. Culminating interesting topics about the industry, prolific conversation, and engaging discussions, EDMbiz is the Vegas edition of EDM school.
EDMBiz 2016 Expands to Caesars Palace Las Vegas For 5th Annual Installment
"As the dance music industry continues to evolve, its influence is felt across mainstream radio, the festival scene, and pop culture in general," reveals Pasquale Rotella, Insomniac Founder and CEO. "This year's conference will bring together top artists, executives, and experience-makers to share ideas and discuss innovative ways to continue the momentum and provide invaluable advice for newcomers on how to make their mark on the scene."
This year, Pasquale offers his first keynote to the conference, where he plans to sit down for an intimate, one-on-one discussion; sharing his thoughts on the current state of the industry his plans for Insomniac's growth, and the future of the culture.
Afrojack will provide a headlining performance at OMNIA, which is also located at Caesars Palace, on Tuesday, June 14. All EDMbiz badge holders will have complimentary access prior to 1:00 am. The EDMbiz official closing night party will be held once again at Marquee Nightclub on Thursday, June 16, featuring Galantis & Loco Dice. All EDMbiz badge holders will receive complimentary admission before midnight.
Check this space for additional speakers to be announced in the coming weeks.
For more information on EDMbiz and to purchase your badge, visit EDMbiz.com.