Zedd at Encore Beach Club at Wynn Las Vegas on Friday, May 27 – MDW 2016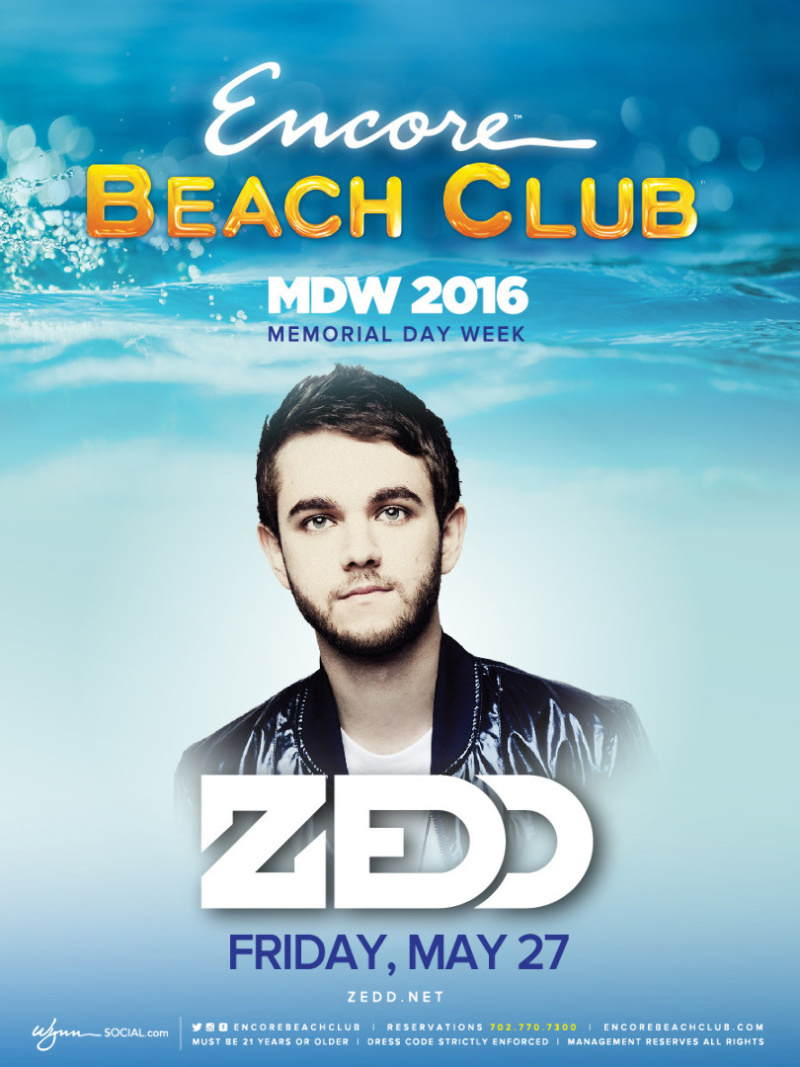 Zedd at Encore Beach Club brings Memorial Day Weekend event to Wynn Las Vegas on Friday, May 27, 2016
Electronic dance music (EDM) mainstay and familiar face, Zedd, will bring a MDW 2016 showcase to the chic Las Vegas pool venue, Encore Beach Club. Located at Encore at the Wynn Las Vegas, the venue will some some of the biggest events throughout Memorial Day Week, including Zedd, Skrillex, Kaskade, Avicii, and David Guetta.
Two studio albums Clarity (2012) and True Colors (2015), and a plethora of solo productions, collaborations, and remixes, Anton Zaslavski, most commonly known to electronic enthusiasts s Zedd, has soared to the top of the scene. His track "Clarity" feat. Foxes became an instant dance floor and radio classic from its release in 2012.
Zedd has released familiar tunes such as "Spectrum" feat. Matthew Koma; "Stay The Night" feat. Hayley Williams of Paramore; "Find You" feat. Matthew Koma and Miriam Bryant; "I Want You To Know" feat. Selena Gomez; "Beautiful Now" feat. Jon Bellion; and in 2016, he released "Candyman" with Aloe Blacc to commemorate the 75h anniversary of M&Ms.
Zedd & Aloe Blacc "Candyman" Celebrates M&M's 75th Anniversary
Following the release of his second studio album True Colors last year, Zedd toured the world in lieu of the LP with a tour of the same time. The True Colors Tour encompassed stunningly breathtaking visuals and offered attendees a spectacle like no other with its unparalleled production.
In April, Zedd headlined Goldenvoice's Coachella Valley Music & Arts Festival in Indio, California, for back-to-back weekends. During his performance, he brought out a special guest vocalist for a new rendition of his smash hit, "True Colors." Kesha joined Zedd on stage for a new variation of the track, which was later released through Interscope Records, following the live performance.
Zedd and Kesha 'True Colors' Sees Release on Interscope Following Coachella Performance
Tickets for Zedd at Encore Beach Club at Wynn Las Vegas on Friday, May 27, 2016, are available HERE.
More information about Encore Beach Club, including an upcoming event calendar, is available HERE.
For more information on Zedd, visit zedd.net.