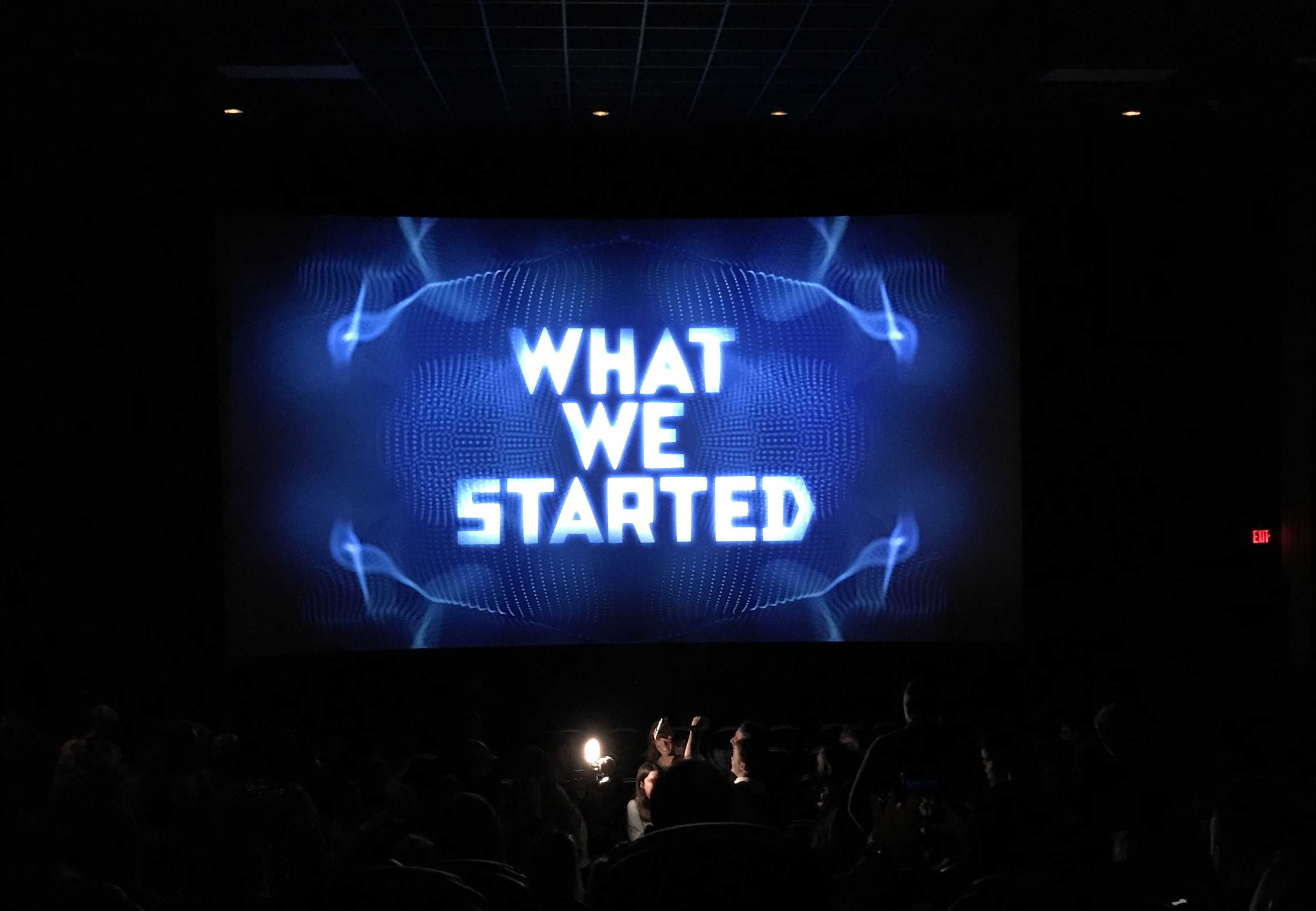 'What We Started' Makes Big Screen & iTunes Debut, Bert Marcus & Cyrus Saidi Discuss the Film [Interview]
What We Started is the best electronic music film of our time, offering a precisely accurate adaptation of the evolving scene and its worldwide domination. The documentary feature made its debut in South Beach, Miami, Florida on Thursday, March 22 during Miami Music Week. Those in attendance for the red carpet event included stars of the film, the producers, and other artists & celebrities. Among those partaking in the What We Started premiere festivities were Martin Garrix, Carl Cox, Paris Hilton, Paul Oakenfold, Afrojack, Oliver Heldens, AFSHeeN, Bert Marcus, Cyrus Saidi, Cassie Hamar, Martin Garrix's parents, and many more.
From Ultra Music Festival to Ibiza, The BPM Festival to Electric Daisy Carnival, What We Started touches all points within the industry and forecasts where the community is headed. "In the world of electronic dance music, we are sort of in uncharted territory," according to Moby. Let's face it: Electronic music is a cultural phenomenon, a revolution. But have you ever really thought about what we started? There is now a film that captures the true essence and beauty of the scene; a film that authentically documents the highs and lows.
Carl Cox and Martin Garrix are the main subjects of the film. Cox is a 54-year-old renowned producer and acclaimed DJ. Hailing from the UK, Carl Cox, the king of techno, was voted the first-ever world's #1 DJ on the 1997 DJ Mag Top 100 DJs poll, following being voted #1 in the poll voted by the magazines writers in 1996. On the opposite end of the spectrum, there's 21-year-old Martin Garrix. Born Martijn Gerard Garritsen, the Dutch-born talent has been mixing since age 10 and producing since age 14. The film follows his rise to the top with his crossover top 40 track, "Animals," which was the first instrumental track to crack top 40 radio. The film shows Martin's first Ultra Music Festival main stage performance after being crowned worlds number one DJ on the annual DJ Mag Top 100 DJs poll.
Tastefully tracking the evolution of electronic music, What We Started hits all the right notes. From Chicago house to the rise and fall of New York disco to Detroit techno and the underground scene. Written and directed by Bert Marcus and Cyrus Saidi, and produced by Cassie Hamar, What We Started encompasses nostalgic and original footage spanning across the last handful of decades. From Tiësto's 2004 Olympics performance in Greece to legendary Paul Oakenfold as the first "face of dance music." In the mid to late 80s, with the rise of acid house music, the sound had taken over the scene. Then in 1987, innovative electronic pioneers, Oakenfold and Tong, recall visiting Ibiza with friends for the start of what would become a dance music phenomenon for all DJs for decades to come.
The Executive Producer and Music Supervisor, Pete Tong, is an integral piece of the electronic puzzle, aiding in elaborating on its resonant backstory. Legendary electronic acts Tiësto, Paul Oakenfold, and Moby appear in What We Started, revealing details about the temperature of the scene prior to and post-commercialization. Additional What We Started cast members include Steve Angello, Erick Morillo, Sasha, Richie Hawtin, Seth Troxler, and Dubfire.
What We Started explores the rich history of nightlife culture and the progression of electronic music over the last five decades. The evolution of dance music brings many seasoned veterans to the debate: EDM versus underground. What We Started touches on the differences between commercialized, crossover—and now top 40—EDM versus underground dance music. Although both shares similar vibes and qualities, there are many differences. But what actually makes the craft the craft? When it comes to the vinyl DJ versus USB DJ, in the olden days, you really needed to be talented to be a DJ; you needed to play continuous music. The craft was always about mixing from a perspective, digging in the crate, playing new music for people, so that they could expect the unexpected, all according to Carl Cox. The advanced technology today plays a factor in DJs no longer using vinyl to mix. Garrix considers himself a USB DJ; a DJ who is still DJing, but in a different way. There are, however, some DJs that have pre-programed sets and are unfortunately just pressing play, according to Paul Oakenfold and others.
You know things have reached new levels when there's a TV series hitting Viceland, What Would Diplo Do?, a series starring James Van Der Beek and some of his DJ friends, including Dillon Francis, with billboards across NYC and Los Angeles promoting the series. Dance music and its culture is the new norm in the US; just as it was predicted many years ago. The crossover has allowed acts such as David Guetta to bring dance music to the pop music and radio market. Afroack appears and praises the work of Guetta, hailing his Black Eyed Peas "I've Got A Feeling" as one of the biggest dance records of all time due to its global radio success and its cultural acclaim. Because of dance music's crossover success, pop stars and musicians across various genres now want a piece of the scene, calling up hot rising producers like Martin Garrix for their productions. Ed Sheeran and Usher appear in What We Started, both of whom worked with Martin Garrix.
The Founder of Ultra Music Festival, Russell Faibisch talks about starting his acclaimed annual festival in Miami; tracking its growth over the last two decades. Ultra Music Festival celebrates its 20th anniversary in March 2018. Insomniac Events CEO and Founder of Electric Daisy Carnival, Pasquale Rotella, appears in What We Started to reminisce on the days of early promoting and electronic music and the rave culture that surrounds it. Thinking back, Rotella recalls a time when partiers would have to call an anonymous number to learn of where events would be held just hours later that same night.
What We Started tells it how it actually is, giving insight into just how far we've come. Is history repeating itself? Has the EDM bubble burst after reaching its popularity plateau in the US? The film is a historically accurate depiction of the rise of electronic music that isn't afraid to address the industry's pitfalls, stigmas, and stereotypes. But in its deliverance, What We Started gets it all right—and when it's all said and done, the film celebrates dance music.
Read The Nocturnal Times Exclusive Interview Q&A with 'What We Started' producers Bert Marcus & Cyrus Saidi: 
The Nocturnal Times: What We Started is a 94-minute documentary feature about electronic music culture that features some of the biggest names in the community. What was your vision form the very beginning with this film?
Cyrus: Having been in the industry for over 15 years, first as a festival promoter, then agent, and now manager, I always wanted the rich and often misunderstood story of electronic music to be told through the medium of film. I knew I was not alone in this and most of the veterans and those I looked up to in the industry felt the same. So, when I began my journey into becoming a filmmaker this project was inevitable. However, it wasn't until I watched one of Bert Marcus' documentary films (How to Make Money Selling Drugs), that I knew I had found the right partner to bring this project to life.
Bert: I felt privileged to be invited into this world as an outsider, and I felt I could bring value with a truly objective perspective because I wasn't immersed in the electronic dance music community before I began working on this film.  It was important to me to create a pure, authentic work that would ultimately be a generationally defining piece that would do justice to the incredible history of the electronic music genre and the passion of the integral artists, DJs, producer and promoters who care so deeply about this collective.  We did not believe that a film about electronic dance music that was all-encompassing, historical, entertaining, and captivating, had ever been done before, so we set out to craft one that could have an impact.
The Nocturnal Times: Did the end result portray your intended messages?
Cyrus: I believe so. However, I learned that making documentaries is a journey that you start by trying to tell on story, but in the end, the journey itself teaches you things you did not know, and reveals truths that were not intended to be part of the story in the beginning.
Bert: Absolutely, I agree.  Although it would be impossible to fit every detail of this rich history into a 90-minute narrative, we are incredibly humbled by the end result. We have a diverse set of characters and talent in the film, and it is gratifying to have received extensive feedback from them that What We Started finally "gets it right."  There is no higher compliment than to have the people that lived through these stories over so many decades – like Carl Cox – believe that you were honest and earnest in your portrayals and tell you that they are proud of the film.
The Nocturnal Times: What We Started features acts such as Carl Cox, Martin Garrix, Erick Morillo, Moby, Sasha, Louie Vega, Richie Hawtin, David Guetta, Steve Angello, Afrojack, Tiesto, Seth Troxler, Usher and Ed Sheeran. How was it working with some of the biggest names in music for this documentary?
Cyrus: I had already worked in some capacity with many of the names in our film. But to work with so much incredible talent in a compressed span of 2 years, was a surreal experience to say the least. We were honored to work with each and every one of the artists and industry veterans who agreed to be part of this project, but I still have to pinch myself every now and again to believe that Carl Cox was one of the leads in our film… someone that I grew up listening to… and always hearing about him being the most loved person in the scene; a totally justified reputation.
Bert: It was nothing short of an honor to collaborate with such an esteemed group of artists.  These visionaries have worked relentlessly for their craft, and it was an enriching journey to capture their experiences through their own lenses.  One of the most rewarding parts about working with these artists was how humble they are and how they would push relentlessly to ensure that the right messaging about the genre was getting across in their interviews.  It made our jobs that much better.
The Nocturnal Times: As the directors what were some of your roles and responsibilities on What We Started?
Bert: One of our largest roles was figuring out how to tell a story about such a diverse community with a rich, expansive history in an interesting and dynamic way never done before.  One of the ways in which we did this was to make sure that we used two figures as foils that would surprise people – Carl Cox and Martin Garrix. We believed that using these two juxtaposed DJs as vehicles to showcase larger themes would serve as a thought-provoking and dynamic story-telling device.  In addition, we did not want to just follow a timeline to capture the extensive breadth of electronic dance music over the years.  So, we had another challenge to unravel the puzzle to arrange a non-linear narrative in a manner that would still make sense to our audience and captivate them, without getting lost in dates and places.
Cyrus: True, and we were both involved in every aspect of the film, including writing the story, creating the questions for all of our interviewees, directing on location, overseeing editing, music, etc. Bert, having had previous experience with making globally successful documentaries such as Champs, How to make money selling drugs, and Teenage Paparazzo, brought a ton of experience to this project which made the film possible. This was a very complicated and logistically challenging film to make at times. We had crews of up to 20 shooting on location at places like ULTRA MUSIC FESTIVAL, and the BPM FESTIVAL etc.
The Nocturnal Times: In what ways did your perception of the dance music industry (or the music industry as a whole) change for you over the course of the documentary?
Bert: As someone who was not an insider in the dance music world before beginning this project, my perception changed almost daily through the process.  I focused on starting this film with no preconceived notions, so after every interview and hearing different perspectives, my conclusions would rapidly evolve, which just opened up even more questions. By the end, I honestly felt like this is a genre of music that will never stop growing. There are just so many talented people, endless sub-genres and as a result limitless magnetism to the music.
Cyrus: Great question. For a long time I had envisioned that when I complete this film, it would be a sort of the end to my journey in the electronic music world, and act as the transition into film for me. Although I was part of the 90's rave scene and had fallen in love with the scene then, I think the industry itself, for the lack of a better word had jaded me. My successes, failures, ups & downs had all created a kind of fatigue that I felt was the sign that I had to get out. Without going into too much detail, I can say that I am back in love, back with a vengeance and artist management is definitely back on the forefront of my endeavors.
The Nocturnal Times: What are some of the biggest misconceptions about the scene that you feel may tarnish its reputation? What do you think people on the outside looking in should know bout the community that they may not already know?
Cyrus: Well, this is part of what we try to address in the film, so I would prefer not to go into it here. But I think your next question could shed some light on this.
Bert: True. I also want to add that I believe many think that this music is all about drugs and requires those substances to be euphorically experienced. By contrast, especially for this younger generation, it seems electronic dance music is more about acceptance into a loving community and supportive unity, an escape from the constraints and judgments of daily life, as the real pillars of the movement.
The Nocturnal Times: How did the past experience and work of the production company, BMP (Bert Marcus Productions), assist in bettering the content within What We Started?
Cyrus: It was not only incredible, it would have been impossible without. The objectivity that BPM's team, with of course Bert, but also, and I mean this with the utmost emphasis, our superstar producer Cassandra Hamar brought to the project was so needed. This objective view, teamed with hard experience as filmmakers, is what was needed to finally be able to tell the entire story of dance music in a 90-minute piece. An all encompassing cultural and genre film.
The Nocturnal Times: On June 15, What We Started made its world premiere at the Arclight Santa Monica. How was the premiere and that experience for you as a whole? Was this your first ever film premiere (if not how was it different from your past experiences)?
Bert: I've brought my prior films to a number of festivals globally, however this was probably one of my favorite premieres because of the overwhelming passion of the talent. Having Carl Cox, Paul Oakenfold, Moby, Erick Morillo, Russell Faibisch, John Lyons and a number of other industry supporters at the event was truly remarkable and highly unusual. To see their faces during and after the film reflect that they felt that What We Started did each of them, and the history of the movement, justice was indescribable.
Cyrus: I had previously made a short film, so I mad minor experience as a filmmaker with this kind of event, and I have attended many premieres as a guest, but yes this was my first feature film premiere as a director. It was sold out, we had many incredible guests such as Carl Cox, Erick Morillo, Moby, Paul Oakenfold, Russell Faibisch, Paris Hilton and so many more show up to support. One huge and pleasant surprise was when during Q&A I noticed mega film producer Joel Silver (Matrix, Die Hard) sitting in the front! I am a huge fan of his and had to go meet him afterwards, all star struck #FilmNerd.
The Nocturnal Times: How has the industry changed over the course of the last few decades?
Cyrus: With the advent of the internet, the game has changed. And of course, dance music has become pop music in America, finally breaking in a market which it had struggled in for decades, while our European counterparts enjoyed the benefits of mainstream financial endorsements and sponsorship. I know many underground music fans despise its commercialization, but I think it's a positive thing for the scene because that's how it will continue to grow and thrive. That's how we turn non-fans into fans. Its rare for someone who listens to Katy Perry, to suddenly show up to a Ritchie Hawtin event and lose their mind! But they may catch a Kygo or a Chainsmokers show and turn their interest onto dance music and its culture, attend a festival and begin to go down the rabbit hole!
The Nocturnal Times: In your opinion, what do you see in store for the future of electronic music? In what ways did your work on What We Started influence your answer to this question?
Cyrus: I see a further blending of electronic music into mainstream and pop culture. A seamless almost undetectable era where it is not so much an identifiable element in a pop record or in a score of a film, but rather a dominant and culturally wide accepted element. The evolution of electronic music is directly linked to the evolution of computer technology, so as long as we have computers, electronic music will grow. If we end up in some kind of Mad Max like apocalyptic dystopia however, this will not be the case, and we'll revert back to banging on drums with sticks and dancing around the fire, which also sounds a bit like Deep Tribal House J
The Nocturnal Times: Which areas do you believe are the biggest party cities? Which countries/cities do you find have the most potential to become party capitals?
Cyrus: Currently the growth in Asia is exponential and very fresh. China is a huge emerging market which I am working on closely. Korea as well. As far as cities, I don't think anything can ever replace Ibiza (if you want to call it a city), but Berlin seems to be taking the crown at the moment.
The Nocturnal Times: What are some of the advantages and disadvantages that aspiring producers and DJs encounter today versus the other decades (80s, 90s, 00s)?
Bert: Social media is a the most profound advantage today.  Now, you see artists breaking on a vast number of social media platforms and not only being heard but going viral around the world.  It has democratized music in profound ways and that is something that current artists should be very thankful for.
Cyrus: Definitely, the advantages are that you can make a track and within a click of a button millions of people can hear it! The other advantage is that you can be a terrible DJ (sorry but had to go there) and make a hit record and still get to play huge festivals and shows. At least for a short ride anyway. This would never fly in the 90's. You had to be a real DJ to play continuous music and tell a story. In the early days, being an incredible DJ, not producer, is what made you stick out, and today it's kind of the reverse.
The Nocturnal Times: Who were some of your biggest inspirations? Who motivated you to be where you are at this very moment?
Bert: My dad is my biggest inspiration.  He has a relentless work ethic and an enduring tenacity that I aspire to.  He has always motivated me to never take no for an answer and to hustle in the face of adversity.  The film industry, much like the music industry, can be a grind, and so you have to keep believing in yourself and push forward with your passion to succeed.  I feel very grateful for these lessons.
Cyrus: I have to mirror and say that my Mom. She is such an inspirational force for me. Coming from a very challenging and disadvantageous background, its incredible how much confidence and hope she instills into me in going after my dreams and making them happen. I started throwing raves in the 90's and since then she has not truly understood what I do! Having her at the premiere was a huge reward for me, and luckily, after watching the film, she was like: 'Ahh so that's what you do!' … Plus she got to met Carl Cox which was super cute!
The Nocturnal Times: What do you hope for those watching What We Started to take away from the documentary experience?
Bert: I hope that people are truly entertained while watching the film and then leave thinking about an artist or Festival that they could experience for themselves.  This music transcends age, so hopefully, regardless of your demographics or if you loved the music before you saw the film, we want people to inspired to get immersed in some way.
Cyrus: I hope those who are new to the scene will learn about its rich history. I hope the old schoolers will have a few cool nostalgic moments and also learn about the exciting new place the scene is in, and hope that those who have no clue about it or have some kind of unfavorable view or understanding of it, get to see it for the incredible culture that it is, and that through this universal and primarily language free type of music, millions, perhaps billions from around the world are uniting and sharing the common interests of Love, Unity and Respect for each other.
What We Started is available on iTunes, here.
*Portions of this article were published at an earlier date.