Girl Bosses Alison Wonderland & REZZ Close Coachella Weekend One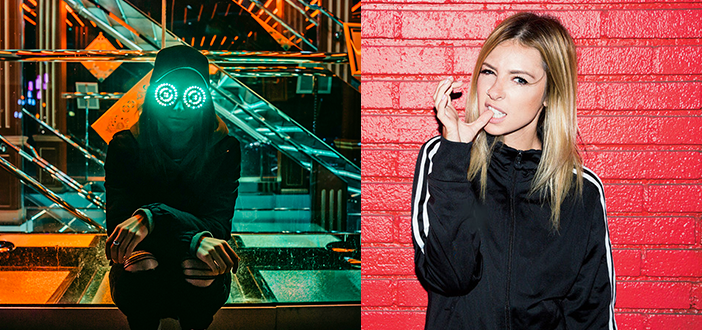 Coachella 2018 is en route to making dance history, as two of THE most badass, influential, and visionary female DJ/Producers in the game right now are closing out the Sahara Tent today, Friday, April 13th, and you better bet this is the stage to be at opening night!
It's all going down as we speak at the Empire Polo Club in Indio, California, where tens of thousands have gathered for the first weekend of all things music, fashion, art, and the experience of a lifetime. The announcement of Alison Wonderland and Rezz to close out the night at the Sahara Tent came as the most refreshing and inspiring reveal, and we all can't wait to see these two starlets make history. Until now, dance has not seen two more ambitious female DJ/Producers, who have created their own distinct, dark yet beautifully soul-striking sounds of music. To anyone who is familiar with one or both of their styles, they are unmistakable as they produce one-of-a-kind songs that are truly unparalleled.
For anyone who has experienced a Rezz set, well, we're nearly as speechless writing this as we all were walking out of whichever set you're reminiscing on. Simply mind-blowing. The dance gods blessed us with Rezz and her decisively dangerous sound, immediately capturing every newcomer to her performances, and flourishing within her exclusive Cult of Rezz family. Better known as Space Mom to her devoted minions, her following has established itself and grows to be one of the most dedicated, passionate and enamored fanbases that has formed yet. Set for mass manipulation, Rezz hypnotizes her crowds into other dimensions, essentially vamping each and every person present into a state of pure fascination.
Since last week's release of Awake, Alison continues to make it clear to her fans at shows and on social media how absolutely surreal it is for her to have this album out. From the beginning, this purely beaming and brilliant musician has captivated her audiences in every aspect possible. Alison has a spellbinding way of capturing your heart from the very first moment you see her blonde head running around stage, or hear her emotional diary that reflects in her songs. From her raw honesty and pouring her innermost feelings, thoughts and lyrics into her songs, to her hauntingly mesmerizing stage presence, to slamming down each and every performance across the globe, to Alison's unconditional love for her fans is undoubtedly what will continue her journey on to making even more of her wildest dreams come true. Now moved to a new section of the grounds, the Sahara Tent is located right by the main entrance, as well as by Rose Garden VIP area and Do Lab; known for producing their own innovative and interactive music festivals, as well as bringing versatile artists to their lineup at Coachella each year.
Alison shared some of her thoughts on her upcoming headlining Coachella performance in light of her recent Awake release stating:
"It's midnight where I am right now. I am currently prepping for Coachella and it just hit me. I have another album out – like it's actually out. All the hard work and no sleep and emotional rollercoasters and now it's out. I dunno what's gonna happen next but I promise I'm always gonna keep it real. I just wanna say thank you to all of you that support me and helped take my dreams from my bedroom to crazy festivals. Without you guys none of this would be possible. Haha it literally just hit me. My album is out. Crazy."
From 10 PM to midnight tonight, crowds can gear up for one of the more epic nights of their dance lives. Alongside the thousands of fans joining at the Sahara Tent will be the millions of others tuning into Alison and Rezz's live sets. Over the many years of Coachella, the Sahara Tent has hosted world-class talent and performers spanning from genres of dance to hip-hop, and this year crowds are going to find a new and improved Sahara Tent. Bigger and bolder than years past, the Sahara Tent has expanded and has been enlarged by nearly 25%, allowing ample room to dance and rock out to performances up on stage. Coachella-goers can plan on this tent to be their cool oasis from the hot desert sun, and a chance to groove with some of the most epic artists on the lineup this year.
Spearheading numerous movements, Alison and Rezz are both at the forefront of advocating for significant causes. Combined, they are two of the most compelling female presences in the electronic scene. As dedicated members of the dance music community, we are both honored and proud to watch these two kick some Coachella butt tonight. While Alison has been a day one supporter for other people just like herself who struggle with depression and anxiety, Rezz has taken it upon herself to promote sobriety via the elixir of life – water, and perhaps most importantly, looking out for each other when it comes to drugs and alcohol. For both ladies, it comes down to the same essential message: love and support each other.