Musical Goddess Emma Hewitt Drops Sophomore Album, 'Ghost Of The Light' [Interview]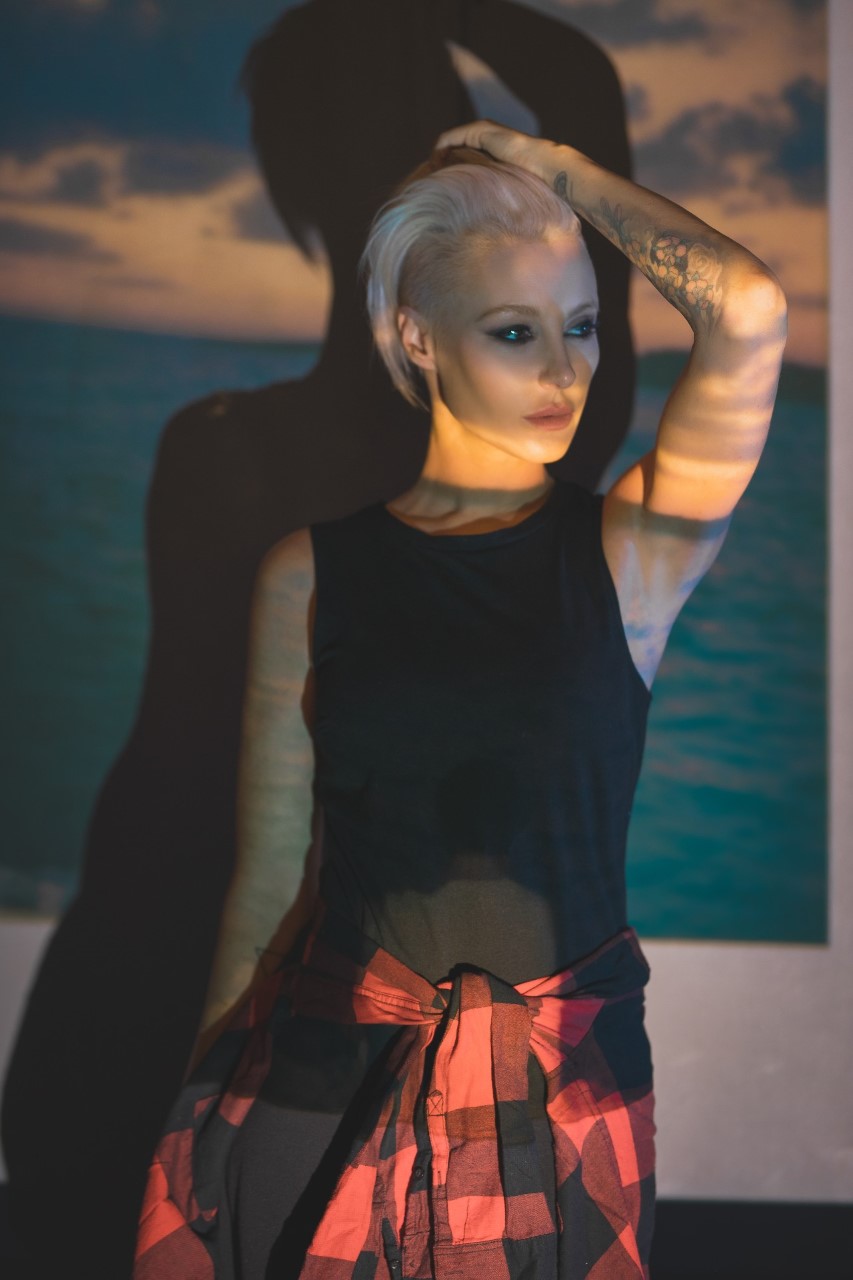 Beloved Australian born Emma Hewitt has been on a consistently expanding her repertoire, always adding new pieces of sonic goodness. Now this international superstar is back with her lang awaited second album Ghost Of The Light. From its inception, Emma has been artistic master and servant to her second longform. Involved in every step of the creation from co-writing all songs and playing a multitude of instruments on the record, right through to taking the co-production reins and shooting her own music videos, Emma has been singularly focused with every aspect of bringing her creative vision to life.
For this amazing production Emma recruited the help of some of her friends. Ghost Of The Light is mixed by non other then the legendary Alan Moulder (Smashing Pumpkins, Killers, Beach House, NIN, Wet Leg) alongside the talented Will Brierre (The Killers, Stevie Nicks) and mastered by the incredible John Davis (Lana Del Rey, London Grammar, Florence & The Machine).
Ghost Of The Light
One might say that to fall in love with Ghost Of The Light is as simple as clicking Play. Those seeking to experience all it offers though will want to dive deeper into Emma's lyrics and private universe. The album's title, Ghost Of The Light, is Emma's meditation on memories and how they shape us: those instantly recalled, the dreams half-remembered and the fragmented reminiscences, just beyond our reach, but always with us somehow. Emma channeled all of this into a collection of introspective, intimate songs, and ones that may yet inform her future.
"Ghost Of The Light is an ode to the persistence of memory and to the people, places and moments that make us who we are and stay with us long after they've gone. Ghosting us in their watery light; they remain almost close enough to touch, but always just beyond our reach. I made this album largely in my home studio and it felt like a meditation. I was driven by a curiosity and desire to look inwards to the quiet corners of my heart and memory and to walk those corridors a while. By diving into the memories, I've come to understand that the people, places and dreams we have known, loved, regretted, and yearned for are never far away; they travel with us always; gently lighting our way along sleepless roads." – Emma Hewitt
On cuts like the cinematic "Into My Arms" and comforting "Everlasting", Emma addresses more contemporary memories, specifically those involving (either through distance or circumstance), separation. Contrastingly, "Collide" and "Children" have their inspirational bedrock in her formative years as tributes to the beauty and simplicity of early friendships. "Raindrop" tackles more coming-of-age moments, specifically ones where a fork in the road has been reached, whilst "Warrior" contemplates the lengths we'll go to protect those closest to us. Emma's crystalline vocals are the constant as she narrates us through her history and inner landscape.
As the album moves into its second phase, the tone shifts again. First appearing on the original soundtrack for the movie VANish, "Fallen"'s song doesn't blink in the face of hard questions. Dealing with desensitization in the modern world, it ponders "what do we become if we don't feel?". While most of the album's tracks focus on individual aspects of Emma's 'Ghost Of The Light' idiom, "Satellites" is its 360. Per Emma, "it's about the distant glow of the memories and people you cannot leave behind." Seen though through the lens of past mistakes, "Ties" returns to the theme of connective bonds, and becomes a pensive yin to "Children"'s unbridled yang. Adding a meta songwriting aspect to the album, "Holding Out For You" confronts the thirst for inspiration, when it feels like the well has run dry. The last track to be recorded for "Ghost" is indeed almost its swansong. Lyrically, "The River", says Emma, is "a tribute to an old love – a letter to someone who will probably never receive the message, but their memory needs to be honored anyway."
For Emma this is her first album since 2012's Burn The Sky Down, Emma's clearly not an artist to approach the form lightly. It is an undertaking that mind, voice and soul has to be utterly committed to. A profound attempt to draw a line between Emma-then and the Emma-now, its insights will resonate with fans of all ages. Ghost Of The Light is out now on all streaming platforms.
For those die hard fans that want something more exclusive. Ghost Of The Light will be available on sumptuous 140-gram red, limited-edition vinyl. Alongside its digital/streaming and CD formats, the vinyl release is available to pre-order here. And those interested in a behind the scene look in the life of this beloved artist we had a little sit down with her and where able to ask her some questions.
Interview
Nocturnal Times: Hi Emma, thank you for taking your time for this interview. Big gratz on your album release of Ghost Of The Light. You must be pretty excited releasing finally releasing this work of art to your fans. How excited are you for this release?
Emma: Hi guys! Thanks so much for chatting with me 😊 I am on emotional overload with this album finally coming out; it has been a long time in the making so it feels a little surreal and there's a sense of letting go that the control freak in me struggles with(!!) That said, I am super happy to put it out there into the world and to be able to share these little songs with people.
Nocturnal Times: Your last album Burn the Sky Down is from 2012. Why did it took you so long to release a new album? And tell us about the creative process behind this album?
Emma: I had a few false starts when making this album, I tried to make the solo album happen with a few different producers over time, but as great as they were, nothing just seemed to connect.
My brother Anthony and I ended up deciding to produce the record ourselves, in the old school sense of the word, during covid lockdowns. This became a huge process; neither of us were producers (or really aspired to be), it was purely out of necessity to tell these stories so we had to learn SO much from scratch.
We wanted to serve the songs and our only intention was to try, with our limited means, to paint a picture that could, hopefully, draw the listener into these moments and worlds – if one person feels that when they listen to one of these songs, then I would feel that immensely proud.
In the end we decided to make the music videos on ourselves as well.
We had a strong vision for this, it was just too difficult to put things in someone else's hands…but we of course opened a whole can of worms when we began, not knowing how involved the process would become…it seems we have a habit for biting off more than we can chew rather frequently haha!!
Nocturnal Times: How do you usually start when creating a track? Do your prefer going off a melody or do you have the vocals already sorted in your head?
Emma: For me, songs are always born in the moment, they have to come from a flash of inspiration. Usually, I will begin singing some melodies over some guitar or piano cords. The great chords always throw you melodies right away, writing then becomes like tapping into some kind of song frequency that already exists out there somewhere in the ether, you just have to kind of catch it and be the interpreter.
The lyrics for me come later, usually a few lyrics will form themselves while I am singing the first melodies and this gives me like a keyhole glimpse into the feeling of the song and what it wants to say. I just try and zone in on that feeling and see where it takes me.
Nocturnal Times: It is quite a lot of amazing tracks on the album. Is there are story you want to tell us or do you see every track as a single story?
Emma: Thank you so much for saying that. I think each song is like a looking through the window of a particular experience within the overall story. In the same way that our memories are seemingly separate moments, but they all tie together with an invisible thread to create the sum of who we are. I guess that's the over-arching theme; all of these songs are a quiet walk down the halls and through the private rooms of my memories.
Nocturnal Times: All of them being so unique and showcasing your ear pleasing vocal talents in such a wide range. With our favorite track being the emotional track Raindrop, what is the story behind this track? What makes this one so special for you?
Emma: "Raindrop" was written about a girl who I once knew growing up. She didn't seem super troubled form the outside, but she met some people who were into some dodgy things, gangs and stuff, she got led down a different path. We were all super young and impressionable, she unfortunately ended up getting tangled up in a life that seemed to carry her away. No one really knew how to reach out and help in those times and she kind of drifted away. I never heard what happened to her, but I hope she managed to find a way to surface.
Nocturnal Times: Why have you titled the album Ghost Of The Light and what does meaning does this title hold? Is there a message you want to send out with your music?
Emma: "Ghost Of The Light" is reference to all of the memories, people and places that we carry within us on our journeys. Those seemingly small moments, mistakes, triumphs and regrets that have shaped who we become.
The times we go back to and revisit often almost take on a spirit of their own, they have their unique energy imprints. The people in these memories, to me, will forever stay the way they were back then and I take all those memories with me and in different ways, those people, places and experiences all continue to impact and shape me as a person long after they've gone, in the physical sense.
Nocturnal Times: Usually, you are out and about collaborating with the most high profile artists in the industry. How important is it for you working on your own music?
Emma: I realized through this process just how important it is for my psyche to be creating my own music again.
It is easy to get caught in the trap of giving all your songs away for other peoples' projects…if someone else needs a song, that tends to take precedence over the importance I place on my own stuff. Especially because writing is so personal to me, I can be really slow to get something good enough, so I kind of give the ideas away to whoever is pressing for them.
I think I now understand that it's healthy to visit other genres and styles and to explore outside the box to keep myself inspired – previously I may have shut out a song idea if it didn't fit with a club beat, but now I'm allowing myself to dive in and see where those ideas lead me knowing that there is room for a duality, of sorts.
Nocturnal Times: If you look back on all the nights you played or sung live, which one is your most memorable or favorite and why?
Emma: Gosh, there are so many awesome memories over the years, it's really hard to pinpoint one. It's been unreal to visit so many great places, meet new friends all over the world and of course eat ALL the food in the places. I do have super special memories of NYE in Vietnam, I think it was 2011, it was in the city center with literally hundreds of thousands of people. My whole family were there from Australia and we all spent the week there. That was definitely a golden moment. But the overriding thing I always seem to take and remember is the people and how music connects us in ways we can never really comprehend. I get to meet people who through music, have essentially listened to my open diary on occasion and we get to exchange stories, ideas and share a moment…that's a really powerful thing and will never be something I take for granted.
Nocturnal Times: We appreciate taking time for this interview and we know you are busy! Let's wrap this up with this question. Is there anything else that you would like to share with your fans about what the future holds up for Emma Hewitt this year? And is there anything else you want to share with your fans out there?
Emma: Thanks so much for chatting with me; I really appreciate it. I would love to say a big thanks from the bottom of my heart to anyone who has listened to any of my music and connected in some way; if one person gets something out of one of these songs that heals a wound or inspires them to call an old friend or to take a chance, then my heart is full.
There is a full remix album to come, with club versions of these songs and the chance to get back out into the clubs to sing some of these songs for people and make some new memories – I will also have some more collabs coming. After that, I think it's going to be back into studio land to see where the song spirits take me next!! 😊🙏🏻
Ghost Of The Light Track Listing:
01. Into My Arms
02. Collide
03. Raindrop
04. Children
05. Warrior
06. Fallen
07. Satellites
08. Ties
09. This Isn't Over
10. Everlasting
11. Holding Out For You
12. The River
13. Endless Skies
Emma Hewitt – Ghost Of The Light Album Launch Tour
May 26 E11VEN Miami, FL
Jun 16 Park, Sacramento, CA
Jun 17 45 East, Portland, OR
Jun 23 Yolo, San Francisco, CA
Jun 24 Larimer Lounge, Denver, CO
Jun 30 Ora, Seattle, WA
Jul 01 Pure, Sunnyvale, CA
Jul 15 Rise, Houston, TX
Jul 28 Darkstar, Phoenix, AZ
Jul 29 Celebrities, Vancouver, BC
Aug 05 Elektricity, Detroit, MI
Aug 19 Webster Hall, NY, NY
Tickets for all shows are available now via this link.