Ultra Worldwide Completes a Record-Breaking Year Following Ultra Brasil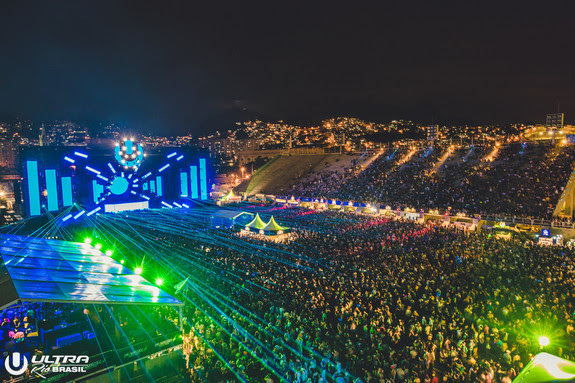 The world's most internationally successful festival brand, Ultra Worldwide, has had a year of global domination, producing twenty-six wildly successful events across seventeen countries and five continents in 2016 alone.
Ultra brand was founded in 1997 in Miami which began by producing electronic music events that eventually led to the creation of Ultra Music Festival in Miami. The internationally renowned festival, which takes place every March, celebrated it's eighteenth anniversary in 2016 by bringing over 165,000 music lovers to the sold out beach-side event. Ultra Music Festival has recently been named the world's #1 music festival by DJ Mag, and is set to return for its nineteenth annual edition on March 24-26, 2017. Over the past eighteen years, Ultra brands have continued to push boundaries with electronic music events through their unparalleled combination of cutting edge production and thousands of the world's best electronic music acts. The company has also pioneered the live stream experience with Ultra Live and UMF Radio, allowing the festival to be viewed by millions globally.
Ultra Worldwide celebrated the conclusion of its most prolific year to date on Saturday, October 15, as it wrapped up an incredible eight-stop tour of South America in the beautiful city of Rio de Janeiro. Totaling eight events across five countries in just nine days on this latest run, Ultra Worldwide has now produced a phenomenal Twenty-six events spanning Seventeen countries and Five continents in 2016 – an achievement that no other festival brand or promoter comes close to rivaling. Ultra's latest and final tour of 2016, which ran from October 7-15, saw it produce brand new standalone RESISTANCE™ shows in Paraguay, Peru, and Chile, which all sold out, as well as the return of 'Road To Ultra' events in Peru, Chile, Bolivia and Paraguay; and the full-scale debut edition of Ultra Brasil in Rio de Janeiro which also sold out. In total, over 1,000,000 people have attended Ultra events this year, with more than 165 million tuning in to experience the action online, via UMF TV's live streaming platform, Ultra Live. In addition to this, UMF Films' Official Aftermovies have received more than 40 million views in 2016.
A new concept pioneered by Ultra Worldwide in 2015, RESISTANCE™ has quickly become known for producing its own unique experiences around the world. First witnessed at Ultra Buenos Aires in February 2015, receiving enormous responses from fans, artists and critics alike, the concept has since been rolled out at Ultra Music Festival Miami and other full-scale Ultra festivals in South Africa, Croatia, Singapore, Bali, Japan, and of course, Brasil.
Most recently, on October 13-15, Ultra took the concept one step further by producing a series of three standalone RESISTANCE™ events in Paraguay (Asunción), Peru (Lima) and Chile (Santiago). Welcoming more than 15,000 music lovers over three consecutive days, Carl Cox, Tale Of Us, Nicole Moudaber, Matador, James Zabiela, Steve Lawler and many others provided the entertainment to a discerning South American crowd hungry for cutting edge dance music and unparalleled production values. Ultra is already promising huge things for the growing brand in 2017 after the massive success of its most recent tour.
The final days of the tour, October 14th and 15th, saw the highly anticipated debut of Ultra Brasil in Rio de Jeneiro. The completely sold out event took place in the iconic Sambodromo, best known for Brasil's carnival. Over 60,000 fans gathered together for what amounted to one of the undisputed highlights of Ultra's 2016 calendar. Set among the magical backdrop of the Corcovado and Cristo Redentor, the incredible Ultra main stage, world famous headliners including Above & Beyond, Dash Berlin, Hardwell, Krewella, Martin Garrix, DJ Snake, Steve Aoki, and more provided the perfect soundtrack for the event, complete with state of the art production, lighting, and pyrotechnics.
Ultra Worldwide promises to continue its international expansion in 2017, moving into some incredible new territories across the globe. Further details will be announced soon. For more information on all Ultra Worldwide events, visit umfworldwide.com.