Ultra Music Festival Presents Ultra Live, UMF TV, and UMF Radio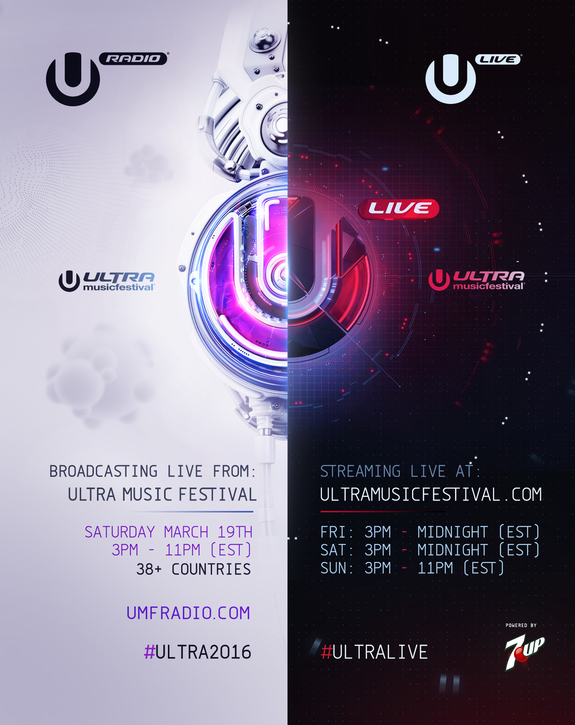 Miami's Ultra Music Festival 2016 is unbearably close, prompting party goers to prepare themselves for what is sure to be an unforgettable weekend!
Every year, Ultra Music Festival (UMF) hosts the biggest acts in electronic dance music (EDM) and this year's star-studded line up has only worsened the anticipation of what's to come. Those who are unable to attend, may feel disappointed, but don't worry! ULTRA LIVE will once again, be streaming your favorite acts every day on UMF TV! It has been five years since Ultra launched their live stream, and it has brought epic performances and state of the art production straight into the homes of fans around the world.
For the first time ever, ULTRA LIVE, presented by UMF TV, produced by NOMOBO and powered by 7UP, will broadcast from a custom built outdoor studio, live from the heart of the festival grounds, where fans will be encouraged to interact with artists and hosts alike. Through the official Ultra Music Festival app, fans can tune in to UMF Radio, which will broadcast live for 8 hours across 50 networks, in 38 countries.
Anyone is able to experience Ultra 2016, and watch as superstar DJs throw down their hottest sets of the year. With such a gargantuan line up, featuring acts such as Hardwell, Deadmau5, Armin van Buuren, Carl Cox, Eric Prydz, and a Pendulum-Knife Party reunion, ULTRA LIVE will make sure that no one misses out! So don't feel too bummed if you're not attending this year. Gather your friends and throw an Ultra 2016 party of your own! ULTRA LIVE will be streaming Friday and Saturday from 3PM-12AM, and Sunday 3PM-11PM.
Watch the Ultra 2016 live stream:
ULTRA LIVE and UMF RADIO can be accessed at ultramusicfestival.com, at Twitch TV or by downloading the official app available for iOS and Android at ultramusicfestival.com/mobile-app.