Tune Into Friendsgiving In Verdansk with Nicky Romero, Afrojack, Excision, Cheat Codes & More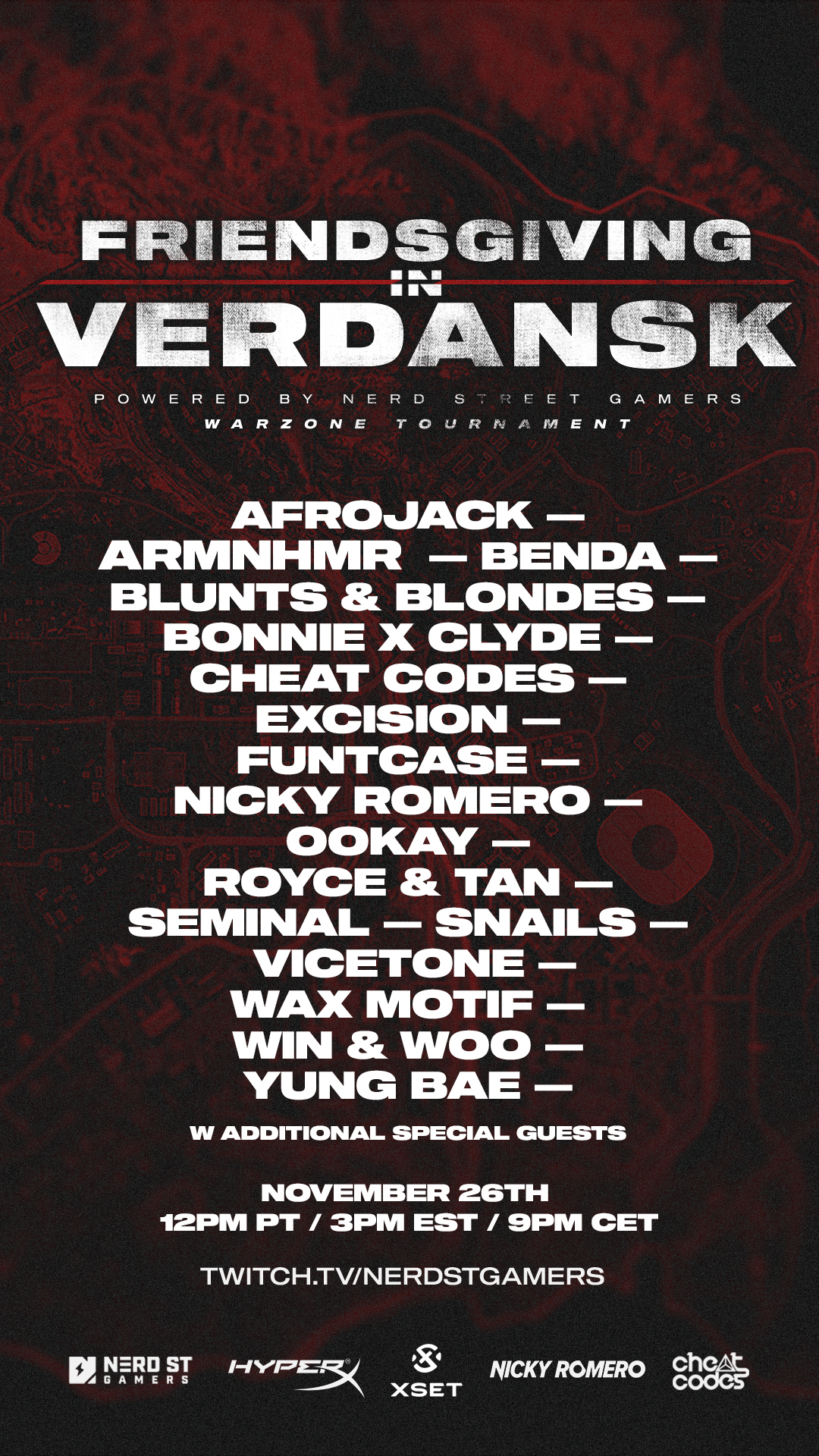 Tune in this Thursday, November 26th at 3pm EST / 12 pm PST for a debut Thanksgiving live stream extravaganza, 'Friendsgiving In Verdansk.' Pulling together a top-of-the-line roundup of electronic music talent, professional athletes, and gamers, professional gamer XXX will be hosting Friendsgiving In Verdansk, a Call Of Duty Battle Royale spectacular.
Fans around the world will be able to join the celebration via Nerd Street Gamers on Twitch. Dance music titans like Excision, Nicky Romerto, Ookay, Snails, Vicetone, Wax Motif, Cheat Codes and many more will be playing against each other in a 40-team Thanksgiving day tournament. These rockstars will be streaming and playing for a wonderful cause, as the winning team will receive a cash prize that will be donated to any charity of their choosing.
Every team will have a captain who is able to assemble their crew in any way they'd like to. This takes fun to a whole new level, as each team will be built together including an exciting combination of musicians, gamers, friends, and even a small handful of selected lucky fans who have been chosen to play. Courtesy of HyperX, team captains are fully equipped with an entire streaming setup, allowing viewers worldwide to tune in and catch the showdown live in action.
This first-ever 'Friendsgiving In Verdansk' serves as yet another impressive mark in the virtual world. Competitions like this showcase the latest and best creativity that brings together talent from every spectre of life. This time around, 'Friendsgiving In Verdansk' features an all-star roster from the entertainment sphere who can now continue to interact with their global fan bases amidst the new virtual-era.