The Nocturnal Times Top 115 of 2015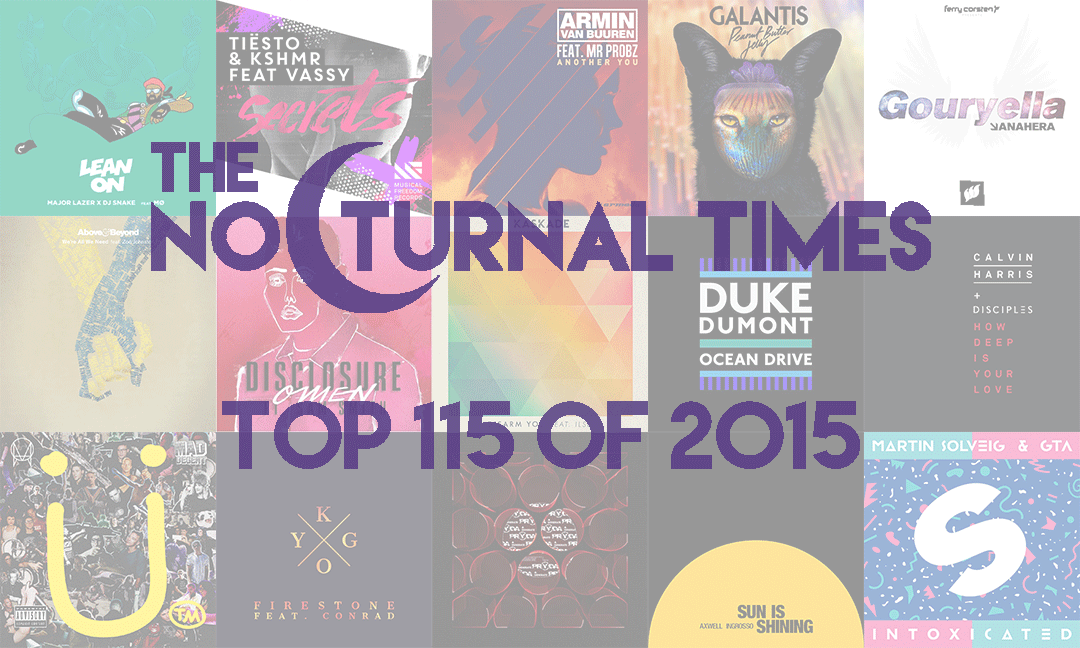 The end of the year is upon us once again—and what a massive year it's been for music!
2015 was the year of digital streaming services (Spotify, Apple Music, TIDAL, etc.) with artists delivering new material through full-length studio albums, compilation albums, and EPs. Massive album releases from electronic dance music (EDM) heavy hitters this year included: Armin van Buuren (Embrace), Kaskade (Automatic), Above & Beyond (We Are All We Need), Disclosure (Caracal), Zedd (True Colors), Avicii (Stories), Hardwell (United We Are), Jack Ü (Skrillex & Diplo Present Jack Ü), Galantis (Pharmacy), Major Lazer (Peace Is The Mission), and Alesso (Forever), among others.
From original solo productions to collaborations, and remixes of current releases to new interpretations of older classics, the #Nocturnalist Top 115 of 2015 is comprised of something for everyone. An eclectic and diverse mix of music released across various electronic labels, The Nocturnal Times Top 115 of 2015 encompasses our favorite tracks of the year.
Take a stroll down memory lane and revisit our weekly #Nocturnalist charts throughout the year, HERE.
Whether progressive, trance, electro, deep house, or techno, this selection of our top 115 fits the listeners many moods with its euphoric melodies, powerful vocals, and intense basslines. Prepare for a reminiscent musical journey through some of the biggest—and our favorite—tracks of the past year in music with The Nocturnal Times #Nocturnalist Top 115 of 2015.
Listen to The Nocturnal Times Top 115 of 2015:
(Disclaimer: Hit the top left corner of the playlist below to select the track you'd like to play from our curated playlist!)
The Nocturnal Times Top 115 of 2015:
Above & Beyond feat. Zoe Johnston – Peace Of Mind (Original Mix) [Anjunabeats]
Above & Beyond feat. Zoe Johnston – We're All We Need (Extended Mix) [Anjunabeats]
Above & Beyond ft. Zoe Johnston – Fly To New York (Club Mix) [Anjunabeats]
Afrojack feat. Mike Taylor – SummerThing! (Original Mix) [Universal Music/Def Jam Recordings] 
Alesso feat. Roy English – Cool (Original Mix) [Refune Recordings] 
Alesso feat. Sirena – Sweet Escape (Original Mix) [Alefune/Def Jam Recordings] 
Andrew Bayer – Nobody Told Me (Original Mix) [Anjunabeats]
Andrew Bayer feat. Asbjørn – Super Human (Original Mix) [Anjunabeats]
Andrew Rayel feat. Jonny Rose – Daylight (Original Mix) [Armada Music]
Armin van Buuren – Together [In A State of Trance] (Bryan Kearney Remix) [Armada Music] 
Armin van Buuren & Mark Sixma – Panta Rhei (Armin van Buuren Intro Edit) [Armind Recordings/Armada Music]
Armin van Buuren feat. Mr. Probz – Another You (Mark Sixma Remix) [Armada Music]
Armin van Buuren ft. Cimo Fränkel – Strong Ones (Original Mix) [Armada Music]
Arty feat. Conard – Braver Love (Original Mix) [Insomniac Records/Interscope Records]
Arty feat. Ray Dalton – Stronger (Original Mix) [Insterscope Records]
Avicii – Feeling Good (Original Mix) [PRMD] 
Avicii – Waiting For Love (Original Mix) [PRMD]
Axwell /\ Ingrosso – On My Way (Original Mix) [Def Jam Recordings]  
Axwell /\ Ingrosso – Sun Is Shining (Original Mix) [Def Jam Recordings]
BT & ilan Bluestone feat. Stef Lang – All These Wounds (Original Mix) [Anjunabeats]
Calvin Harris feat. Ellie Goulding – Outside (Extended Mix) [Sony Music Entertainment]
Calvin Harris ft. The Disciples – How Deep Is Your Love (Original Mix) [Sony Music Entertainment]
Cosmic Gate feat. Emma Hewiit – Going Home (Gareth Emery Remix) [Wake Your Mind Recordings]
Dash Berlin feat. Roxanne Emery – Shelter (Photographer Remix) [Armada Music]
Disclosure feat. Lorde – Magnets (Original Mix) [Island Records/Universal Music]
Disclosure feat. Sam Smith – Omen (Original Mix) [Island Records/Universal Music]
Duke Dumont – Ocean Drive (Original Mix) [Virgin/EMI Records]
Dzeko & Torres feat. Delaney Jane – L'Amour Toujours (Tiësto Edit) [Musical Freedom]
Eric Prydz – Generate (Original Mix) [Pryda Recordings]
Eric Prydz – Opus (Original Mix) [Pryda Recordings]
Eric Prydz vs. CHVRCHES – Tether (Original Mix) [Virgin EMI Records]  
Faithless – Salva Mea 2.0 (Above & Beyond Remix) [Sony Music Entertainment]
Faithless – We Come One 2.0 (Armin van Buuren Remix) [Sony Music Entertainment]
Ferry Corsten presents Gouryella – Anahera (Original Mix) [Flashover Recordings] 
Fisherman & Hawkins – United (Original Mix) [#Goldrush Recordings/Armada Music] 
Gaia – Carnation (Original Mix) [Armind Recordings]
Galantis – Gold Dust (Original Mix) [Big Beat Records]
Galantis – Peanut Butter Jelly (Original Mix) [Big Beat Records] 
Galantis – Runaway (U & I) (Original Mix) [Big Beat Records] 
Gareth Emery & Alastor feat. London Thor – Hands (Original Mix) [Garuda]
Gorgon City feat. Katy Menditta – Imagination (Original Mix) [Virgin EMI Records]
Hardwell & Armin van Buuren – Off The Hook (Original Mix) [Armada Music/Revealed Recordings]
Hardwell & Dannic feat. Haris – Survivors (Original Mix) [Revealed Recordings]
Hardwell feat. Amba Shepherd – United We Are (Original Mix) [Cloud 9 Music/Ultra Records] 
Hardwell feat. Jake Reese – Mad World (Original Mix) [Revealed Recordings]
Jack Ü feat. AlunaGeorge – To Ü (Original Mix) [Atlantic Records/Mad Decent/OWSLA]
Jack Ü feat. Justin Bieber – Where Are Ü Now (Original Mix) [Atlantic Records/Mad Decent/OWSLA]
Jess Glynne – Hold My Hand [Atlantic Records UK]
Jordan Suckley – Droid (Original Mix) [Black Hole Recordings]
Jorn van Deynhoven – Freaks (Festival Mix) [A State of Trance/Armada Music]
Kaskade – We Don't Stop (Original Mix) [Warner Bros. Records]
Kaskade feat. KOLAJ – Whatever (Original Mix) [Warner Bros. Records]
Kaskade ft. Ilsey – Disarm You (Original Mix) [Warner Bros. Records]
Kyau & Albert feat. Neev Kennedy – Let The Thunder In [Euphonic Recordings]
Kygo feat. Conrad Sewell – Firestone (Original Mix) [Sony Music/Ultra Records]
Kygo feat. Parson James – Stole The Show (Original Mix) [Sony Music/Ultra Records] 
Kygo ft. Ella Henderson – Here For You (Original Mix) [Sony Music]
London Grammar – Wasting My Young Years (Maor Levi & Kevin Wild Remix) [Unreleased]
Lost Frequencies – Are You With Me (Original Mix) [Armada Music]
Louis The Child ft. K.Flay – It's Strange (Original Mix) [Next Wave Records/Proximity Music]
Major Lazer feat. DJ Snake & MØ – Lean On (Original Mix) [Mad Decent]
Marcel Woods – Advanced (MaRLo Remix) [Be Yourself Music]
Mark Sixma feat. Emma Hewitt – Restless Hearts (Original Mix) [Armind Recordings/Armada Music]
Markus Schulz – Destiny (Kyau & Albert Remix) [Coldharbour Recordings] 
MaRLo feat. Christina Novelli – Hold It Together (Original Mix) [Armind Recordings] 
MaRLo feat. Jano – The Dreamers (Original Mix) [A State of Trance]
Martin Garrix & Tiësto – The Only Way Is Up (Original Mix) [Musical Freedom]  
Martin Garrix feat. Usher – Don't Look Down (Original Mix) [Spinnin' Records/RCA] 
Martin Roth – Have You Ever (Original Mix) [Anjunadeep]
Martin Solveig & GTA – Intoxicated (Original Mix) [Spinnin' Records] 
Matt Darey feat. Kate Louise Smith – See The Sun (Dan Stone Remix) [Future Sound of Egypt]
MK feat. Milly Pye – Bring Me To Life (Original Mix) [Ultra Music]
Nero – The Thrill (Porter Robinson Remix) [Virgin EMI Records] 
New World Punx feat. Cara Salimando – Memories (Original Mix) [New World Punx Music]
ODESZA feat. Shy Girls – All We Need (Dzeko & Torres Remix) [Musical Freedom]
Oliver Heldens & Shaun Frank feat. Delaney Jane – Shades Of Grey (Original Mix) [Spinnin' Records] 
Omnia feat. Tilde – For The First Time (Original Mix) [Armada Music]
Photographer feat. Susana – Find A Way (Original Mix) [Sir Adrian Music]
Pierce Fulton – In Reality (Original Mix) [Pierce Fulton Recordings]
Pierce Fulton – Kuaga (Lost Time) (Original Mix) [Cr2 Records]
Porter Robinson – Flicker (Mat Zo Remix) [Astralwerks]
Ramin Djawadi – Game Of Thrones Theme (Armin van Buuren Remix) [Armada Music]
Rising Star feat. Betsie Larkin – Safe Inside You (Original Mix) [Armind Recordings/Armada Music] 
Sam Feldt – Show Me Love (EDX Indian Summer Remix) [Spinnin' Records] 
Sander van Doorn – Ori Tali Ma (Original Mix) [Doorn Records/Spinnin' Records]
Sander van Doorn vs Sunnery James & Ryan Marciano – ABC (Original Mix) [Doorn Records]
Seven Lions – Cusp (Original Mix) [Who's Afraid of 138?!]
Seven Lions ft. LIGHTS – Falling Away (Original Mix) [Republic Records]
Shapov, M.E.G., N.E.R.A.K. – Party People (Original Mix) [Axtone Records]
Sia – California Dreamin' (Arctic Moon Remix) [Unreleased]
Sick Individuals feat. Kaelyn Behr – Never Fade (Original Mix) [Armada Music]
Steve Angello feat. Mako – Children Of The Wild (Original Mix) [Size Records]
Super8 & Tab & 7Skies – Rubicon (Original Mix) [Anjunabeats]
The Chainsmokers & Tritonal feat. Emily Warren – Until You Were Gone (Original Mix) [Disruptor Records/Columbia]
The Chainsmokers ft. Rozes – Roses (ZAXX Remix)
The Chemical Brothers – Sometimes I Feel So Deserted (Original Mix) [Virgin EMI Records] 
The Weeknd – Can't Feel My Face (Martin Garrix Remix) [Universal Republic Records]
Thomas Jack – Rivers (Original Mix) [Parlaphone Records]
Throttle x Earth, Wind & Fire – September (Original Mix) [Ultra Music]
Tiësto & Don Diablo feat. Thomas Troelsen – Chemicals (Original Mix) [Musical Freedom]
Tiësto & KSHMR feat. Vassy – Secrets (Intro Edit) [Musical Freedom]
Tiësto & Oliver Heldens – Wombass (Original Mix) [Musical Freedom]
Tiësto & The Chainsmokers – Split (Only U) (Original Mix) [Musical Freedom]
Tritonal – Gamma Gamma (Original Mix) [Enhanced Music]
Tritonal & Cash Cash – Untouchable (Original Mix) [Big Beat Records]
Tujamo & Jacob Plant – All Night (Original Mix) [Fly Eye Records]
Ummet Ozcan, Dimitri Vegas & Like Mike – The Hum (Original Mix) [Smash The House/Armada Music] 
Valentino Khan – Deep Down Low (Original Mix) [OWSLA] 
W&W & MOTi – Spack Jarrow (Original Mix) [Musical Freedom]
Watermät & Moguai – Portland (Original Mix) [Spinnin' Records]
Watermät – Bullit (Original Mix) [Polydor LTD. (UK)]
Zedd feat. Jon Bellion – Beautiful Now (Original Mix) [Interscope]
Zeds Dead & Oliver Heldens – You Know (Original Mix) [Spinnin' Records]
Zhu ft. AlunaGeorge – Automatic (Original Mix) [Columbia/Sony Music Entertainment]
Zwette feat. Molly – Rush (Sam Feldt Remix) [Spinnin' Records]