Tchami & Malaa Are Serving Up 'No Redemption'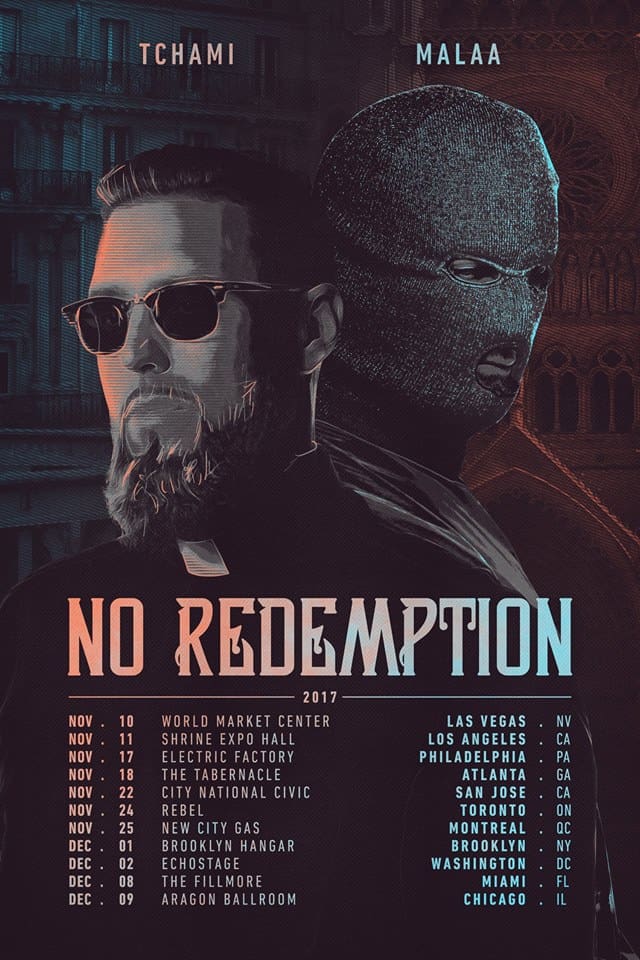 French electronic dance music producers Tchami and Malaa, two of the most highly-praised DJs under the Confession record label, announced their No Redemption U.S. tour a few months ago and the time for its debut has finally come. For all Tchami and Malaa fans out there, this tour announcement was everything we ever hoped for. If you've seen them both live, you know that together, they will definitely put on a memorable show. This pair performing simultaneously on tour for the first time denies any theories behind Malaa possibly being Tchami's alter-ego, and eliminates some of the ambiguity behind the trending question "Who is Malaa?" The No Redemption tour finally exploited at The World Market Center in Las Vegas this past weekend, and is set to continue throughout some of the nation's hottest cities.
Known for their similar yet distinctively unique underground future-house sounds, this couldn't be a more exquisite dynamic duo to go back to back on tour together. From playing at highly-acknowledged music festivals such Ultra Music Festival, Electric Daisy Carnival, and Tomorrowland to each having their own separate world tours, both producers have been extremely triumphant in the electronic dance music industry this past year. The duo also held their 'Pardon My French' summer residency in Ibiza alongside DJ Snake and Mercer, and successfully helped launch their associated apparel and merchandise brand worldwide.
Over the past couple of months, Tchami and Malaa have been releasing hot new tracks for fans to savor, both separately and together. Tchami's newest Revelations EP features six new tracks including "World to Me," a mix of his original future-house sounds blended with what seems to be more deep-house infused melodies, as well as "Audieu," which includes more relaxing, minimalist house sounds. Malaa recently leaked his two newest tracks "Belleville" and "Paris 96" in which his classical French musical roots present itself alongside his typical electronic house beats. His 'Who Is Malaa' playlists and many of his live sets from the music festivals he's performed at have also been a huge hit on online music platforms such as Soundcloud, with most over 5K likes and reposts.
Tchami's and Malaa's individual successes are grand, and together, their combined talents thrive. 'Prophecy',  the French producers' first and most popular single together, set the ground for what to expect from the artists when they hit the studio together. Back in early September, their first hit single of 2017 "Summer 99" was released, followed by their latest collaboration "The Sermon" right before the start of their No Redemption tour. The release of both tracks immediately gained fame from fans and listeners worldwide, and these fresh music collaborations produce a sense of what this tour will bring.
Following the tour's first show appearance in Las Vegas this past Friday, the duo performed at The Shrine Expo Hall in Los Angeles, California the following Saturday. The venue's proscenium style stage and shrine-inspired architecture represented Tchami's holy priest stage persona accurately, and the dark and somewhat grotesque features that the venue brought about during night-time uncovered Malaa's more malicious and dark persona. Published videos and photos of the tour's first two shows depict the clever design structure behind the tour's stage productions. With Tchami on one side shining in his typical bright and divine light, and Malaa on the other hiding beneath his mask in opaque darkness, the tour's stage design fuses each artist's character altogether as they come in unison as one in sound.
Although often difficult for two individual artists to collaborate both live and in the studio so effortlessly, Tchami and Malaa seem to prove otherwise. Their musical endeavors showcase a perfect blend of their individually unique sounds, and somehow, the artists are always in sync with one another simultaneously. The blazing No Redemption tour will be an ideal way for Tchami's and Malaa's co-existing talents to bring 2017 to an end for fans nationwide.