[Giveaway] Yellow Claw at Haven Atlantic City; Win Tickets for You + 4 Guests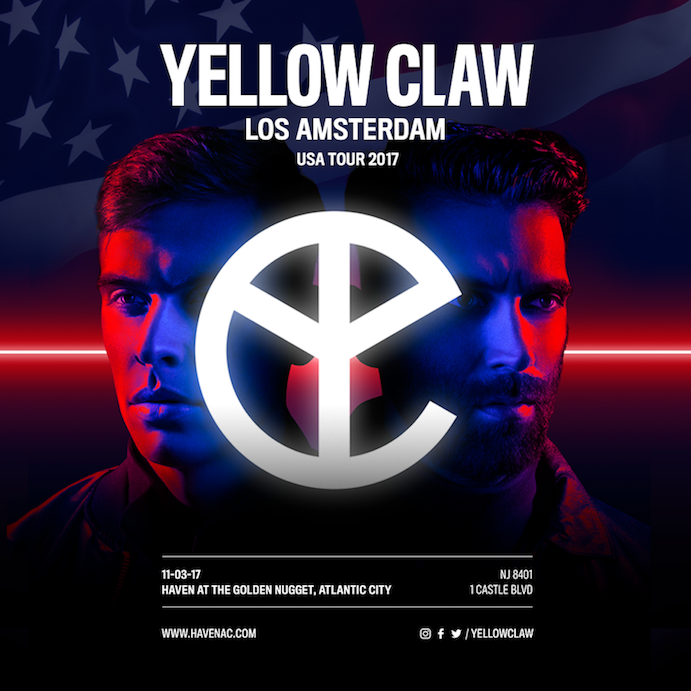 Electronic music's own Yellow Claw heads to Atlantic City, New Jersey, this weekend — and The Nocturnal Times has partnered with Haven Nightclub to offer partygoers a chance to dance — on us! The Dutch DJ and production duo, Yellow Card, is fittingly amid their Los Amsterdam tour. This Friday, November 3, join the guys for their set at Haven Atlantic City at the Golden Nugget — and bring along four guests of your choice.
Enter to win five tickets for Yellow Claw at Haven Atlantic City this Friday, November 3 from The Nocturnal Times:
a Rafflecopter giveaway

*Giveaway is open to entrants ages 21-and-over. All entries must be submitted by 11:59pm EST on Thursday, November 2. Find more information and tickets, here. 
This has been a big year for Yellow Card, who released their sophomore studio album, 'Los Amsterdam,' in March. 'Los Amsterdam' includes notable collaborations with DJ Snake, Elliphant, Juicy J, GTA, Tinie Tempah, and Moski, among others. Yellow Claw recently joined forces with DOLF for the release of their single "Vertigo" feat. Caroline Pennell (listen below).
Listen to DOLF & Yellow Claw feat. Caroline Pennell "Vertigo"

And it doesn't stop there! In addition to their MisbeHAVEN Thursdays, other electronic acts slated to make their return to Haven this month include Dirty South (11/4), Brohug (11/11), Boombox Cartel (11/17), 3LAU (11/18), and the return of NERVO (11/25).
Can't make it to Yellow Claw at Haven Atlantic City this weekend? No problem! Visit The Nocturnal Times next week for a chance to win an exclusive giveaway package for an upcoming event at Haven. We'll see you on the dance floor!