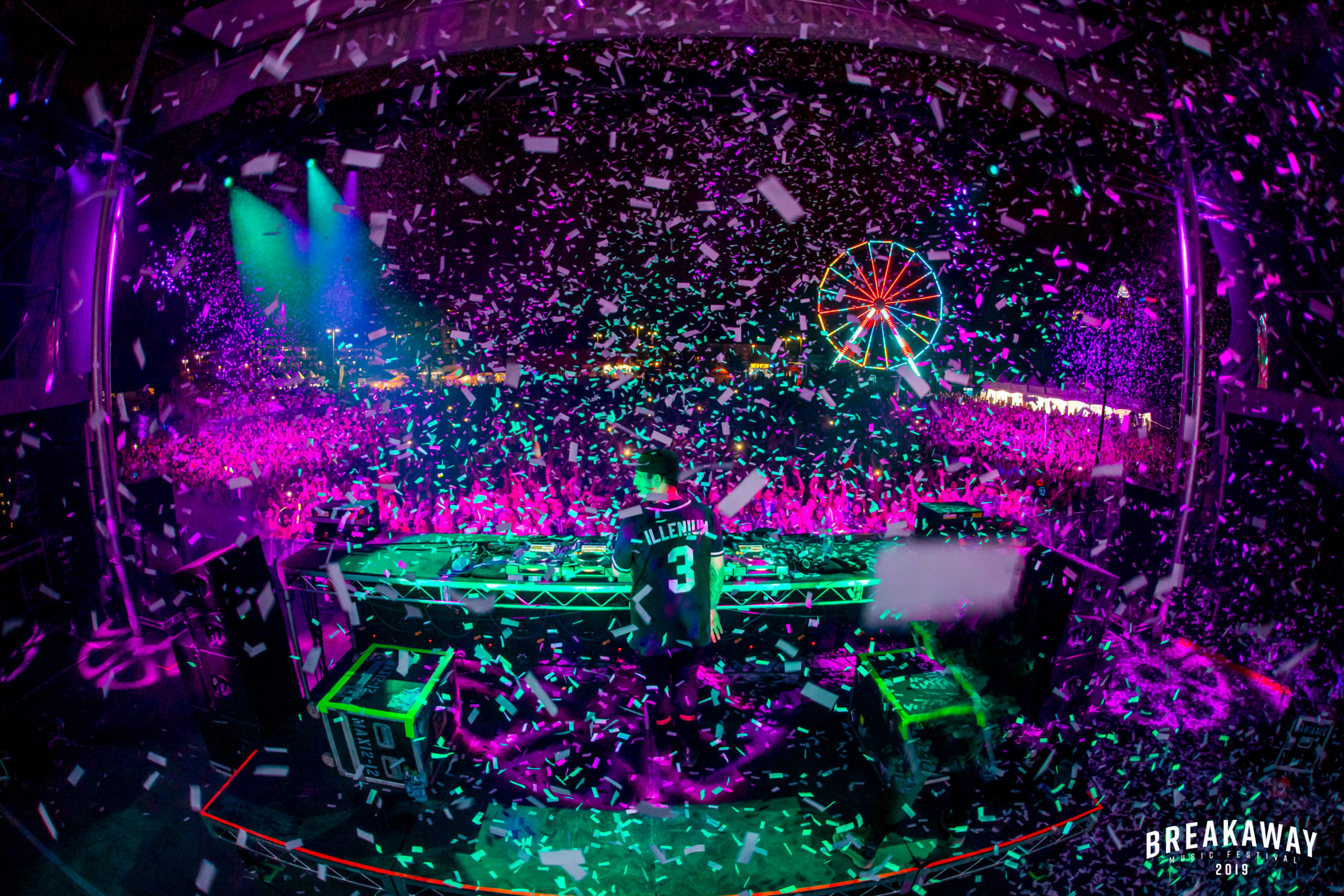 Skyrocketing in the Electronic Music Photography Game [Industry Spotlight Interview] – @ericm_nyc
In our new series, we'll be taking a closer look at what goes on behind the scenes of our industry and talking to some of those who are integral parts of making it all come to life. To kick things off, we're giving you a snapshot into the alluring life of New York City-based photographer Eric Cunningham. Often unrecognized behind the camera as his work is put towards the forefront, we'd like to spotlight the equally captivating story surrounding the creator himself, known as @ericm_nyc on Instagram.

An incredibly skillful, ambitious, and accomplished young talent, Eric has captured photos of everything from the heat of Electric Zoo Mainstage with ZEDD and Alison Wonderland, to intimate NYC club shows for Afrojack and Nicky Romero, to private walks in the streets of Barcelona with Gryffin.

With photos featured in Rolling Stone, Forbes, and The New York Times, he's truly experienced a wide spectrum of praise and support for his work that only continues to grow. Well known and highly respected around the New York area and beyond, Eric's reputation precedes him. Expanding his client base with each forthcoming month, his growing talent pool and artist repertoire speaks for itself.

A staple for highly respected New York and Miami based promotion/production company Made Event, one-of-a-kind venue complex Avant Gardner, and globally renowned hospitality entity Tao Group, Eric has proven himself to be an expert in the captivation of single moments in time. So next time you're in New York City and hit up Lavo, Marquee or Brooklyn Mirage, look for the man in black behind the camera – (although he can be hard to catch, using ninja-like skills to dart from the stage or front of house to the middle of the crowd to get that perfect shot.)

Just a few short years into the game, it seems everything happened very quickly and led into a spiraling journey of new experiences, one after the next after the next, and has landed him on what he intends to be his long term career path. But who knows where we'll find this flourishing superstar five or ten years from now – in the meantime, you can find him working the ins and outs of the city's hottest nightlife venues and event spaces.

We're thrilled to share some insight towards the story of how Eric caught his start in the music industry, and hope it inspires some of you as well during these harder times. Read on for The Nocturnal Times' exclusive Q&A below:
Nocturnal Times: Can you share with us a bit about your background and how you got involved with photography?

Eric: Originally, my brother was the one who got me into photography. He loved taking photos of his car and other cars all around New York. My brother wouldn't teach me as he said it was better for me to learn the ins and outs of a camera on my own as he did. Eventually I got a little bored of taking photos of cars and I wanted to switch my subjects. That led to me taking photos of the cityscape and abandoned places around Long Island. I got a thrill going on rooftops and finding views that nobody would ever get to see.
My instagram started to gain a lot of attention. I have always loved electronic music but I never knew that there were concerts and festivals constantly going on around me until I found Made Event on Instagram. I got in touch with the Director of Marketing, Joey Sutera, and he invited me out to a show to see how I would do in a different environment. My first show was with Armin van Buuren. I never felt so much adrenaline and happiness while taking photos. Getting to enjoy the music and take photos of people's emotions and the artists doing their thing put such a smile on my face.
Nocturnal Times: At what point did you decide that live event/ concert photography would be your main focus?

Eric: During the first show I ever took shots at – Armin van Buuren. It was a Sunday at Brooklyn Mirage in 2018. Estiva and Arty were the two openers and the vibes were truly unreal. After that, Joey and Dmitry (another marketing director for Made Event) kept inviting me back to take photos. After my first show, I got the chance to shoot Axwell Λ Ingrosso. It led me to taking photos every weekend from Steve Aoki hosting his Dim Mak show to the last show that Hardwell ever played in New York. It was not pure enjoyment I was getting out of this but true honor taking photos of the biggest EDM artists in the world. After my 5th or 6th show, I wanted to do this every weekend.

Nocturnal Times: You're based in New York City – who do you mainly work with? Is it more artist-focused, or venue/ company?
Eric: For me, it is all mixed. I have worked with artists personally in the past such as REZZ, DVBBS, Loud Luxury, Cash Cash and Galantis, and R3HAB. However the main clients I work for are Avant Gardner, Made Event, and Tao Group. I started with Made Event and eventually it turned into doing shows for the venue as well that were not held by Made. Lizzie Flynn who works for Made (Advancing & AR Manager) always made sure I was okay and settled in when I would work for Made and Avant. She also connected me with TaoGroup who is another big client. I tend to work at Lavo Nightclub a lot and can thank Justin Levy for that.
One other company I work for that gave me a second family is Prime Social Group. They hold festivals around the United States where it would not just be EDM artists but also Hip-Hop/Rap artists. Working two day festivals gave me a thrill from traveling on weekends and sending photos right away to them and seeing them posted over socials. Kenny, Zach, and Adam are all great to work with as they always make sure I have a solid relationship with the artists and their teams which goes a long way.
Nocturnal Times: What or who are your favorite type of shows and artists to shoot for? Why?
Eric: Electric Zoo and Elrow will forever be my favorite. Electric Zoo was the first festival I ever worked at. I also had never attended a festival so you can imagine how overwhelmed I was haha. The experience was incredible and working with the top photographers in the industry taught me so much. Elrow is another show that I love to take photos of. All about Tech House and colors. Elrow is one of the craziest productions I have yet to see in the industry. From the confetti to amazing themes, it is truly a show to go to.
Nocturnal Times: Name two artists you'd like to work with but have not yet. Why these two?
Eric: One artist I would love to work with would probably be Carl Cox. I tend to always miss him whether he is in Brooklyn or Miami. David Guetta would be another and MadeEvent has a show planned for him at the Brooklyn Mirage this upcoming May so I'm looking forward to that.
Nocturnal Times: You have an impressive collection of work under your belt at a young age in the industry. How do you think this has shaped your opportunities and gigs for the future?
Eric: The connections I have gained and the friends I have made throughout the past two years are unreal. I have really made such a big family where I consider so many of them really close friends. It is a great feeling to have artists and companies reaching out to me to take photos as they know I can get the job done. It makes it easier to find the next thing and always be proactive.
Nocturnal Times: What about your work specifically do you think stands out to people?

Eric: In my eyes, what I love about my work is that it is very punchy. The colors pop out at you and they're full of contrast. I try to make it in a sense to what you see is what you get and try not to overdo it with the editing.
Nocturnal Times: Video seems like it would be a natural progression from photo…do you think you will head in the videography direction any time soon, or perhaps later down the line?
Eric: At the moment, I have started a new thing where I run the instagram page and take instagram stories for Made Event. However the twist is I take them on my camera and live edit at least 12 videos per show. It is a lot of fun taking videos however it can get really tiring doing 12 live videos edited in one night. I am definitely learning more and more as time goes on and would love to start making video recaps for shows. I work with so many other amazing videographers and love what they produce but for now I'm still focusing on photography.
Nocturnal Times: Where do you think your photography career might be headed over the next few years? What are some of your main goals for the near future?
Eric: My main goals would be to grow connections internationally. I would love to get the chance to shoot at festivals such as Tomorrowland or even Mysteryland. I am currently studying Graphic Design at Queens College so we'll see where this takes me in the music industry.
Nocturnal Times: Obviously we are living in a very hard situation right now, particularly for our industry that is so heavily based on live events and touring. What do you think is important for us to remember in a time like this?
Eric: To remember that this will all come to an end, hopefully real soon, and when we're back it will be one hell of a time. There will be lots of artists and companies looking for workers so creators and other freelancers like myself will get back on their feet soon enough.