Simon Patterson & John Askew Brought Open-to-Close Antics to Brooklyn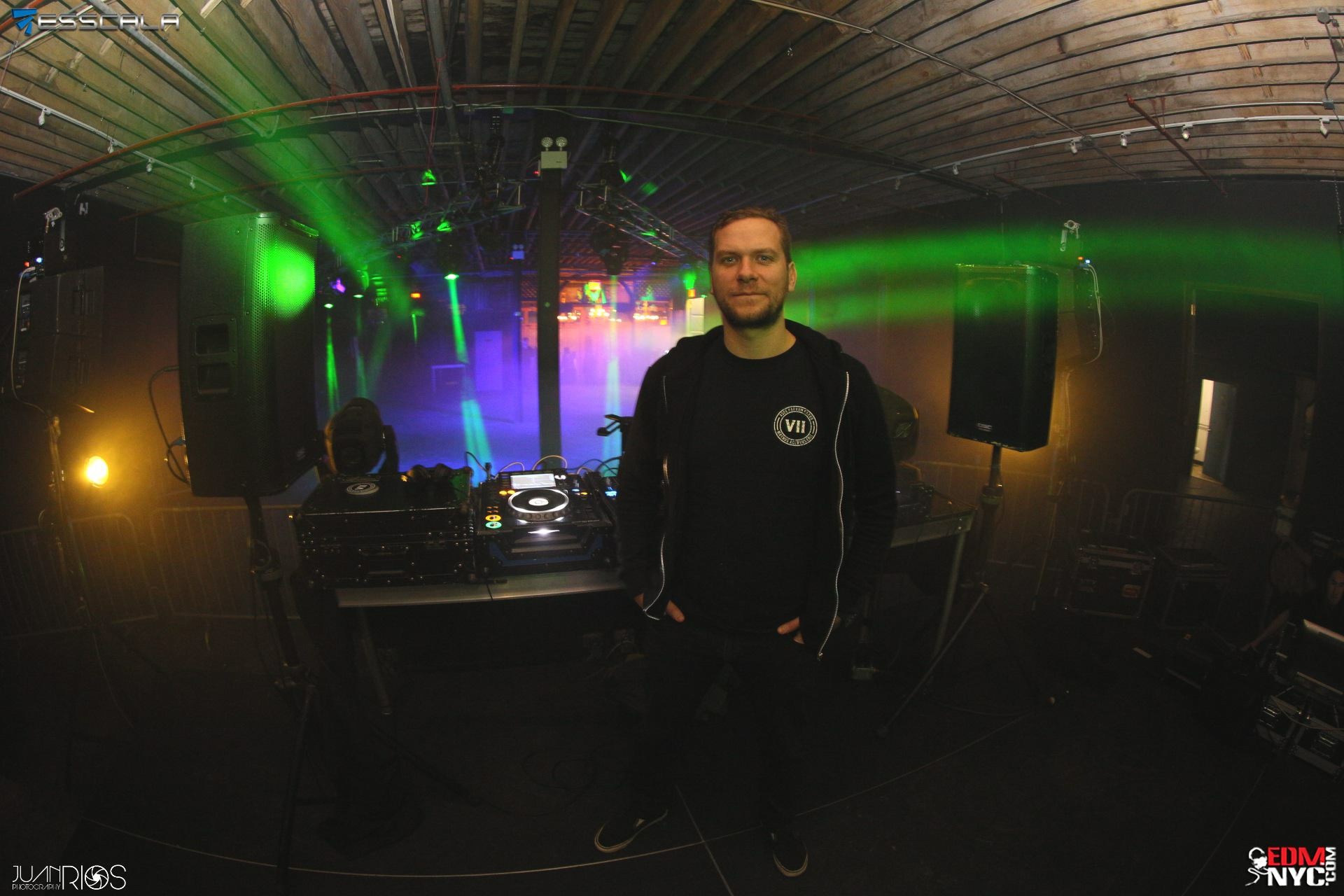 Simon Patterson & John Askew took their legendary open-to-close antics to Brooklyn warehouse this past weekend
Snow and blustering winds didn't stop trance fans from heading out to not just another warehouse party, but a marathon set of nine hours open to close, put on by Simon Patterson, John Askew, and the Esscala crew. Following the success of Simon Patterson's open to close set at Output in September, the VII Label titan returned by popular demand, along with the lord of darkness John Askew.
The venue, 23 Meadow Street in Brooklyn, has been the home of some of the year's top trance events, made possible by Esscala Entertainment. The warehouse is small and intimate, with enough room to match a club's proportions, without the chaotic level that comes with larger scale Brooklyn warehouses. With a back garden that opens onto the dance floor in the summer, coat check at entry, and a separate wing with bathrooms (no porta potties!) the venue has been a very well selected for the intimate, emotionally charged trance artists that have played there this year, such as Aly & Fila's open to close set two weeks ago, and Bryan Kearney's Kearnage event earlier in September.
Simon Patterson and John Askew both bring varying elements of trance to their sets, with contrasting tastes that mesh seamlessly. During the night, the two producers took turns with their sets and switching off. 'Psymon' Patterson's sound is focused on psy trance and driving beats, as of late though he was moved towards an uplifting focus, found in his latest releases "Vapour Trails" and "Now I Can Breathe Again" both of which he played on Saturday. Each release features vocals by Dave Wright and Lucy Pullin, respectively. "Now I Can Breathe Again" has been a huge trance tune in live sets this year, and when he played it in his opening hours from 11 p.m. to 1 a.m. on Saturday, the entire crowd was singing along which made it a memorable, magic moment of the night. Another one of Patterson's successful tracks of the year was his collaboration with Magnus, released on Armin van Buuren's label "Who's Afraid of 138?", titled "Evoke." The ephemeral chords are impossible not to smile and dance along to, highly energetic, and melodious, and with this track at the top of the Beatport Trance charts this year it was very special to hear it. Another highlight was when he played "Love of my Control" by Sneijder featuring Christina Novelli, with uplifting vocals still the focus. Classic Simon Patterson fans could also appreciate when he played his classic tune "Thump" one for which he is probably best known for.
Askew was on next, with his dark sounds creating the perfect contrast to Patterson, taking the night to an underground sound for the duration of his set. To prep for the night, Askew hosted an hour-long Facebook Live Q&A Event on Esscala's Facebook page. Fans could ask him anything they wanted, and it was a unique way for them to connect with him in the most candid way possible, as he talked about his upcoming gigs, recent releases, and his VII Label tour antics with Simon Patterson. Askew talks about how Simon plays the psy, while he keeps it more 'techy'. Around 12:45 a.m., Askew opened with John O'Callaghan's new track "Forging of Steel" on Giuseppe Ottaviani's "Go On Air" Recordings. This has been a banger in recent trance sets this year, and it features a driving, techy beat. A track that Askew has been playing in his sets, "Chop Salad", was a highlight, and following the night he released it on Soundcloud as a free download. This has a classic techno vibe that brings old school warehouse vibes to mind. Following in the same 'throwback' vein, he played Underworld's "Cowgirl" John O'Callaghan remix which made the crowd go nuts. Always keeping his audience guessing, Askew played "Crushcrushcrush" (Paramore Riot Girl Remix) by Dj Fei Fei, which threw a nostalgic twist to the 'emo' era with a trance twist.
The energy of the night was non-stop until the end around 5 am, with many that were there when the doors opened for the night, still going strong in the front row. It was an unforgettable night, and with the rarity of stops to NYC made by Askew and Patterson, the open to close set will hold NYC trance fans over until next time!
Photo credit: Juan Rios for EDMNYC