Shaky Beats Music Festival 2016 Delivered Massive Lineup, Quality Production With Inaugural Event in Atlanta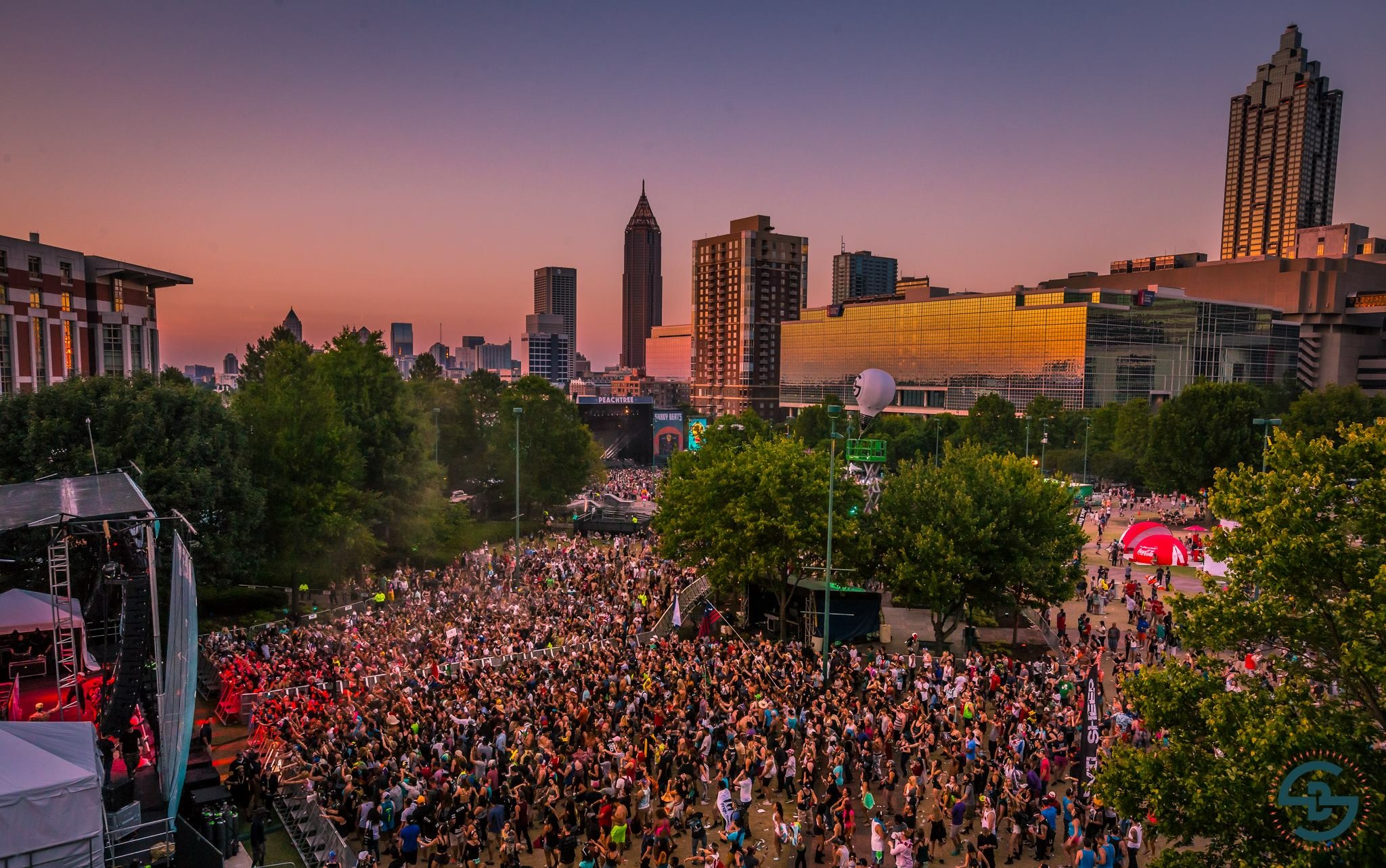 Shaky Beats Music Festival brought an epic lineup and high quality production to its inaugural event in the heart of downtown Atlanta, Georgia.
The creators of the esteemed "Shaky Knees" festival took a risk for 2016 and created a brand new, beat-driven event, featuring a predominantly electronic music lineup sprinkled with a dose of indie and hip hop.
Shaky Beats took place at Centennial Olympic Park in the heart of downtown Atlanta. With plenty of hotels, restaurants, and famous attractions, as well as easy access to public transportation all within walking distance to the venue, festival goers were able to enjoy the beauty and culture of Atlanta without having to deal with heavy traffic or paying for parking in downtown. The park itself was gorgeous and had plenty of grass to kick back or dance on, as well as concrete walking paths which came in tons of help when it rained. The park was the perfect size for this festival, as it never once seemed over crowded at any of the stages or in any of the vendor spaces.
Day one called for rain, but it certainly didn't put a damper on the attitudes of all the excited fans. Getting into the festival was done with absolute ease. I never once had to wait in line to get into the venue for more than five minutes. Upon entering the park, I took a quick tour of the space. I was pleasantly surprised at the size of the park and the nice variety of concrete and grassy areas that accommodated dancing, relaxing, eating, and checking out vendors perfectly. Acts such as Jai Wolf, AlunaGeorge, and Sango warmed up the rainy evening, and it wasn't long before night fell over the festival grounds and the party was in full swing.
U.K. deep house producer Duke Dumont led the crowd into nightfall with an ultra-sexy sunset set while dropping his best known and award winning tracks "Need U 100%," "I Got U," and "Won't look back". The mysterious Zhu took the stage next along side a live bassist and saxophonist. Maintaining the sensuality and bringing some serious funk to the table, he threw down his latest hit and collaboration with Skrillex, "Working for it", as well as Grammy-nominated single "Faded". At the end of his set, a date was flashed onto his projector (07/29/16) without any further explanation. The sensational Major Lazer closed out day one on the main stage. Their reggae-fusion, electro house beats created an extremely high energy performance complete with fire, confetti, and backup dancers. Finishing the night with massive hits such as "Powerful" and the #1 most played song on Spotify to date, "Lean on", Major Lazer let everyone know that despite Shaky Beats being a first year festival, their lineup was certainly one to be reckoned with.
Shaky Beats also put together a variety of "late night" shows. Friday night's events included Gallant and Sango at Aisle 5 and Cherub and Mike Floss at Terminal West.
Day two was much sunnier and with acts such as Com Truise and STRFKR to start off the day, everyone was ecstatic to celebrate the beautiful weather with some amazing music. Tory Lanez was the first big act of the day, and delivered an insanely high energy performance. Lanez was constantly interacting with fans and showed off his immense talent spectrum by performing slow, vocal, songs such as "Say it" as well as his own spin on 90s R&B anthem "Pony", but then brought the energy of a rap show right back with bangers "Diego" and "Traphouse". Following Tory Lanez was the mysterious Marshmello, who brought an intensely high energy future trap performance and featured Waka Flocka and The Walking Dead's Chandler Riggs. Porter Robinson and Odesza closed out the night on the main stage, leaving fans feeling overwhelmingly joyous and without any disappointments for day two.
The late night shows for day two included a sold-out show featuring Marshmello and Watch the Duck at Terminal West, as well as JMSN at the Masquerade, and IAMSU and Mod Sun at Aisle 5.
The lineup for day three closed out Shaky Beats with a heavy dose of trap and hip hop. Artists such as Organik and NGHTMRE brought out the party vibes early in the day and were followed by acts including A$AP Ferg who performed hits "Shabba", "Work", and newest single "Strive". Following Ferg was New York rap legend, Nas, who performed hits off his many multi-platinum albums including "If I Ruled the World", "NY State of Mind", and "The World is Yours". Artists Yellow Claw and Carnage played at the same time as Ferg and Nas and catered to fans looking for that final wicked-high energy set to close out their festival weekend. Big Gigantic closed out the main stage for night three with an incredibly groovy set complete with a surprise guest appearance from Big Boy from Outkast.
As fans danced joyously into the night to the sounds of future funk and saxophones, it was clear that Shaky Beats exceeded everyone's expectations. With a killer lineup, flawless execution and use of space, and high quality production all for a first year festival, Shaky Beats is definitely an event to watch closely for the 2017 festival season.
Photo Credit: aLIVE Coverage