Seventh Annual Envision Festival Hits Costa Rica in 2017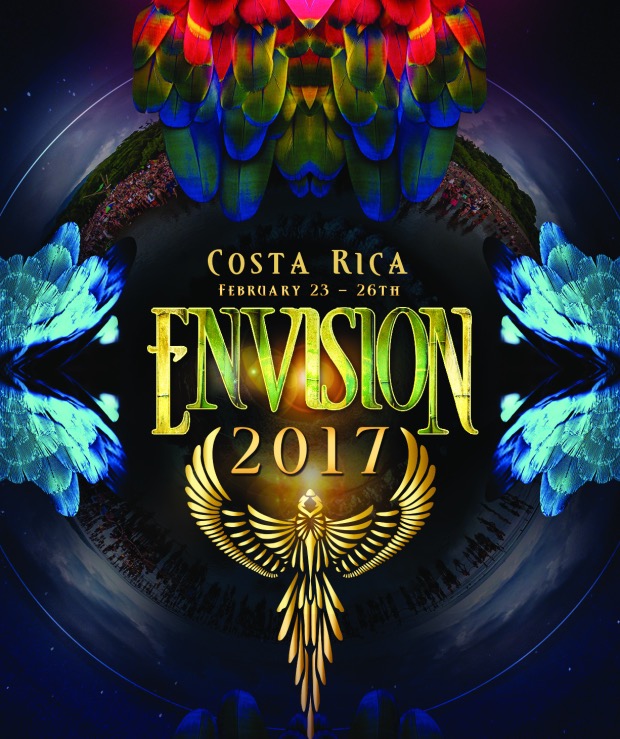 Venture to where the jungle meets the ocean and free your body, mind, and soul at the seventh annual installment of Envision Festival
Located in Uvita, Puntarenas, Costa Rica, Envision Music, Art, and Sacred Movement Festival takes place February 23-26, 2017 in a sacred beachside jungle, a space where people seek to fulfill the festival's slogan, "viva la experiencia" (live the experience). Envision Festival aims to create a communal, transformational, and sustainable environment for cultures to collide. People from all over the world gather here to elevate their vibrations on all spiritual and emotional levels, and to embrace the ideas of light and love through their shared interests.
Envision features four music stages that loosely break down into different genres. On the Luna stage, you'll find tribal funk, global bass and glitch hop. The Sol stage brings you reggae, world music and big band music. Lotus offers electro swing, psydub and house, and finally Village Stage presents acoustic and world beats. Envision features international artists along with a contingent of local, roots-based bands from Costa Rica. Acts from previous years include Shpongle, Tipper, Papadosio, Beats Antique, Random Rab, The Polish Ambassador, Ott, and many more. The 2017 music lineup has yet to be released.
Envision isn't just about music, however—there's equal space devoted to activities such as yoga and sacred movement (drumming, kirtan, etc.), healing modalities, permacultures, art, and plant healing. Because of the festival's remote location, the food is all organic and local. This festival is all about the inner spirit. You'll find yoga temples on the grounds with classes. "Village witches" run the healing sanctuary, where you can get a massage, partake in different healing modalities such as Reiki or even receive an on-the-spot herbal consultation. This particular sacred space also offers an herbal first aide station and a herbal elixir bar where you can get remedies that help with dehydration, detoxification, and more. Art and installations also play a huge part in creating the truly mystical and surreal environment that is Envision. Art is literally everywhere. From live, onstage painting to interactive, climbable installations, art transforms Envision into the beautiful psychedelic playground attendees seek.
Watch the Envision Festival 2016 video recap:
Not only does Envision Festival offer a truly unique experience, it also offers attendees an opportunity to learn more about permaculture and eco-friendly designs that work with nature rather than against it. Because of its location, Envision has natural limitation to its size and ensures that it remains sustainable for all parties—including the community. Part of those efforts toward local engagement come through its work with Natural Leaders Foundation, a nonprofit organization whose members arrive two weeks before the festival to begin working with local children. The foundation's programming centers around efforts toward cultural unity and education, inspiring youth to become leaders. The fest offers plant healing zones with examples, literature and experts on-hand to explain to festivalgoers how it all works. In terms of staying hydrated and clean, there are three filtered water hydration stations—bring your own bottle or buy one onsite—and bamboo showers with designated hours.
4-day general admission passes are available now for $324, including access to the festival, camping, and all yoga and workshops. Add-on camping options include early entry ($75), and two tent rental options for either a single person ($75), or double ($95), and include a tent, mattress pad, and pillow. Four VIP camping options are available ranging from regular VIP ($678) featuring access to a VIP lounge, concierge, VIP villa amenities, private bathrooms and showers and more, to a VIP bamboo treehouse rental option ($3333) that includes all VIP amenities plus access to a two-person custom made treehouse to camp in. Offsite hotel camping is also available. More information about ticketing and camping options is available here.
To get the latest information about Envision Festival, visit envisionfestival.com, and stay connected on Facebook, Instagram, and Twitter.