Rich Delinquent Drops Chilling Single "No Saint" With Haunting, Visually-Stunning Music Video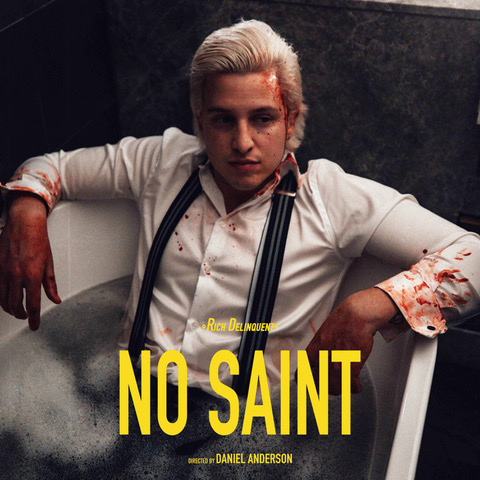 Capping out the year with his newest — and perhaps his very best — track yet, Rich Delinquent has dropped "No Saint," which is available now on all DSPs. Coinciding with the "No Saint" single release, leading breakout act Rich Delinquent has also dropped an unforgettable music video (watch and listen below).
His most ostentatious single to date, Rich Delinquent's "No Saint" is a hauntingly spellbinding tune that hovers around a chaotic lead character akin to Christian Bale's Patrick Bateman in American Psycho. Rich Delinquent brilliantly captures the mind of this possessed character through vivid songwriting and mesmeric production. Going "zero to one hundred" to "moving slowly" and watching the room spinning, the listener feels these bewildering emotions as trippy synth melodies seem to whisk you away into oblivion.
As one of today's brightest and emerging stars, Rich Delinquent's latest single, "No Saint," serves as a follow-up to his successful singles "Hallucinating" and "1800ifuckedup," both of which earned praise from fellow DJs, and the media (The Nocturnal Times, EARMILK, CULTR, and more). Seamlessly blending high quality productions alongside gripping dramas, each time he offers listeners a hit of the beautiful drug that is Rich Delinquent. 
Rich melds a dark blend of electronic, hip-hop, and emo sounds, which results in an addictive sound and brand; allowing him to stand out among artists in the space. Since his start, Rich Delinquent has become known for utilizing imagery from pop culture villains as a creative manifestation of his mental health in his music. Earlier singles like "Death Drive" , "Forget About Me", and "Cocaine Late Nights" enraptured listeners all over the world. When it comes to accolades and a budding discography, 2021 also brought along Rich Delinquent's debut album 'Sadboi'. Unafraid to discuss the harsher realities of depression and anxiety, he channeled his feelings around life and love into 'Sadboi'. 
"At times it feels like I only have a devil on my shoulder guiding me down the wrong path, usually I can keep him at bay but sometimes I lose faith in myself and give in to the darkness… this is No Saint." – Rich Delinquent