Pretty Lights to Perform Back-To-Back Outdoor Shows in Telluride, Colorado in August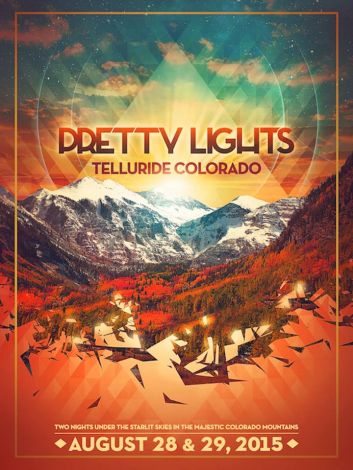 Brace yourselves Pretty Lights fans, there are two upcoming summer shows you won't want to miss out on. Having one of the most dedicated and sincere fan bases in all of the music industry, Pretty Lights fans are surely running to catch Derek Vincent Smith's two outdoor shows at Colorado's Telluride Town Park.
On Friday, August 28 and Saturday, August 29, Pretty Lights will bring his live concert showcase to the beautifully constructed venue at Telluride Town Park. The already stunning scenic views, along with a soundtrack from Pretty Lights under the Colorado sky, what more can you ask for?
"I've thought a lot about what a perfect place to throw a Pretty Lights concert might be, and what that actually means.  I think that Telluride Town Park might be a place like that.  The energy that resonates there is beyond the cusp of my own understanding but it is powerful and undeniable.  I think that the seclusion of Telluride creates a real opening to focus on getting in touch…with each other, ourselves, and the vibrations we experience as music, light, and life. PLUS the stars shine incredibly bright and the mountains are jaw dropping. These two nights in Telluride will be an awesome and historic opportunity to experience a live Pretty Lights show in what may be the perfect venue," said Pretty Lights' Derek Vincent Smith.
Two-day General Admission and VIP tickets as well as camping and travel packages will be available via Pretty Lights' direct-to-fan pre-sale, which begins on Friday, February 20, at 10:00 AM MST at http://prettylights.frontgatetickets.com/. Tickets will go on sale to the public on Friday, February 27, at 10:00 AM MST at http://www.axs.com/events/271815/pretty-lights-tickets. VIP and travel experiences are being offered by CID Entertainment.
Before his back-to-back shows in Telluride, CO, you can catch Pretty Lights 4/10-4/12 at Euphoria Music Festival in Austin, TX and the Big Guava Music Festival on 5/8 in Tampa, FL.