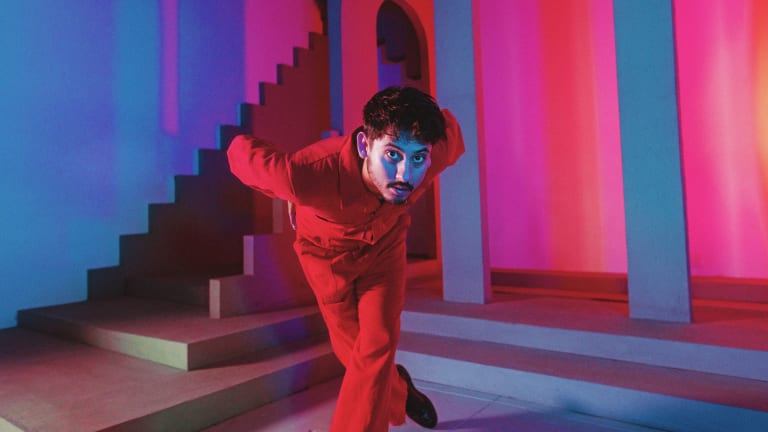 Ookay Premieres Evolved Sound & Cutting-Edge Album 'Very Special' at Ultra Music Festival [Interview]
If you're deep into all things electronic dance music, Ookay is an artist name you'll surely recognize right off the bat. Ever since his initial upbringing back in 2013, the California-born DJ/Producer has built quite a name for himself with releases that never cease to impress dance music lovers of all calibers. In just a short amount of time, he's solidified his unique contribution to the industry with his extraordinary sound design capabilities and extravagant performance talent, and he continues to evolve his already all-encompassing sound as time goes on.
Over the years, he's delivered a wide array of captivating top-hits like his number one trending track "Thief', "Chasing Colors" with Marshmello, "Lighthouse" with Fox Stevenson, and many others. But like every successful musician, the acclaimed producer decided to take a bit of a hiatus to solely focus on his artistic vision and follow the adequate path to achieve his long-term goals. A genuine, authentic artist at heart, Ookay has completely left fans in awe with his most recently unveiled project after being off the grid for some time.

To commence his 2022 artistic journey on a high-note, Ookay revealed his latest body of work, Very Special, for everyone to indulge in at Ultra Music Festival just a few weeks back. As his first album release since Wow! Cool Album! back in 2018, premiering it at the internationally renowned festival after not being able to perform there for two years was a brilliant promotion tactic to say the least. The album features a completely transformed and state-of-the-art Ookay sound that's left everyone speechless, and choosing to debut his newest musical masterpiece at the festival's intricately designed Live Stage as a live instrumentation leading performance was quite the move.
It's been so rewarding following the notable musician over the years and watching him progress as an artist so profoundly. He's made a tremendous impact in the scene and has brightened music lovers' lives with his hypnotic and eccentric melodies. It was even more rewarding getting to experience his debut live UMF performance back at Bayfront and getting the opportunity to chat with him immediately after his phenomenal set. Read on to learn more about Ookay and his latest project Very Special and more in our exclusive interview with him below.
The Nocturnal Times: Tell us about your live Ultra Music Festival debut performance that you just put on. How are you feeling about it?
Ookay: I honestly thought it was sick, I had a lot of fun! It's been a very special day today, and I say that because one, I put out my album Very Special today so it's a very special day. Two, I'm happy to present a very special album performance here at Ultra. Yes, I'm going to keep saying very special a lot haha! I got to bring a whole new show and all the new music from the album to my fans earlier and I brought my dancers with me and we just showed up and had fun with everyone in attendance.
The Nocturnal Times: How does it feel to be back at Bayfront Park since your last Ultra Music Festival performance over at Virginia Key in 2019?
Ookay: It's so nice to be back down in Miami for Ultra and specially being back at Bayfront Park. The last time I performed at the other location was still a blast don't get me wrong, it just wasn't the same at is usually is with it being at a different venue. I've been pretty much playing at Ultra every year since 2015 and there's just nothing like being right in the heart of Downtown Miami. There's this incredible energy in the air this weekend and it just feels like a giant party seeing everyone reunite again. Ultra will always hold a special place in my heart and I was so ready to make this the best show I've ever played here.
The Nocturnal Times: Did you originally intend to release Very Special on the same day as your Ultra performance on purpose or did it just sort of happen?
Ookay: Lowkey yes haha! I've actually had the album ready to go for quite some time now and I was going to release it back in February but then I had this incredible idea. I knew Ultra was coming up so I figured, what better time to bring the live show out and perform all my new tracks so that attendees and everyone watching the livestream could actually listen to it all in one moment in time? It was so incredible getting to introduce fans to the next chapter of Ookay by doing the album release this way.
The Nocturnal Times: How would you say your sound has transformed over time? Were you nervous to showcase this new sound on Very Special with fans earlier today?
Ookay: My sound has been through so many phases since I started. I've done house music releases, trap releases, dubstep releases, pop releases, metal releases, you name it. So to come out with something like this that has been a pretty personal project for quite some time feels so special. It encompasses a lot of who I am as a person in that body of work, so to be able to introduce it to so many people here is such a rewarding feeling. I was ready to expose this side of me to everyone.
The Nocturnal Times: How did you expect fans who attended your set earlier to react to your album? How would you describe the crowd's reaction when you looked out during your performance?
Ookay: I wanted to get very personal and be very up front with what this project is all about during my performance. I hoped that they envisioned Ookay live as a body of work and as a profound project because a lot of my fans are used to my DJ sets which are very different to what this whole creation is all about. I wanted to give the best possible introduction to what this album is not only on stage but as an overall performance that everyone can take home with them and remember as a unique moment in time. The crowd's reaction was everything I wanted and more. There were so many smiling faces everywhere I looked and it was a perfectly sunny Miami day.
The Nocturnal Times: You mentioned that the album is a pretty personal project that's been in the works for some time. When did the creative process for it actually begin and what inspired it?
Ookay: Right after my last album came out in 2018, I started to play around and experiment with this sound that I realized didn't fit with my DJ sets. I knew I had to do something special with it because it was good music, but I knew I had to present it differently. So I would say that was when the birth of Ookay live really started to bloom. Obviously this show is like a testament to this whole creative process and choosing to get out of my comfort zone. Its been such a passion project and something that I hope a lot of people recognize as something that's taken me a lot to put out.
The Nocturnal Times: Now that you've revealed this passion project to fans worldwide during your UMF live set, are there any particular venues or festivals you would want to perform the album at?
Ookay: I've never done the Hollywood Palladium in Los Angeles and I've always dreamed of playing there. I feel like that's the perfect venue for this live album show. I think Aragon Ballroom in Chicago and Webster Hall or Avant Gardner in New York City would also be a vibe for this type of performance. I definitely want to bring the album tour to venues I've been at before but bring a whole new energy this time around.
The Nocturnal Times: Do you see yourself evolving your sound even further whenever you decide to disclose a new project in the near future?
Ookay: Not only am I doing this project that's more instrumental than my previous releases, I also have another project that I'm working on called Coaster which is not about me at all. It's an alias house music project and I have a whole EP already done and some other special tracks that I'm ready to unveil to everyone. I'm planning on officially releasing the news soon and I'm so excited about it!
The Nocturnal Times: Are there any other projects, collaborations, or track releases that you have coming up that you'd like to share with our readers before they're announced to the public?
Ookay: Aside from the Coaster project, I've been doing a lot of cool collaborations with artists like ATLiens, K?d, working on some house stuff with Showtek again which is exciting, and going back to my roots a little bit more and having fun with it now that this Very Special project is done and out for the world to enjoy. After this, I want to get to that moment where I can try new things again. I'm constantly experimenting and trying out new things, and I never cease to stop doing so moving forward.