NERVO to Release Debut 'Collateral' Album on July 24 via Ultra Music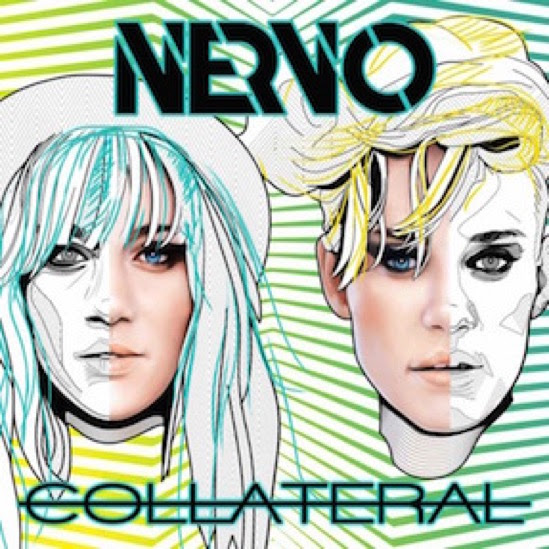 "From broke writers to international DJ/producer sensations, NERVO present their debut album 'Collateral,'" and it's assured to be well worth the wait. The highly anticipated debut album from Mim and Olivia Nervo is set to explore the triumphs and tribulations the sisters experienced on the road to becoming the world's highest ranked female DJs.
NERVO has already released a number of successful singles off of the 'Collateral' album, which includes "Rise Early Morning" featuring Au Revior Simone, "It Feels," "Haute Mess," and "Hey Ricky" featuring Kreayshawn, Dev & ALISA.
Watch the official "Haute Mess" music video:

The Cover Girl models reveal, "All the relationships, all the lessons, all the hustle, the ups and the downs, it all feels like it is meant to be and is reflected on this album – Collateral" Becoming the highest ranking female DJs of all time on the iconic DJ Mag Top 100 is surely no easy feat. Following a plethora of notable chart-topping single releases on Beatport and iTunes, NERVO has earned well-deserved residencies in Las Vegas and Ibiza – even appearing the cover of numerous magazines.
Listen to "Rise Early Morning" feat. Au Revoir Simone:

"There is a mix of tracks on the album and all are intended for different purposes. That's the beauty of working on an album! We didn't need to just write tracks for the dance floor; however, all tracks whether they be in their original form or through a remix, will be played in our sets." – NERVO
An official tracklist for 'Collateral' has just been revealed, which includes collaborations with Afrojack, Steve Aoki, Nile Rodgers, Nicky Romero, and Hook N Sling. Additional vocal talent on 'Collateral' includes Amba Shepherd, Kylie Minogue, Harrison Miya, and J Park, among others. The 15-track LP is available to pre-order NERVO 'Collateral' on iTunes starting July 10.
Watch the official music video for "It Feels:"

NERVO 'Collateral' tracklist:
(Digital Download Only)
     NERVO – Bulletproof ft. Harrison Miya
     NERVO – Hold On
     NERVO – Did We Forget ft. Amba Shepherd
     NERVO – Oh Diana
     NERVO – Haute Mess
     NERVO – Hey Ricky ft. Kreayshawn, Dev & ALISA
     NERVO – Let It Go ft. Nicky Romero
     NERVO – Rainham Road
     NERVO – Rise Early Morning ft. Au Revior Simone
   NERVO – The Other Boys ft. Kylie Minogue & Jake Shears & Nile Rodgers
   NERVO & Hook N Sling – Reason
   NERVO – Right Thru Me ft. J Park
   NERVO – You're Gonna Love Again
   NERVO – We're All No One ft. Steve Aoki & Afrojack (NERVO Goes To Paris Remix)
   NERVO – It Feels