Deep Tropics Drops Huge 2023 Lineup, Will Deliver Music, Art & Style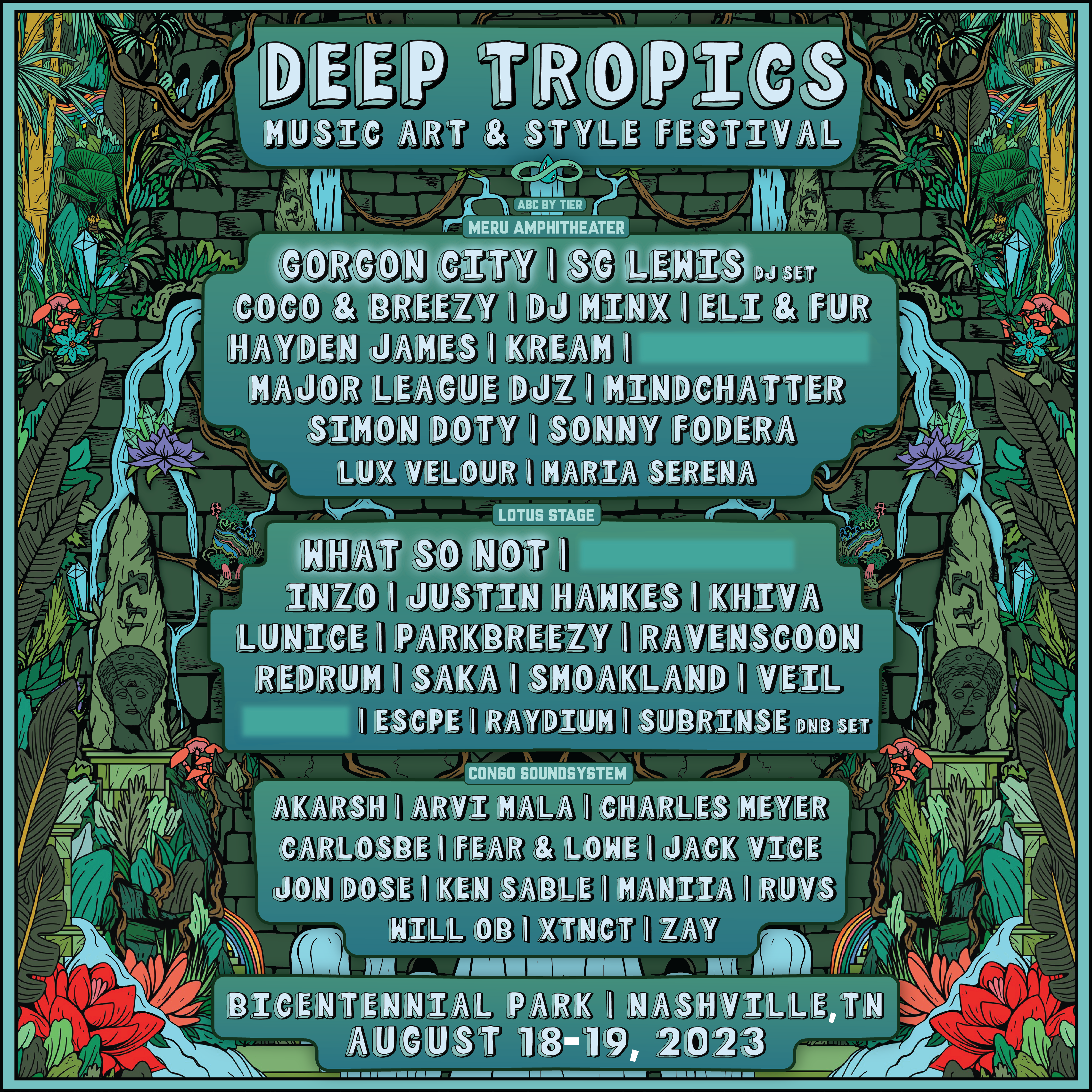 Nashville's Deep Tropics Music, Art & Style Festival has earned critical acclaim from the likes of the NY Times and Pollstar, both for the unparalleled experience offered and their impressive accomplishment in making this the most sustainable event in the USA.
Deep Tropics has just announced their return to Music City on August 18-19, 2023 for their fifth iteration, inviting fans from all corners of the globe to this dazzling music and interactive art experience. Spread across their three immersive stages – the ancient temple inspired "Meru" stage, the bass fueled "Lotus" stage, and a third performance space known as the "Congo Soundsystem", there's a whopping genre-bending lineup featuring SG Lewis (DJ Set), Gorgon City, What So Not, KHIVA, Inzo, Eli & Fur, Ravenscoon, Sonny Fodera and many more.
As expected, Deep Tropics offers a strong undercard of some of the finest breakthrough and rising talent, like Major League DJz, KREAM, Saka, Veil, Charles Meyer, to name a few. The creative site and stage designs will take the energy to stratospheric levels. The one-of-a-kind amphitheater in the park ensures every viewpoint is perfect with a beautiful downtown skyline view in the backdrop.
"The line-up this year truly represents a global dance music sound. We have artists from six continents which really fires me up. Growing up in Nashville, it's a bit surreal to host this level of cultural diversity in a city that is still primarily known for country music. I'm particularly excited for Major League DJz, Gorgon City, SG Lewis, Sonny Fodera, DJ Minx, Coco & Breezy, Lunice, and What So Not along with local legends Subrinse and Lux Velour." – Blake Atchison (co-founder of Deep Tropics)
Part of what makes Deep Tropics so unique is their continual success of going beyond net zero by producing a carbon negative event for the third year in a row. Their mission is to be the greenest festival in the United States and these efforts are fueled by their non-profit organization Deep Culture, Inc. In 2021, 79% of festival waste was prevented from entering the landfill and the proceeds from Green Disco Eco-Bands allowed them to plant 59,000+ trees in Kenya and help offset their carbon footprint. In 2022, 93% of festival waste was prevented from entering the landfill. Additionally, Deep Tropics has a zero-waste program to ensure materials are either recyclable, compostable, or re-usable.
Deep Tropics will once again create an entire program of pre-parties, day-time events, workshops and opportunities to connect in intimate settings throughout the weekend. Additionally, multiple off-site afterparty options catering to different musical sub-genres will occur simultaneously following the main event to carry us deep into the night. Expect a full program of pop-up events throughout the summer to escalate the energy and re-unite the Deep Tropics tribe as they lead into the festival weekend.
At the core, Deep Tropics is an experience that activates transformation of self, community, and planet, truly one of a kind that continues to pioneer the festival landscape with exemplary sustainable practices.
Tickets are on sale from March 17th, HERE.