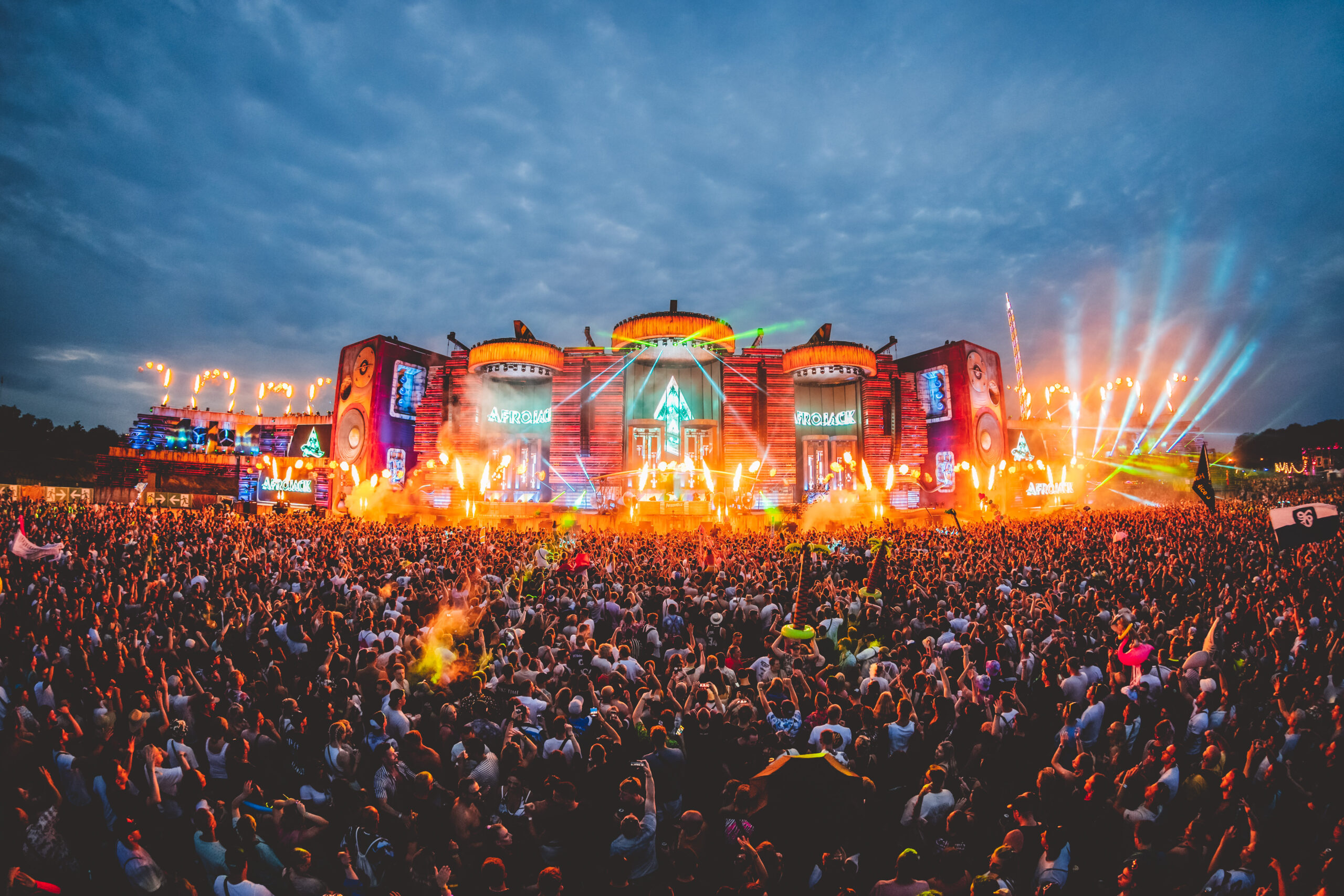 PAROOKAVILLE Goes All Out With The Chainsmokers, FISHER Joining 300 Acts Across 10 Stages
The festival summer is finally inching closer, and PAROOKAVILLE is heating up the anticipation with more global stars added to the line-up. Our crazy festival city opens its gates now for the seventh time this July 21st to 23rd at Weeze Airport, featuring over 300 acts on more than 10 stages and 225,000 fans. Each of the three festival days is jam-packed with the full range of electronic music, and 85 percent of all the Visas (Tickets) for PAROOKAVILLE 2023 are already sold out.
Having already delivered a magnificent show at the first PAROOKAVILLE Festival in 2015, the US duo The Chainsmokers now returns to the Mainstage for their first performance here since 2019. The songs from these GRAMMY winners including "Closer" with Halsey, "Don't Let Me Down," and "Something Just Like This" with Coldplay, are celebrated worldwide super hits totaling several billion streams. Their latest single "Make Me Feel" is a driving bass-house number hinting at the glorious celebration we can expect from their acclaimed live set at PAROOKAVILLE. (Mainstage Headliner, Saturday)
Dutchman Oliver Heldens has made a home in the Top 10 of the DJ Mag Top 100 and at PAROOKAVILLE for years now. His #1 debut mega-hit "Gecko" and his remixes for Tiësto, Dua Lipa, Coldplay, James Hype and many more are always a sure-fire guarantee for ecstatic vibes at the world's largest festivals, and his appearance with us in July is sure to be no exception. (Mainstage Headliner, Sunday)
W&W have been on-board at PAROOKAVILLE every year the festival has run since 2017. The Dutch DJ duo is an absolute favorite of our Citizens, and their Crowd Control "sandstorm" in front of the Mainstage in 2018 is now the stuff of legend. The celebration in front of PAROOKAVILLE's biggest stage in 2023 is set to be no less insane! (Mainstage Headliner, Saturday)
One of the biggest fish in the tech house pond is undoubtedly Australia's FISHER. He's been a PAROOKAVILLE Citizen since his grandiose breakthrough with "Losing It." He returns this year for the third time with a bag full of subsequent hits. The multi-Platinum winning Fisher is known far and wide for his stunning live performances, making him the perfect headliner for the Desert Valley Stage on the festival Friday.
Dutchman Brennan Heart, meanwhile a pillar of the Hardstyle scene and a close ally of PAROOKAVILLE for years, pumps all of his bundled energy out to the audience in his live performances. For 20 years now he's proven with his releases and shows that he doesn't follow current trends, he creates them. Brennan is back this year to drive the Citizens to ecstatic heights, joined once again onstage by Jonathan Mendelsohn! These two have enraptured millions of fans for 10 years now with releases like "Imaginary", and the crowd can look forward again this year to this fantastic highlight with outstanding beats plus gripping live vocals.
Off to a good start: Imanbek's brilliant "Roses" remix made him a star overnight, bringing him millions of new fans and billions of streams, along with a prestigious Grammy award in 2021. He's also proven he's no One-Hit-Wonder with successful follow-up releases since then, expanding this Kazakh DJ's impressive Platinum collection even further. 1LIVEpresents Imanbek's Parookaville debut at the start of the festival on Friday at Bill's Factory.
Mau P is hard at work right now turning the Tech House scene on its head, and this summer he'll bring all this energy to the Desert Valley Stage! This city boy brings his Amsterdam sound to PAROOKAVILLE for the first time on the heels of his current virtually sold-out tour of North America.
Germany's Cosmic Gate have been thrilling Trance fans around the world since the 90s, and this summer they'll make their third home-game appearance in Weeze. The follow-up to their hit album MOSAIIK was just released a few days ago, and the duo is set to fill the Cloud Factory on Sunday with their new hits and unforgettable classics.
The huge Artist Announcement for the seventh edition of PAROOKAVILLE is rounded out with more star acts including France's I Hate Models, whose sets are as sombre as they are sentimental. Double-Platinum artist Luude will also be on hand to deliver an unforgettable show at the Cloud Factory. More acts will be revealed on the accustomed social media channels during the course of the Announcement Week.
"This year, we're looking forward to what's likely to be the best Friday of all time at our City of Dreams. The Desert Valley Stage is set to bring the coolest of the cool in today's Tech House segment with FISHER and Mau P. And the Cloud Factory will feature a brutal Bass line-up, while the Power Plant will debut Hardstyle sounds beyond the realm of 180 BPM. Kygo and Timmy Trumpet as headliners on the Mainstage and our utterly insane live programme at Bill's Factory are bound to set the ground quaking in our city again to close out the festival." – Bernd Dicks, co-founder and Managing Director of Parookaville GmbH.
Following our grandiose return in 2022 and the first two Artist Announcement Weeks, tons of PAROOKAVILLE fans have already booked their arrival. 85% of all Visas (Tickets) for the opening of the City of Dreams' gates this coming July 21st to 23rd, 2023 are already gone, with some categories even completely sold out.
Ticket information
Currently still available: Regular Friday (119 Euros) and Sunday (99 Euros) Visas, Regular Full Weekend Visas with camping (339 Euros) and without (229 Euros), as well as various Glamping packages with tickets and accommodation (starting at 949.50 Euros p.p.).
And there's also some big news for all Base Camp Citizens: Effective immediately, you can additionally book FestiTent's Easy Camp (the successor to the popular PENNY Camp Upgrade) as an upgrade for existing tickets. The upgrade includes the rent for the tent, already built up, including an air mattress and more camping goodies in a sweet-spot location directly at the marketplace. The upgrade can be booked for 2 persons (180 Euros) or 4 persons (360 Euros) directly when purchasing your tickets as well as afterwards on the personal MyTicketPortal of the individual ordering the tickets.
Photos courtesy of PAROOKAVILLE