Mysteryland USA 2015 Leaves Imprint on Historic Woodstock '69 Grounds With Second Edition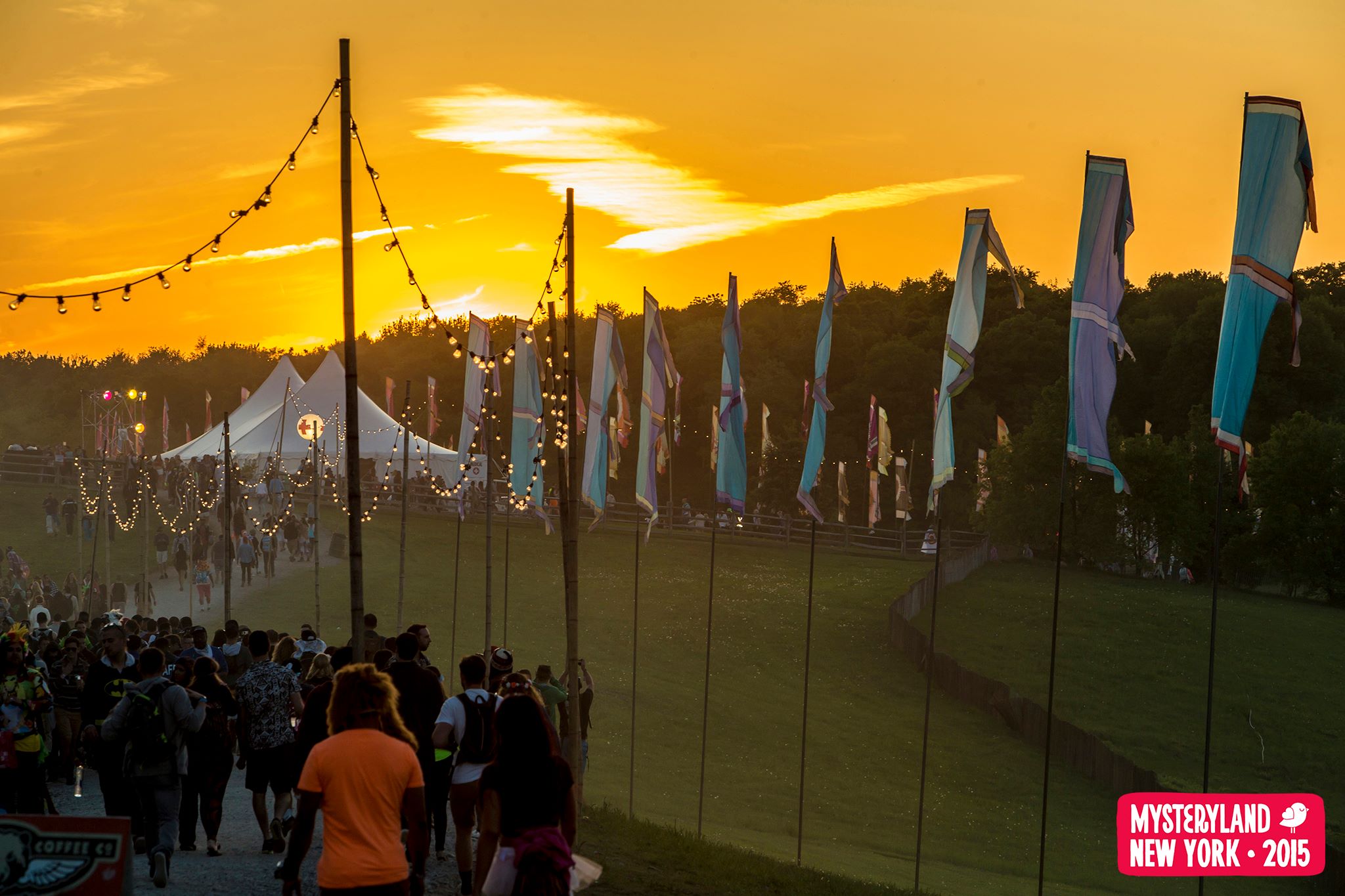 Whether you are a fan of the music festivals of today or not, we can agree that modern music festivals have a lot of bass but may lack heart. Let's be honest—today's festival is a very different scene from Woodstock, the game changer of 1969 that brought music fests into the living rooms of the American public.
Woodstock started out as the dream of young promoters who intended to put on a three-day show all about peace, love, and music in Bethel Woods, New York. They never could have predicted over half a million young hippies turning up in attendance to create what would become a cultural phenomenon. The inspiring minds behind Mysteryland set out to provide a similar feeling to their attendees, not only in location but also in heart. The festival uniquely blends art, spirituality, community, and music.
Drop your cares and your bags at a locker where your stuff is safe and pass code protected, while you party the night away. Don't worry about your phone dying either—the locker comes equipped with a charger inside.
As soon as attendees enter the grounds they load their bracelets with "Birdie Bucks," which essentially make every transaction cashless from that point forward. Though the dollar-to-birdie-buck exchange range is quite unfavorable, it certainly aids in much shorter lines at concession stands. Those concession stands happen to be turning out some incredibly delicious food from Smorgasburg.
Walking along you'll spot a toad on wheels pumping out jams while people take pictures and have an impromptu dance party. After that you just may feel like stopping into "The True Mirror," an interactive art piece that shows your reflection exactly how others see you. Or if that seems too intense, maybe just show up for deep house yoga with DJ George Faya, where you can groove through your vinyasa.
Walking further on, attendees will discover a giant TV, a larger-than-life teddy bear, a silent disco, an array of teepees, and a neon-lit sugar skull. "Incendia" is another interactive art installation where friends and lovers can stand under a dome with a flaming roof.
Everyone wants to be a kid again, and what better way than with carnival games and crowd favorite rides like the swings. Then there's the giant mousetrap game that has been traveling all over the country since 2005, a blend between large-scale performance art and scientific principles.
Friday and Saturday night temperatures dropped lower than most expected, and those wearing cow and lobster onesies proved to be much more comfortable than the rest of the crowd. The chilly nights really gave an unexpected boost in population to certain enclosed tents. Fans also flocked to the open air stage, Zeitgeist, which allowed lesser-known DJs like Skream to shine with their showcases and gain some new fans and followers.
While EDCNY raged on with some of the largest acts in the world, Mysteryland was interested in curating separate stages that allowed for discovery of new talent or some older talent that festival goers could discover for the first time.
Savoy, a group comprised of three producers, one of which supplies a healthy dose of live drums, rocked the boat while the sun went down on Saturday, mixing electronic music with vocals from Biggie and Kanye West.
Beats Antique is a performance art group who takes the crowd on a mystical journey. The music is something between a ritualistic chant and heavy percussion. The trio mixes tons of different genres with ever-changing tempos and samples. It's an interesting mix to say the least.
Gramatik—aka Denis Jasarevic—slayed with his live trumpet accompaniment to his bouncing hip-hop/dubstep act. GRiZ delivered live, sexy saxophone future funk. Sweater Beats used his blends of R&B and smooth horns to win over the crowd.
Skream, dominant in the UK and a pioneer in the world of dubstep, masterfully blended hard jungle beats and house with a long buildup of melody that was truly beautiful.
TJR walked away with lots of newfound fans this weekend. TJR is a DJ who you may not know by name but whose songs have gained support from the likes of Fatboy Slim, Hardwell, and Tiesto.
Better known acts like Bro Safari, Nicole Moudaber, Netsky, Adam Beyer, Madeon, The Martinez Brothers, and Dillion Francis each did justice to their respective genres.
Another aspect that differentiates Mysteryland from the rest is that the event rages on until 2 a.m. When the party had long since wound down at MetLife Stadium, Porter had just taken the decks. Porter Robinson closed out Saturday night with one of his praised live sets, which included many tracks off his acclaimed album Worlds.
The brains behind Major Lazer and ½ of Jack U, Diplo himself, closed Sunday night's main stage. Mysterylanders were a part of the talented producer's first time ever closing out an American festival. Diplo shows once again why he can never be pigeonholed into any one genre. To know Diplo's music is to love it and to accept not being able to label the producer's dynamic sound. Trap, dancehall, bounce, hip-hop, moombahton, deep house, and even a sample from his latest track with Madonna blared from the colossal Dueling Horses stage followed by a firework show.
When the weekend was over, the positivity only continued to flow onto Instagram and Facebook, with posts about new friends made and lasting memories. Strangers even connected to give back items they had found such as iPhones and cameras. Walking away from the grounds, the feeling of love and community between some 50,000 people was palpable. No, Woodstock will never be recreated, but Mysteryland succeeded in creating something special in its own right. Money was literally checked at the door, strangers became friends, and musical discoveries were made. Art was appreciated. No fights were witnessed, but two marriage proposals were.
Millennials, the grandchildren of Woodstock, took a pilgrimage to sacred grounds to feel something close to transcendental.
For more information on Mysteryland USA, visit mysteryland.us. Check this space for details about the third Mysteryland USA installment next year.
Photos courtesy of Mysteryland USA