Minus Zero Festival 2017 Returns to Vermont in April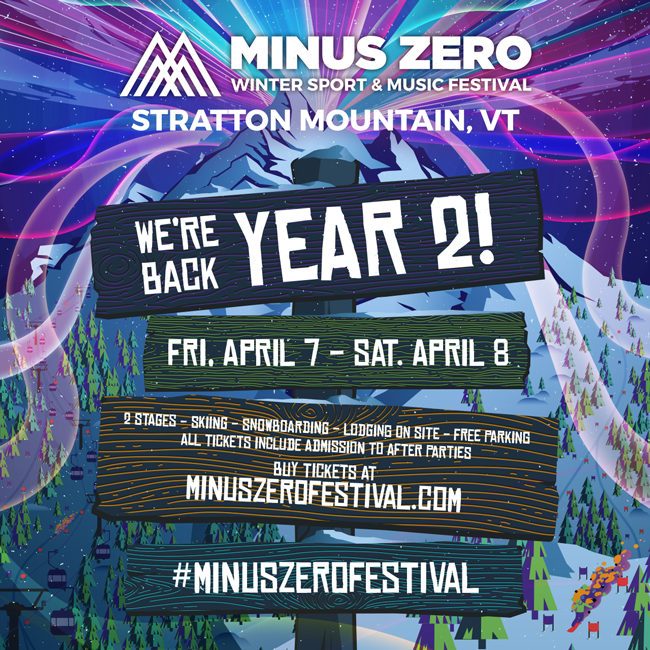 After a successful first event this past April, Minus Zero Festival will be returning to Stratton Mountain
The first Vermont-based Minus Zero Festival took place on April 9 & 10, 2016, and went off with much success. To usher in this premier event in the little slice of New England winter heaven, Minus Zero was able to round up some of dance music's biggest names to welcome in the traditional US festival season. Setting off one of the most prolific years for the Mau5head genius, Deadmau5, was a featured act alongside his protege Attlas. Other headline names to appear were Kaskade, Jauz, and Gorgon City.
The 2017 festival will be another two day event taking place on Friday and Saturday this time around on April 7 & 8, 2017. Minus Zero has also made the great decision to bring the celebration back to the home village of Stratton Mountain in South Londonberry, VT. This convenient New England winter-time resort is located just four hours North of New York City and three hours North of Boston. The Stratton Mountain resort is host to over 35 different lodging options and provides direct on site accommodations.
The upcoming Minus Zero Festival 2017 will once again be spread across two-stages and be paired with exclusive after-parties which will be included with ticket fare. Last year the upper lodge served as the intimate spot for a late wintry night get together, mixing bare bones production with a warmly bundled setting providing an experience not many get the pleasure of enjoying. Over the course of the two day event make use of the many trails available to ski or board on in one of the region's leading winter sport hot spots.
Check out the 2016 recap video below and don't miss out on the second annual Vermont-based Minus Zero Festival:
For more information on the upcoming Minus Zero Festival 2017 follow their Twitter, Facebook, and Instagram.