Knife Party & Oliver Heldens Team Up For Big Week NYC at Pier 94 on Dec. 29, Win Two Complimentary Tickets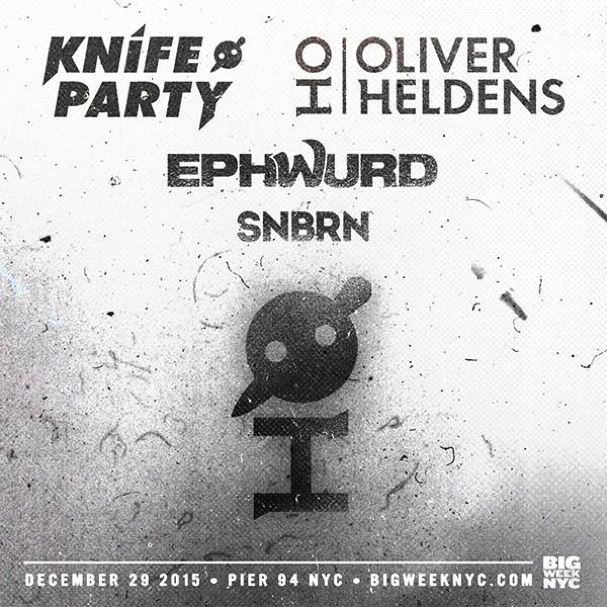 New York City is preparing for a big event—during Big Week NYC—to cap off up the holiday season. House music sensation Oliver Heldens and the dynamic duo Knife Party are teaming up to deliver an unforgettable night in the city that never sleeps. Electronic dance music (EDM) lovers are filled with anticipation leading up to the larger-than-life RPM event.
This year, Oliver Heldens established his own lable, Heeldeep Records with the first release under his moniker HI-LO. Under the alias, he's already released his 2015 hits "Renegade Mastah" and his rework of "Met Her At The Love Parade (MHATLP)." HI-LO released his latest track "Ooh La La," bringing a groovy track with hip-hop vocal samples. Heldens is known for percolating dance hits through the years, which includes: "Gecko," "THIS" with Sander van Doorn and this year's "Shades Of Grey" with Shaun Frank.
Knife Party released their long awaited EP "Trigger Warning," which took things into a humorous direction. The EP contains four new tracks loaded with heavy electro taste, named: "Plur Police," "Parliament Funk," "Kraken" with Tom Staar, and the rising LA-based producer Jauz Remix of "Plur Police."
Additionally, Knife Party is recognized for their notable hits "Internet Friends," "Bonfire," and "Boss Mode." Both Oliver Heldens and Rob Swire from Knife party were seen working together in the studio earlier this year so who it's a wonder what the pair has in store!
The Nocturnal Times is giving away two complimentary tickets for Knife Party & Oliver Heldens Big Week NYC! Enter to win here:
*Contest ends Thurs., Dec. 24 at 11 am EST.
Doors for Knife Party & Oliver Heldens open at 9 pm. Tickets are available HERE.
Listen to Knife Party's Latest EP "Trigger Warning:"
Listen to HI-LO's latest track "Ooh La La:"