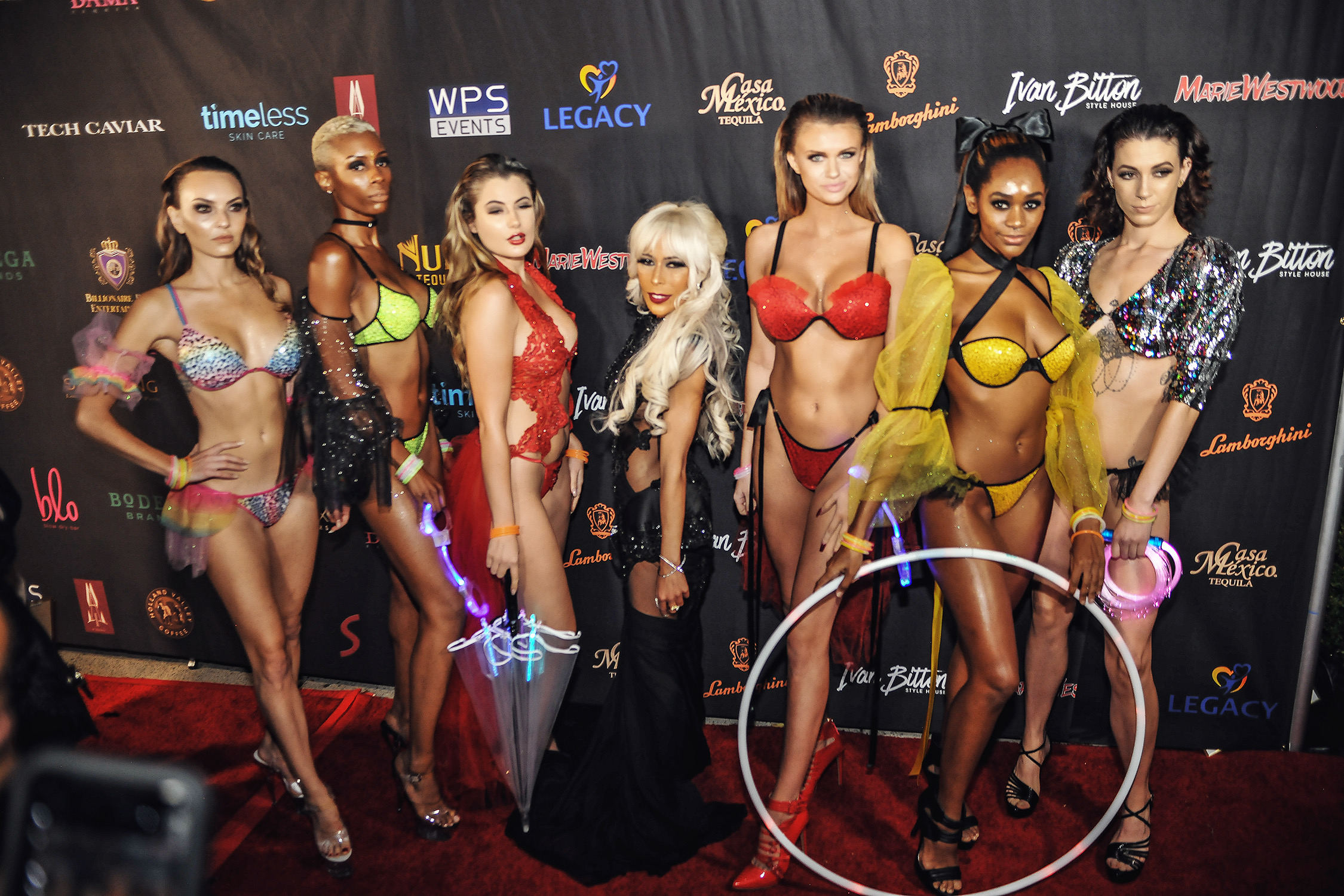 Kaila Methven Celebrates Magazine Cover Appearance, Featuring Her Expression of Festival Couture Lingerie Fashion [Interview]
Los Angeles, California: The Nocturnal times had the chance to attend the Marie Westwood Magazine's Issue Release Launch Party, featuring Kaila Methven and Mario Lopez on a dual cover. Primarily, Kaila Methven arrived on the red carpet with her models to preview a teaser of her upcoming lingerie festival collection, Madame Special K. The line features a variety of approachable outfits any individual can wear, ranging from elegant yet audacious festival or club pieces.
Kaila Methven is a successful entrepreneur and a celebrity lingerie couture designer who gained notoriety as the "KFC Heiress" from Maxim Magazine South Africa when she made a graceful appearance on the cover. She continues her upwards momentum, reigning in the Hollywood socialite scene while focusing on her launch in 2020 for her festival-inspired collection, Madame Special K. She's truly an innovative and body positive leader in lingerie fashion, and has even designed for celebrities such as The Kardashians, Katherine McPhee and Demi Lovato.
Kaila is releasing her debut festival couture fashion line for presale December 2019. The line is Kaila's expressive take towards the festival community, embracing it's opening & welcoming arms, displayed within her version of design, fashion, and culture.
After congratulating Kaila for her magazine cover feature on the Marie Westwood Magazine, we were able to chat with Kaila about her latest dance music, festival-inspired line, Madame Special K, launching this December.
The Nocturnal Times: With an amazing background in fashion and design, how does it feel to branch into festival couture lingerie?
Kaila Methven: It's absolutely amazing and thrilling! I've been working really hard, as I've wanted to contribute and give back to the festival community for such a long time, so to finally come to the sneak peak really excites and warms my heart so much! Having people appreciate my artwork, whether it means being able to see it for themselves or experience it through fashion means the world to me. Plus for me as a designer, to be welcomed into a community so rapidly with open arms, means so much to me, and it also says so much about how beautiful the community is.
The Nocturnal Times: How did you come up with the concept for your Special K lingerie line, the designs, the preview, and the show?
Kaila Methven: I went to a few festivals and I felt that a lot of the women and men didn't appear as comfortable, or didn't feel that they could do more than the norm or the standard look. And now there's nothing wrong with it, however I was thinking how could we tweak things one notch higher so that they aren't having to be extravagant but can still feel that they are significantly making their mark, even on the third day. If you're here to celebrate the music and live in the moment, why not do it right and look spectacular – affordably. The perfect weekend fit!
The Nocturnal Times: I love that you're inputting a lot positive energy into the festival community, and that you're encouraging both men and women to feel vibrant in their skin and feel confident! Besides a successful launch for the brand / line, do you have any other endeavors and hopes for the future?
Kaila Methven: I want to be the revolution of EDM and festival lingerie clothing for both men and women. That's it! I really want to input myself and contribute to this community. I feel that the festival community is such a beautiful way that people escape their routine and have a chance to express themselves without judgement, so to be apart that of that is truly an honor. If happen to be tagging along five years from now, making outfits, I would genuinely feel so grateful, as I've seen how these experience impact and ultimately change a lot of people.
The Nocturnal Times: 2020's coming really quick and we want to give our audience the juiciest info, so if I can ask, where is your line of festival couture lingerie going to be available?
Kaila Methven: People can check it out and buy it on my new Instagram @madamespecialk or Facebook, one click – go! Or they can go to my website www.madamemethven.com! We also have a few buyers that we can't disclose quite yet, but we encourage everyone to stay up to date!
Madame Special K will be available for pre-orders on December 1st, 2019, at www.madamemethven.com.