Insomniac Adds 30+ Acts to Nocturnal Wonderland 20th Anniversary Lineup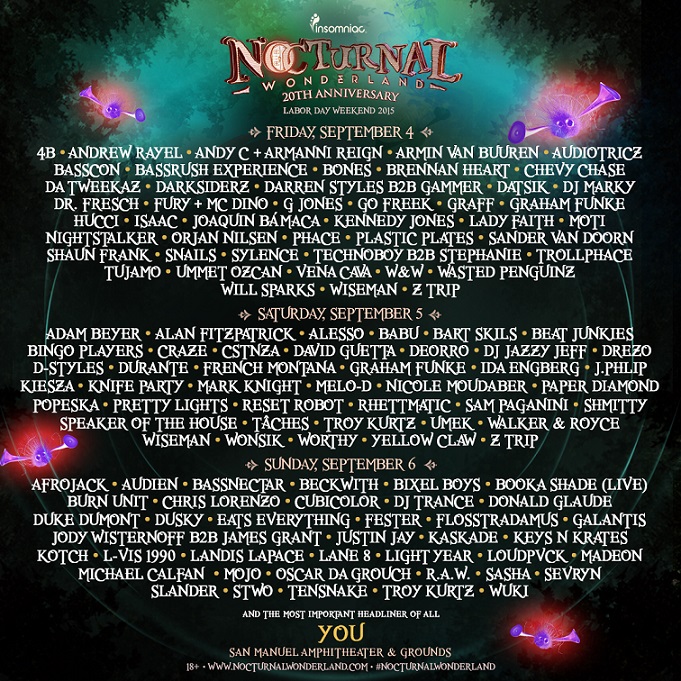 Insomniac Events has announced more than 30 additional acts to join the roster for the 30th anniversary of Nocturnal Wonderland. For the first time in its history, Nocturnal Wonderland will see its first ever three-day edition with performances from more than 100 top Electronic Dance Music (EDM) acts.
With expanded camping grounds to add new surprises to the Labor Day Weekend festival from September 4-6, 2015 at the San Manuel Amphitheater & Ground, the 20th anniversary of Nocturnal Wonderland promises to be the biggest installment yet.
"Nocturnal Wonderland's 20th Anniversary isn't just a milestone for us, but a milestone for dance music in Southern California," said Pasquale Rotella, Founder and CEO of Insomniac. "We've got a legendary lineup and a brand new camping experience prepared. I can't wait to take this incredible journey with our Headliners and celebrate our history together."
Insomniac curates some of the biggest and intricately designed festivals in North America. The production company is has become best known for its annual Electric Daisy Carnival in Las Vegas.
Camping passes for the 18-and-over event are now available HERE. Three-day general admission passes, three-day VIP passes for those 21 and over and single day passes are available HERE. Payment plan options are also available.
The final addition of artists to the 20th celebration of Nocturnal Wonderland include:  
4B
Babu
Beat Junkies
Bones
Burn Unit
Chevy Chase
CSTNZA
D-Styles
Dj Jazzy Jeff
Drezo
Durante
Go Freek
Graff
Joaquin Bámaca
Kotch
Landis LaPace
Light Year
Melo-D
Plastic Plates
Popeska
Rhettmatic
SEVRYN
Shaun Frank
Shmitty
Speaker of the House
STWO
Troy Kurtz
Vena Cava
Walker & Royce
Wiseman
Wonsik
The full Nocturnal Wonderland lineup can be viewed here.