HYTE NYC Brought the Scares to Brooklyn for Halloween Festival With Loco Dice & Friends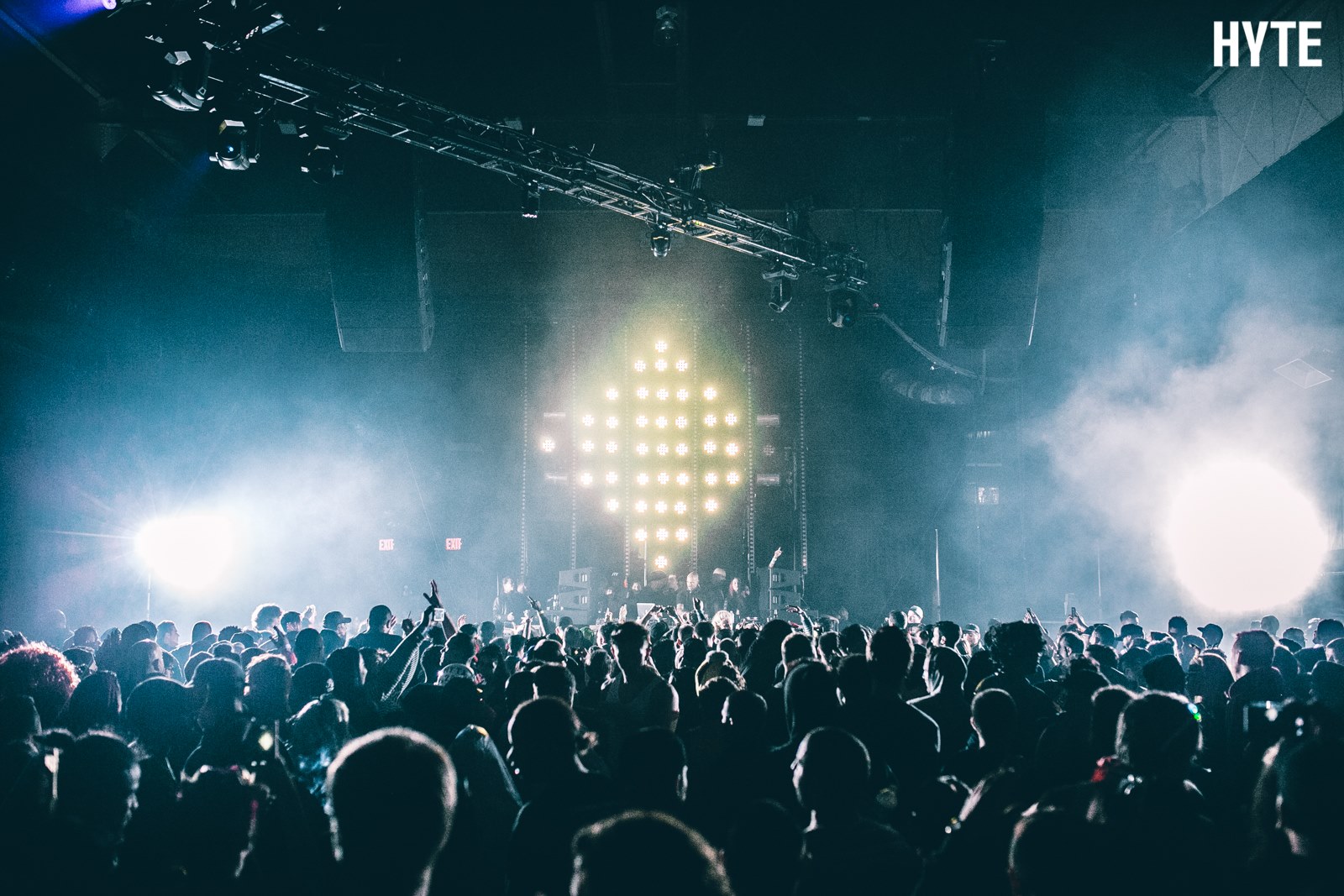 HYTE NYC took its latest installment to a Brooklyn warehouse for a two-day Halloween weekend event
A dark warehouse with pounding techno beats was the perfect spooky venue for heavy loaded lineup of HYTE festival this weekend in Brooklyn. The two-night event took place Friday October 28th and Saturday the 29th, and dance music fans came out for the warehouse event at 140 53rd Street in Brooklyn in full costume.
HYTE is a global dance music brand of event that features up and coming talent alongside respected names, spanning genres and labels which exposes fans to a variety of sounds and talent. HYTE takes place in Amsterdam, Beirut, Berlin, Croatia, Ibiza, and Italy. Friday night's lineup started at 10 PM when up and coming, New York City based DJ and producer Ace Alvarez took the decks. Alvarez has become a recognizable name in dance music, and draws his Latin influence from his Argentinian family growing up in Queens. His sound is quite eclectic and energetic, while his mastery of the rhythm enables him to transition from warm up sets to after-hours vibes that get the crowd buzzing. Alvarez has had several live performances in New York City, at the top clubs in North America including Output in Brooklyn, Space Ibiza in New York, and Cielo. Drumcell was up next, and his set described in one word was "hypnotic." Using a combination of digital and analogue sound, a raw, unique and suspenseful sound is what Drumcell is well known for. Along with the Raiz brothers, Drumcell created the renowned techno label Droid Recordings, in the early 2000s. His unique style using analogue synthesis, has been supported and sampled by the techno king himself, Chris Liebing. What made HYTE NYC so special this year was the closing B2B set, Chris Liebing B2B Drumcell, which started at 6 a.m.
Before that, Paco Osuna controlled the stage from 1 a.m. to 3 a.m. With a career spanning over 20 years, Osuna is a big name in techno and is highly respected for his sophistication and deep awareness of sound aesthetics. Chris Liebing, the king of Techno, came on to a bumping crowd and the energy in the club was electric. Chris Liebing is a DJ, Producer, radio host of a weekly show and the man behind the labels CLR and Spinclub Recordings. Liebing has made a well-established name for himself since the 90's, and has played for the likes of Carl Cox in Ibiza for four Cocoon club residencies in 2003. In 2009, CLR which initially stood for "Chris Liebing Recordings" was changed to stand for "CREATE LEARN REALIZE" which represents Liebing's process in curating music, and in turn the label opened up to include more experimental artists.
Night two of HYTE was underway on Saturday, with temperatures warmer than the night before, Halloween celebrations. Rising stars Caleb Calloway and Culoe De Song set the tone for the final night in their opening sets. Calloway's sound is driven from his upbringing in Puerto Rico, with a heavy Latin influence that was impossible not to dance to. He quickly gained recognition in the underground scene sharing the stage with the likes of Damian Lazarus, Art Department, The Martinez Brothers, Green Velvet, tINI, and Loco Dice. Also playing at heralded festivals like The Electric Daisy Carnival, BPM Festival, and TDA Festival in Panama.  As a producer, Calloway is also gaining momentum with acts such as Marco Carola, Loco Dice, The Martinez Brothers, Joris Voorn, and Paco Osuna playing his tracks all over the world in 2016. Catch him at the new club opening in Brooklyn Schimanski, tonight for the Halloween celebration. Culoe De Song is from South Africa, and his music career began in early 2007 where he produced a track that made him a feature in Black Coffee's "Have Another One". The track was named "100 Zulu Warriors" and this was a defining moment of De Song's career that gained him popularity in the music scene in South Arica.
Argentinian DJ and producer, Guti, was next to perform, and brought his own unique jazz mixed with club influence to the event. Guti got his start playing and partying in Berlin, sharing a flat with Seth Troxler and Ryan Crosson. It was here that Guti honed his production skills and where he was recognized by Loco Dice when he partnered up with him for his first solo album titled Patio de Juegos. In 2013, Guti moved to Barcelona, and opened a studio there he focused on integrating live instruments such as piano to give his sound a jazz flair, while still putting out tracks that work in the club.
Loco Dice himself played a special 3 hour set, which started at 2 a.m. until 5 a.m. Fans were there all the way until the end for this can't miss performance, and the energy throughout the venue was incredible. With each build up and transition, which Loco Dice is most well-known for, the crowd was cheering with excitement and appreciation. The sound system of the venue, which was the same venue as Awakenings festival last November, was excellent, it seemed that throughout the venue the sound carried clear while the bass was still heavy. Derrick Carter closed out the night, to party-goers that remained after 5 a.m., and his house style which incorporates jazz and soul, was the perfect way to end the event. Overall, the vibe was spooky and celebratory, making it a special way to celebrate Halloween weekend.