HSMF17 Official Mixtape Series #8: Hotel Garuda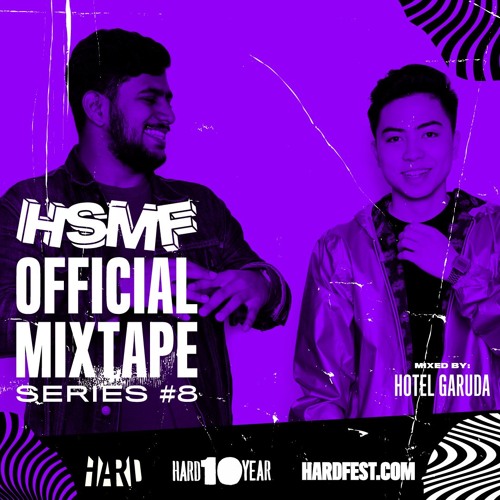 West coast duo Hotel Garuda are the latest members to join the HARD Mixtape series in the flowy upbeat 52 minute HSMF17 Official Mixtape Series #8: Hotel Garuda mix
Starting off the mix Hotel Garuda plays their "Green Light" remix by Lorde, a great artist selection to put in any mix quite frankly. To follow it up the current Dead and Company frontman John Mayer also gets a shoutout with his 2003 hit "Bigger Than My Body." Not everyday can you say you've listened to a John Mayer song within a dance music mix, however Hotel Garuda pulled it off in a more than fitting way. To bring the energy up the bouncey house tune "Ode To Oi" via hype man TJR is spun around with an intertwined JOYRYDE "I Ware House" and Flume remix to Collarbones' "Turning."
Throughout the entirety of the mix Hotel Garuda goes heavy on the mashup and mixing multiple songs together and interchanging them on/off. It gives the HSMF17 Official Mixtape Series #8: Hotel Garuda a very high paced feel to it, one that seemingly brings you to the end of the mix having felt it was over too soon. However, do not misinterpret this for a rushed and chopped up set as you might see occasionally in amateur producers or mini-mix sets where artists are forced to go mix crazy.
Of course this wouldn't be a mix from 2017 if there wasn't a Future remix included, and Hotel Garuda chooses a great one with the dark and bass heavy Yntendo "Chase No Bitch." To keep up the West Coast vibes Dr. Fresch's "Techno" remix is played, giving the mix a good balance of all things dance music in this hour long mix. The original heartwarmer of a tune "Fixed On You" by Hotel Garuda flaunts the duo's creative skills and shows quality production on top of their superb mixing ability.
The end of the mix includes a variety of big hip-hop tracks such as Drake's "Skepta Interlude" and one of the biggest tracks to recently be incorporated in dance music sets "Goosebumps" by Travis Scott. To counter the mainstream but enjoyable hip-hop tunes, Hotel Garuda makes sure to put some hearty house tunes like Malaa's "Belleville" in their to keep it dance heavy. If you haven't heard Vince Staples or any of his new material, his new track "Yea Right" might sound oddly familiar as it's produced by future bass titan Flume. To leave the mix in an enjoyable and upbeat mood the Celsius track "Incoming" gives you a parting gift.
Listen to the HSMF17 Official Mixtape Series #8: Hotel Garuda below: