Gabriel & Dresden Classics Only at Watermark Patio in NYC on August 13th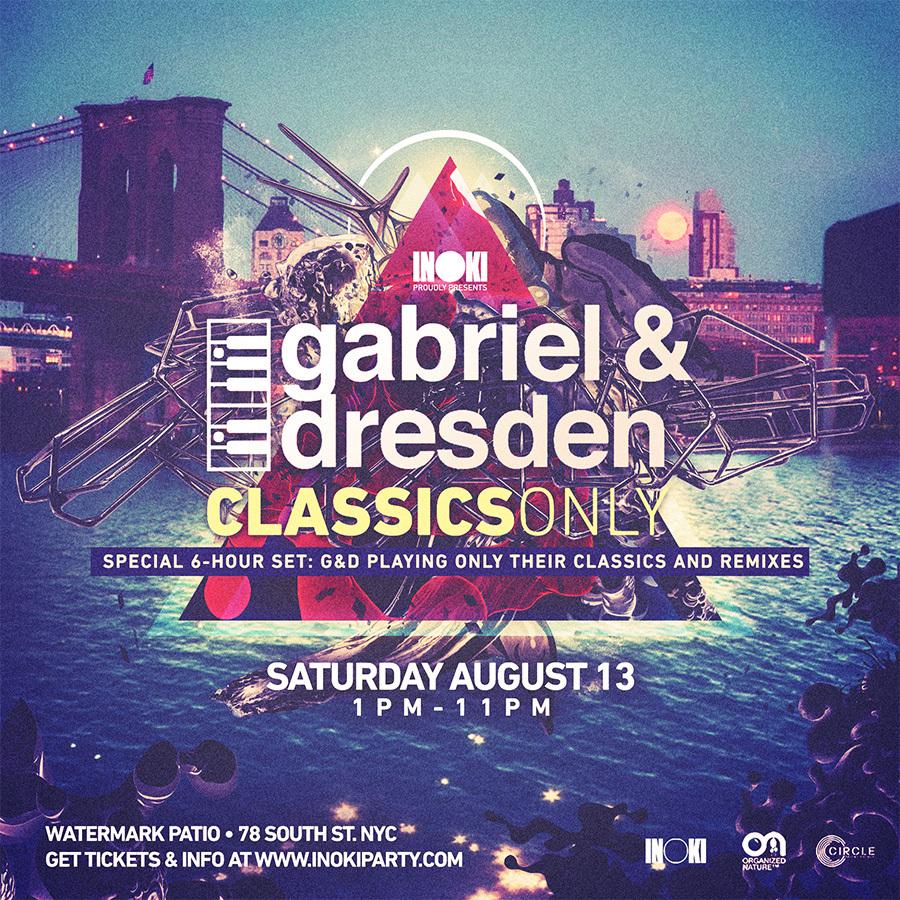 Gabriel & Dresden return to New York City with 6-hour Classics Only set
Iconic emotional dance music duo Gabriel & Dresden have announced their highly anticipated return to New York—and they're bringing Classics Only. The return of Classics Only comes following a successful North American tour where they showcased only their own classic tracks and remixes.
Making their Watermark Patio debut, Dave Dresden and Josh Gabriel have been providing New York City with unforgettable sets for more than a decade. From "Tracking Treasure Down" to "As The Rush Comes," to "Zocalo" with Armin van Buuren and "Without You Near" with Markus Schulz, G&D is responsible for some of dance music's most cherished gems. This is why it makes sense for them to continue touring with Classics Only.
When you're the mastermind's behind signature remixes for Way Out West ("Mindcircus"), Andain ("Beautiful Things"), Paul Oakenfold ("Southern Sun"), Sarah McLachlan ("Fallen"), Tiësto ("In My Memory"), and many more, it becomes difficult to not include them in your sets. Giving the fans more of what they want, G&D returns with some more classics, such as "Mass Repeat," "No Reservations," "Tomorrow Comes," "Arcadia," "Dangerous Power," "Eleven," and a slew of others.
Familiar to music lovers for their popular remixes, mash-up's, solo productions, and work alongside JES as Motorcycle, the originators of Organized Nature have undoubtedly cemented themselves a spot in the figurative dance music hall of fame.
Join Gabriel & Dresden for their NYC return on Saturday, August 13, 2016 from 1pm—11pm at 78 South St. Tickets are available now for $25.
Tickets for Gabriel & Dresden Classics Only are available HERE. For details and more information, visit InokiParty.com.