Exponentially on the Rise: Alan Walker's Magnetic Allure [Interview]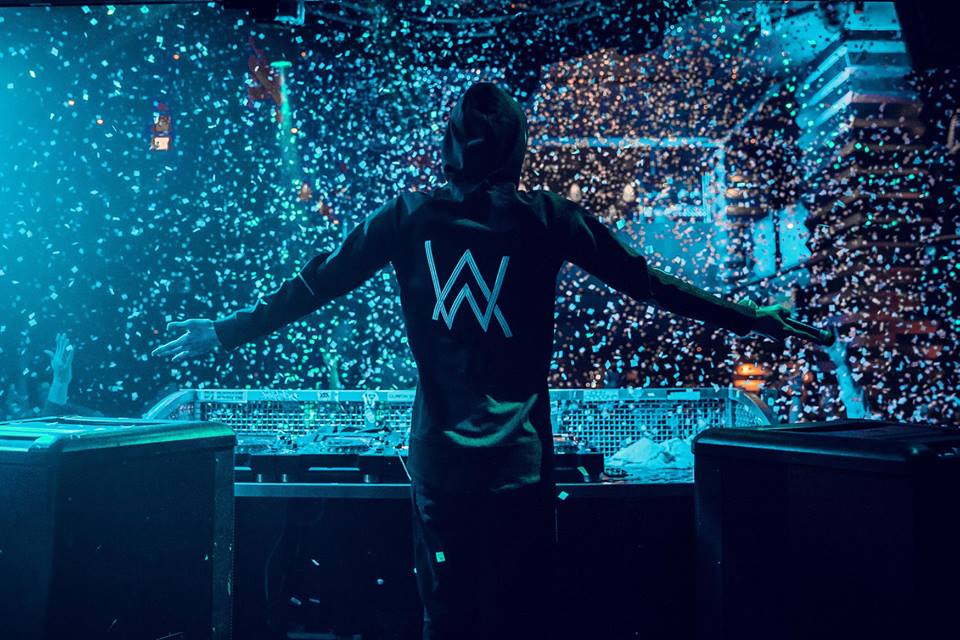 Melodic, endearing, and intriguing are only a few words to describe all that is Alan Walker. The Norwegian producer has captivated the masses with his mysterious charm and infectious sound, and in only a few short years has seen his career skyrocket into another dimension.
Walker has been making waves in the scene as a very young and ambitious artist since being placed on the map following the release of "Fade," which later became "Faded." With a magnetic allure and a plethora of love to share with his beloved 'Walkers,'  Alan exudes just the right fresh and exciting energy this industry thrives off of. Forever emanating a feel-good energy across the dance floor, he has a unique way of capturing your heart and sending you off to a peaceful and magical zone. Alan's uplifting and melodic tracks go much deeper than what you hear on the surface. Packed with many significant messages, tracks like "Alone," "Sing Me To Sleep," and his recent re-lift "This Is Me" extend profound meaning to Walker fans far and wide as they embody Alan as an artist and all that he stands for.
You'll notice Walker's music has a very cinematic and melodic feel, which is a continuation of his roots in the digital space and his love for film. His 'Unmasked' documentary series chronicles Alan as an artist and depicts his life as a producer today, as well as gives a solid representation of where he came from and how he ended up exponentially on the rise. Embracing the unity of the online community he grew up in, Alan wears his mask as a symbol of this togetherness, welcoming others to join him and ensuring they know they're not alone. After rising in the scene with the help of his core fans – these gamers, he has managed to continue on with this identity and portray this mysterious character, telling an interesting story to the world.
With the support of industry veterans like Armin van Buuren, Steve Aoki, Tiesto, Kygo, and Marshmello, he's taken to new heights and continues on the up & up. Jumping headstrong into 2018, Walker shows no signs of slowing his pace. Kicking off the year with a monumental performance on Jimmy Fallon alongside Noah Cyrus, the momentum has continued with major tour stops and is still heating up as he joins Kygo on several of his 'Kids In Love' tour stops. Cracking the Top 20 of DJ Mag's annual Top 100 Poll (at #17, up 38 spots from last year) and landing spots on dance's top charts including Billboard Hot 100, he's demonstrating his talent and proving himself as a top-level artist.
After a smashing Coachella performance last weekend and a follow-up performance tonight, April 20th for weekend two, Alan is hitting his tour hard and further establishing himself as a large-scale artist in the scene. Weekend one's performance in the reimagined Sahara tent was bursting at the seams per usual with energy, excitement, and emotion. A classic Walker show, he cranked up the love with tracks like "All Falls Down," "Sky," "Faded," and "Tired," and even brought pal Steve Aoki on stage to tease their new collaboration. Along with Aoki he brought out friends/collaborators Noah Cyrus, Mako, Juliander, Conor Maynard, and Gavin James to keep the Coachella crowd jumping on their toes.
With a remarkable first few years in the public eye and an astounding launch to his career, there is certainly no telling what heights can be reached for this inspirational young artist. Living a life behind computers and technology has propelled Alan from the quiet space of his bedroom to the loud and unfathomable space of main stages across the globe, and we cannot wait to follow along with his journey for years to come.
We sat down with Alan in the moments following his Main Stage performance on Saturday evening during Ultra Miami 2018 to discuss the week's festivities and his prolific year so far. Read our Nocturnal Times Q&A with Alan Walker below:
The Nocturnal Times: The last time we spoke was during EDC Orlando 2017 – tell us a little bit about how it feels to be here today, at Ultra's 20th Anniversary, and another Miami Music Week.
Alan Walker: It's a true honor being here, and to perform on the Main Stage of Ultra during the Anniversary – it's not something that happens every day! I'm really honored and thankful for the opportunity, and it's been incredible being back here for Music Week. Ultra has been a dream come true, and also to be on Main Stage.
The Nocturnal Times: Your performance just now was incredible! How did you think everything went? You even had a few very special guests – what can you share with us about that?
Alan Walker: Yeah! I invited Armin van Buuren – we've been working on a song together, and hopefully that one is going to be ready soon. I also invited Steve Aoki on stage, and we played my remix of his song "All Night," and also our song we are working on together.
The Nocturnal Times: How would you say that your performance here tonight compared to last year's?
Alan Walker: It was better! You have time to improve, you have time to learn more new stuff, more new music. Being able to put together a show that people like is an honor.
The Nocturnal Times: What else have you been up to in Miami this week? Have you had any time within all of your scheduling to catch any of your friends' performances?
Alan Walker: I did the DJ Mag Pool Sessions party – but yeah I was at Ultra yesterday and saw people play – Armin van Buuren, Axwell Λ Ingrosso, and a couple others!
The Nocturnal Times: You're currently on your World of Walker tour – tell us about it!
Alan Walker: So far the World of Walker tour has been incredible, and we're here in the United States, and also have been to Latin America – I go back to Latin America actually in a few hours to perform in Brazil. The tour has been great, first stop here in Miami and a couple days off has been absolutely great. We're going back to Europe to perform in Estonia and Russia before some time off.
The Nocturnal Times: If we shift over to your more recent singles, obviously "All Falls Down" is doing super well, so congratulations! You recently performed this on Jimmy Fallon with Noah Cyrus too – how was that experience?
Alan Walker: Incredible – it's something that I would have never, EVER expected to happen, but Jimmy Fallon was really cool, and just seeing how "All Falls Down" is performing is really, well – I don't even know how to describe it! It's amazing!
The Nocturnal Times: You played your new single, "This Is Me" out there, and it's got a super powerful message behind it. On top of this, the way you interact with your fans is on a very deep level – can you tell us a little about your inspiration behind it all?
Alan Walker: Well, I'm a big fan of movies, and to be able to give it a relift and a really, really meaningful movie soundtrack is a true honor. I was really happy that we flipped this song in it, and it is a difficult meaning, and the whole message in that song is horrible and I think it's really important to get that out there and to help people speak out for something that's bothering them. Even myself – everyone has something they're dealing with.
The Nocturnal Times: Looking towards the near future, you'll also be jumping on tour with Kygo for a few shows. What will that look like, or how did this come to happen?
Alan Walker: Me and Kygo are two homies from Bergen, Norway and we just got this idea of me jumping on tour with him – to have like team Norway on tour in America. I'm really happy. Kygo is a really good friend of mine and I'm really thankful that he wanted to bring me on tour!
The Nocturnal Times: Are there any other artists that you look up to, or friends of yours that you'd love to see yourself touring with in the future?
Alan Walker: There's plenty – the options are definitely out there. I think Lost Frequencies would be pretty cool, Don Diablo – maybe next time it will be Kygo that joins me!
The Nocturnal Times: Outside of producing and touring which take up the majority of your time, what are some activities you enjoy doing in your free time?
Alan Walker: When I have free time I try to do as much as I can. Hang out with friends, family, and do whatever else is necessary. I like to be home or just travel somewhere where I can just lack off and not think about music, not think about anything and just chill and be with friends.
The Nocturnal Times: If you look between current collaborations in the works, or ones in the future that you'd like to pursue, who would be some artists you've got on your list as wanting to work with?
Alan Walker: I would love to work with Sia – I've already been playing around a song which has a demo vocal which everyone thinks is Sia, therefore I think that song would be perfect for Sia, so we'll see.
The Nocturnal Times: If you take a second to reflect back on certain shows or festivals from the past that have stuck out to you for one reason or another, what would you be thinking of?
Alan Walker: In Chile, for example, there was a crazy crowd. I think the crowd jumped so much that it created an earthquake! But I was in Chile just a couple days ago and it was incredible. It's kind of like me and Kygo, we also play there. They're so passionate and loving and they really really appreciate music, and they show that appreciation so well.
The Nocturnal Times: You're in a really cool position where you're still young in the game but are really really on the rise up there right now. If you were to give advice to someone who is an aspiring producer, what would you say to them, as someone who was there not long ago?
Alan Walker: I would say just keep on working as hard as you can. Don't ever let anyone take you down. It is really important to believe in yourself, and try something new! Don't always follow what everyone else is doing. Do something different and see how it goes. Also you never know what is around the corner. I think I am a really great example of that because I just made music in my bedroom – I was like 16 years old. And then I put out "Fade", and at that time I had maybe 1,000 followers on YouTube and Soundcloud, and that was the one thing that led to my breakthrough and it's been really cool, really fun, and quite an adventure, and it was all unexpected. And that's why I always say you never know what's just around the corner because it comes when you least expect it.