Electric Zoo Transformed Randall's Island Into Dance Music Oasis For Seventh Consecutive Year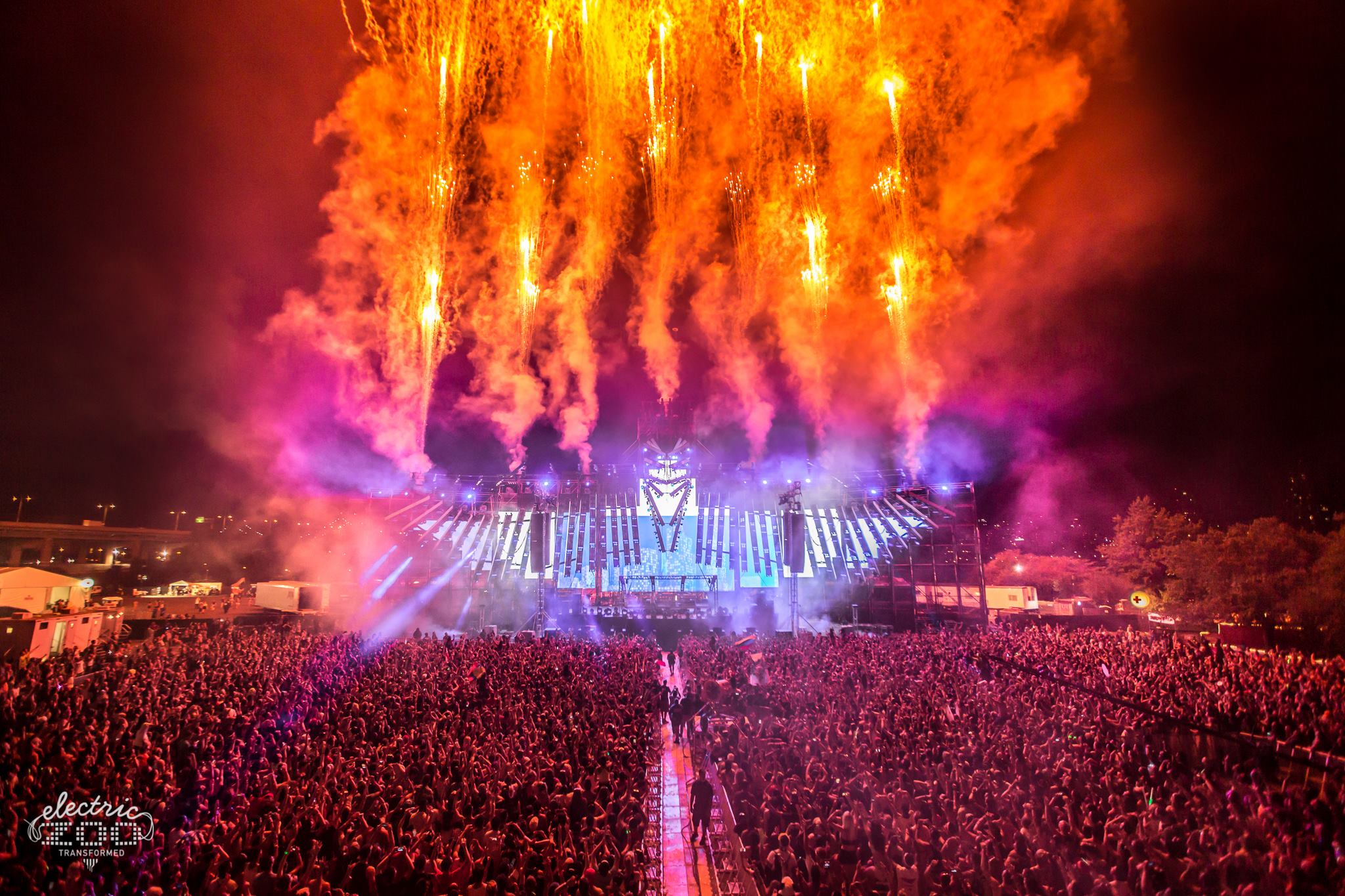 It has been seven years since Electric Zoo first began its domination of Randall's Island Park, which hits the open-air venue each year during Labor Day Weekend. This year, the popular music festival debuted its Electric Zoo: Transformed.
The seventh installment of New York's music festival kicked off on Friday, September 4, coming to a close on Sunday, September 6 with "The Final Transformation Finale" on Sunday, September 6 at 10:55 p.m.
Curating a dance music oasis on Randall's Island, Electric Zoo: Transformed united music lovers all weekend long with performances across five stages, which were scattered across the spacious and grassy park.
Over the course of the three-day event, dance music heavyweights—across each of the various EDM sub-genres—Above & Beyond, The Chemical Brothers, Alesso, Galantis, Adam Beyer, Pete Tong, Thomas Jack, Oliver Heldens, Dirty South, NERVO, Ferry Corsten, Markus Schulz, Adventure Club, Madeon, Cashmere Cat, Gramatik, Borgore, Audien, Zeds Dead, 3LAU, and more, took part in the first ever Transformed Electric Zoo in the festival's 7-year history.
Electric Zoo began as New York's electronic music festival in 2009 and still has the potential to be great again. There's still something that sets Electric Zoo apart from the rest—leaving the festival veterans with a sense of nostalgia and sentiment roaming the grounds of Randall's Island.
Music festivals evolve, grow, progress and transform each year, which is what makes major festivals successful. That being said, Electric Zoo could focus more on achieving a greater overall experience for its attendees, such as other popular music festivals of its kind.
Emphasis was placed more on art than in previous years and creativity influenced this year's design. Art installations this year included a plethora of zoo animals, which included a centralized elephant assembled completely out of colorful flowers.
Leaving their mark across the world, Electric Zoo: Transformed streamed live video through Beatport Live's Twitch channel and all weekend long on SiriusXM's Electric Area. In preparation for the 3-day LDW event, Sirius ran an Electric Zoo Radio series, which featured sets from Above & Beyond, Oliver Heldens, Adventure Club, Thomas Jack, Madeon, and more.
Anjunabeats trio Above & Beyond stole the show with their emotional dance ensemble on Saturday—showcasing some new music and tunes from their latest LP, We Are All We Need. The most recent single release from the album, "Fly To New York" featuring Zoe Johnston, which is the official Electric Zoo Transformed 2015 anthem, was played with a new remix (Above & Beyond vs. Jason Ross Club Mix).
The group's Jono and Paavo were on deck to serenade attendees with popular hits "Sticky Fingers" feat. Alex Vargas, "Sun & Moon" feat. Richard Bedford, "We're All We Need" feat. Zoe Johnston, "Thing Called Love" feat. Richard Bedford, and, of course, a group button-pushing session during "Blue Sky Action."
While Electric Zoo made some positive transformations, some of the transformations made by the major music fest over the past few years—including EZ Bucks conversion rates and no cash being accepted onsite—have been less than ideal for its patrons.
Stage designs at Electric Zoo: Transformed saw a vast improvement from last year's festival, but aside from the updated Riverside, there are still vast improvements needed. The 2013 edition of EZOO presented the most innovative stage designs and festival grounds.
Hilltop Arena, which was presented by MasterCard, was a completely encapsulated tent this year, causing intolerable temperatures inside of the structure. While the lineup in the arena this year consisted of talented acts Galantis, Gramatik, Eoto, Keys N Krates, Excision, Headhunterz, Bro Safari, Coone, The Glitch Mob, RAC (live), and GRiZ, among others, past stage designs in previous years proved far more innovative.
Riverside this year was a uniquely designed octopus, which was secluded in the far end of the festival near the west gate and ferry landing. Madeon, Cashmere Cat, Alison Wonderland, Destructo, and Mija took to the construct on Friday. Saturday was a trance-filled day at Riverside with Ferry Corsten, Markus Schulz, Orjan Nilsen, Simon Patterson, Solarstone, Arctic Moon, and Ferry Tayle. On Sunday, the dancing animals were serenaded by Thomas Jack Presents Riverside with Robin Schulz, Claptone, Sam Feldt, SNBRN, and more.
Sunday School made its grand return to Randall's Island for its seventh consecutive year. Techno and house music at its finest were provided by some of the biggest names in the underground scene, which included the US debut of the popular Netherlands-based Awakenings on Friday and Saturday.
Across the first two days, Sunday School welcomes Awakenings included acts such as Adam Beyer, Get Real: Green Velvet & Claude VonStroke, The Martinez Brothers, Paco Osuna, Alan Fitzpatrick, Carlo Lio, Marco Bailey, Kölsch, and more. On Sunday, the Sunday School Grove was transformed into an All Gone Pete Tong extravaganza with sets from Tong, Hot Since 82, Patrick Topping, Amine Edge & DANCE, and Jonas Rathsman.
The newly added Treehouse showcased local talent, which was a first for EZOO. Seeing as though the Big Apple is home to hundreds of local DJs, it was refreshing to have some rising acts and underground sounds at this year's three-day Zoo.
Song of the Zoo: Calvin Harris & Disciples "How Deep Is Your Love"
This is the first year since 2012 that Electric Zoo successfully completed its fully scheduled three days—and that alone, seems to be enough of a transformation for thousands of the tween ravers who flocked to Randall's Island this Labor Day Weekend.
There's something about Electric Zoo that draws party animals in each year. Whether you're an experienced veteran enthusiast or seeking your first festival experience, New York's electronic music festival has something for everybody.
From New York City staples, like pizza from Valduccis, to unique offerings, such as plant-based food from Chickpea & Olive and fusion cuisine from Calexico and Kimchi Taco Truck, the diverse list of vendors reflects the rich history of the city celebrated as the culinary capital of the world. In additional to savory options, the festival hosts several sweet shops, like Melt Bakery and Waffle de Lys, to satisfy even the most indulgent cravings. A full list of food vendors can be found below.
Just as diverse as the lineup, which was lacking in comparison to years prior, 30+ food vendors were present at EZOO: Transformed. Party animals could choose between ices (Rita's), fresh coconut water, lobster rolls (Luke's Lobster), Pizza (Valduccis), vegetarian options (Chickpea & Olive), and sweets (Melt Bakery, Waffle de Lys), among other options.
One thing to keep in mind when purchasing anything at Electric Zoo: no cash is accepted anywhere except for the top-up stations to reload EZ BUCKS onto your wristband. Not only is this rising festival trend less convenient than carrying cash, the conversion rates ($20 = 9 EZ BUCKS) make patrons feel as though they're spending less when they're realistically spending more.
Festival sponsors this year included T-Mobile, Smirnoff, MasterCard, Vitaminwater, Coors Light, and more.
T-Mobile's main stage VIP viewing deck displayed "#MUSICFREEDOM," which lit up across the two-tiered platform for VIP attendees. Those who purchased VIP ferry boat transportation passes—and happened to be heading over to Randall's Island the same time as iconic British trio Above & Beyond—were serenated by an exclusive boat ride set from the Anjunabeats titans.
MasterCard cardholders were able to show their credit card at the Hilltop Arena to receive two VIP viewing deck wristbands.
Vitaminwater—who gave away free beverages at EZOO—hosted the newly added vitaminwater Treehouse stage this year, which hosted local NYC talent.
From the misty machines spraying the crowds at the main stage, to free water re-fill and hydration stations, Electric Zoo did take precautionary measures with regards to keeping its patrons hydrated.
No parking on Randall's Island makes attending fairly difficult for those planning on driving to the event—or those who may not want to spend 2.5 hours each way commuting to a music festival (for 3 days!).
This year's Transformation proved to be more successful than last year's Electric Zoo, but only with some more fine-tuning will the festival be able to live up to its fullest potential. While the production value exhibited signs of improvement from last year's Zoo, it was not up to par with the 2013 edition of festival, which featured two main stages and larger tents/stages with more creative designs.
Making strides in the right direction this year, some improvements were made towards improving the quality of the experience offered by Electric Zoo, but in terms of its report card, although its Transformed edition was satisfactory, Electric Zoo still needs improvement.
Electric Zoo offered attendees 3-day, single day, VIP, and Platinum ticket selections, which all offered payment plan options. Check this space for information about Electric Zoo 2016.
For more information on Electric Zoo, visit electriczoofestival.com.
Photos courtesy of Electric Zoo Festival.