EDX Kicks Off Summer '18 And Continues Sensational Live Performances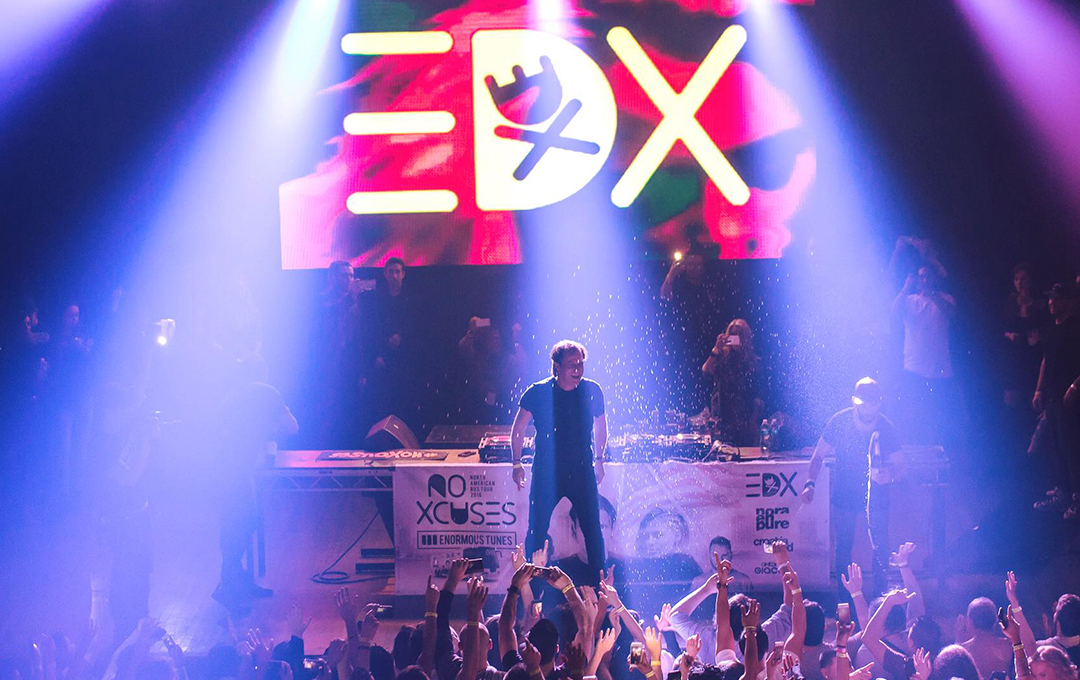 As the summer music festivities commence, we caught EDX's show last weekend at Shephard's Tiki Beach in Clearwater, Florida and WOW was it the ideal kick-off to Summer 2018.
Swiss powerhouse Maurizio Colella, also known by his stage name EDX, has seen and done it all when it comes to touring and live performances. With upwards of 130 shows last year alone, spread across dozens of countries on nearly all continents of the world, what is it that keeps fans coming back for more? After decades of practice, Colella has fine-tuned his sets in such a way that delivers a welcoming and sensational experience each and every time, set to live in your memory well beyond the night's end.
One of the first performances of the Beach House Sundays series, EDX's return to the beach definitely set the tone for a Summer of epic proportions. Shephard's is both a local staple for Floridian weekend hangouts and a dance-lovers paradise as it hosts some of the industry's most beloved names each Summer. The first few weeks of the sequence included sets from TroyBoi, Lost Frequencies, Bassjackers, Nora En Pure, and Max Vangeli. Following EDX and Croatia Squad's show will be another slew of upcoming showcases including Matoma, Carnage, Lost Kings, Morgan Page, Roger Sanchez, Keys n Krates, and Krewella.
Croatia Squad kicked off the Sunday evening, spreading the Summer vibes straight from the booth, to the back of the crowd, and extending across both sides over the beach. Nothing like being able to casually jam out while sipping a Corona (or a Shephard's classic rum bucket) and gazing across Tampa Bay as boats and jetskis pull up beside you on the shore.
Entering stage at 8:30 PM, Colella put on a beautiful two-hour set of straight bliss. The beach vibes were ever present throughout not only his set but the entire sunshine-filled day. The set incorporated numerous reworks of dance favorites like Calvin Harris' sexy "How Deep Is Your Love" and anthemic "Feel So Close," Corona's "Rhythm of the Night," and Whitney Houston's "I Wanna Dance With Somebody," and of course his recently released Dubai Skyline Remix of Janelle Monae's "Make Me Feel." The rowdy crowd went nuts when a shower of dollar bills rained over them, and also later on when Croatia Squad joined Colella on stage to blast Empire of the Sun's "Alive." Amidst his own tunes, Colella also showed some love to his friends Axwell and Sebastian Ingrosso in light of their recent Swedish House Mafia reunion alongside Steve Angello during Ultra Miami with hits like "Reload" and "Dreamer." These definitely caught the crowd buzzing as many in attendance were also present for the historic Ultra 20 moment.
Delivering outstanding live performances time after time, EDX boasts shows that are bursting at the seams with excitement and fun. Whether it be Shepard's day club or an intimate nightclub across the world, you can most definitely expect an unforgettable time if EDX is playing. Last week's show had no shortage of beach balls bouncing overhead, neon-flashing glow sticks for all, and smoky haze surrounding the crowd. Colella is always sure to bring friends along and have a good time with his fans, which is one of the reasons he is so lovable. As an onlooker, you can see the love for his supporters continually expressed on his face as he is up there holding down the fort and hosting a special night for everyone.
With an extensive history of producing and performing live, EDX consistently outputs some of the world's best house music. An icon with over 25 years of music under his belt, Colella has formed a truly infectious way of touching you with his melodic tracks. His rhythmic style circulates flawlessly throughout each and every tune, coursing through your body and giving you that overall feel-good mood. Talk about music that makes you want to dance – EDX has a way of permeating your soul and taking control of your moves on the dancefloor. It's that hands in the air, sunglasses on, drink in hand type of music that is exactly the right fit for both a beachy Sunday and a sexy nightclub.