Disclosure Wild Life at Daylight Beach Club at Mandalay Bay Las Vegas on Sat., May 28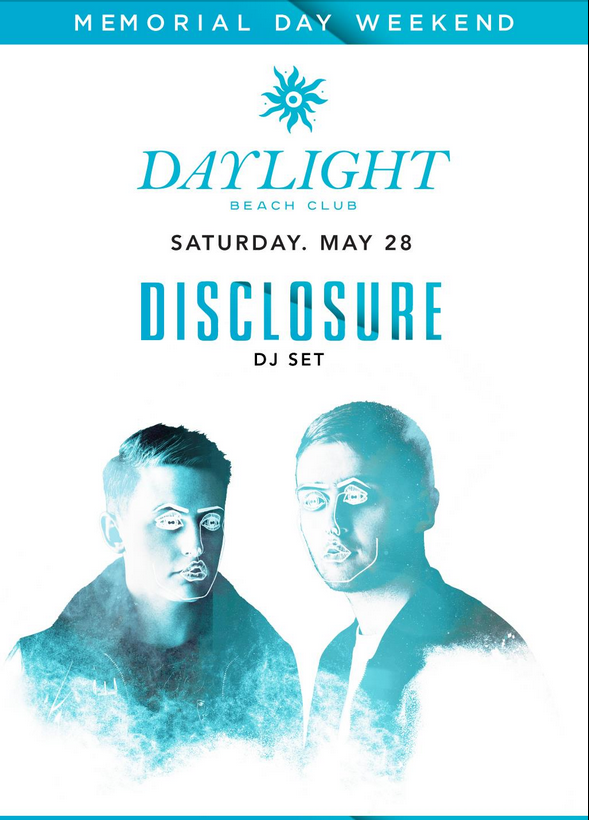 Disclosure Wild Life to crank up the heat in Las Vegas during Memorial Day Weekend
Disclosure Wild Life at Daylight Beach Club at Mandalay Bay is a necessary stop during MDW 2016 in Las Vegas. On Saturday, May 28, 2016, brothers Guy and Howard Lawrence—better known to electronic dance music (EDM) enthusiasts as Disclosure—will bring their famed Wild Life series to Las Vegas for a daytime showcase during one of the biggest party weekends of the year.
Providing patrons with a DJ set at Daylight, attendees can anticipate hearing some of their favorite Disclosure productions and remixes along with some current dance floor favorites as selected by the tastemakers. Both of Disclosure's studio albums, Settle (2013) and Caracal (2015), yielded mass critical acclaim and included the popular singles: "Latch" feat. Sam Smith; "White Noise" feat. AlunaGeorge; "You & Me" feat. Eliza Doolittle; "Help Me Lose My Mind" feat. London Grammar; "F for You;" "Holding On" feat. Gregory Porter; "Nocturnal" feat. The Weeknd; and "Jaded," among others.
Experiencing a breakout into the mainstream over the last year, Disclosure brought a sold-out show to Madison Square Garden in New York in October 2015 and appeared on the 41st season of NBC's Saturday Night Live in November, where they performed with Sam Smith ("Omen") and Lorde ("Magnets") as the musical guest.
Tickets for Disclosure Wild Life at Daylight Beach Club at Mandalay Bay Las Vegas on Sat., May 28, are available HERE.
For more information about Daylight Beach Club at Mandalay Bay and to view the upcoming events, visit their event calendar at http://daylightvegas.com/events. To book a table reservation call 702-632-4700 or email webvip@thelightvegas.com.
For more information on Disclosure, visit disclosureofficial.com.