Deadbeats Goes Off The Deep End Miami: Jauz, Zeds Dead, Ghastly, Mija, Troyboi & More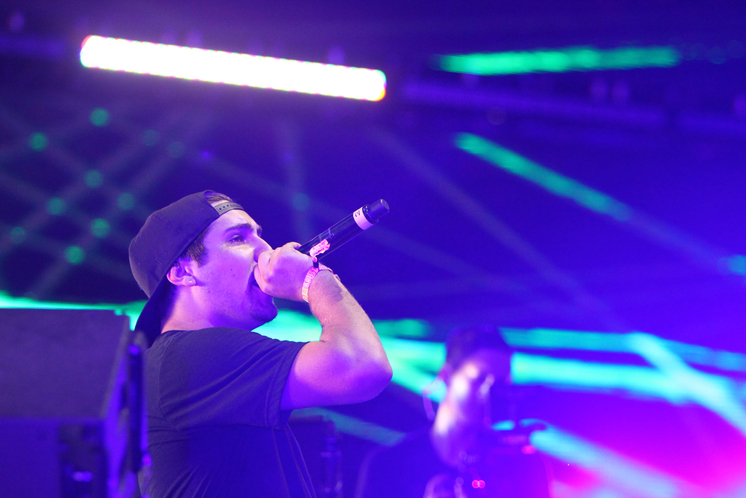 LiveStyle Miami presented: Deadbeats goes Off The Deep End on Thursday March 23 during Miami Music Week. This wild event took place at Soho Studios and featured several epic back-to-back performances, including surprise appearances, from Jauz, Zeds Dead, Mija, Ghastly, NGHTMRE, Troyboi, Herobust and more.
This unbelievable crew turned Soho Studios upside-down with relentless bass, confetti showers, and filthy drops. Fans could hardly catch their breath between the ungodly amounts of heavy bass raging through the venue. The entire front row of the venue headbanging in synchronicity over the front rail is one indication of just how beastly this show truly was.
Classic fan favorites got the warehouse singing and dancing in unison during songs like "Sandstorm," "Don't Stop Believing," and "We Are the Champions." Herobust and Troyboi paused for a minute during their set, asking everyone to bring out their lights and creating a starry indoor sky during Kanye West's "All of the Lights." Jauz classically got the room "womping" to tracks like his own "Rock the Party" and "Feel the Volume."
Raging right through 5 am, the crowd displayed every sign of being there for one reason and one reason only – to go hard. Jumping on and off the tracks with each other, all of the performing artists also made it clear that they came to thrown down.
Guests in the VIP section were treated to free Red Bull cocktails while raging to the side of the stage, able to witness the unbelievable crowd's reactions as well as the squad performances on stage. Buckets of Red Bull were brought out and passed to fans in the crowd. Even security in front of the stage got involved and showed off some fancy dance moves.
Off the Deep End really lived up to its name during Miami Music Week. This was the place to be for anyone looking to let loose and blow off some steam on Thursday night. To be expected from a show by any one of these artists, the shark squad left feeling jazzed up, and probably in need of a neck brace and some serious sleep time. Hands up in the air for this one – it was a real crowd pleaser.
Featured Photo: Luis Santana