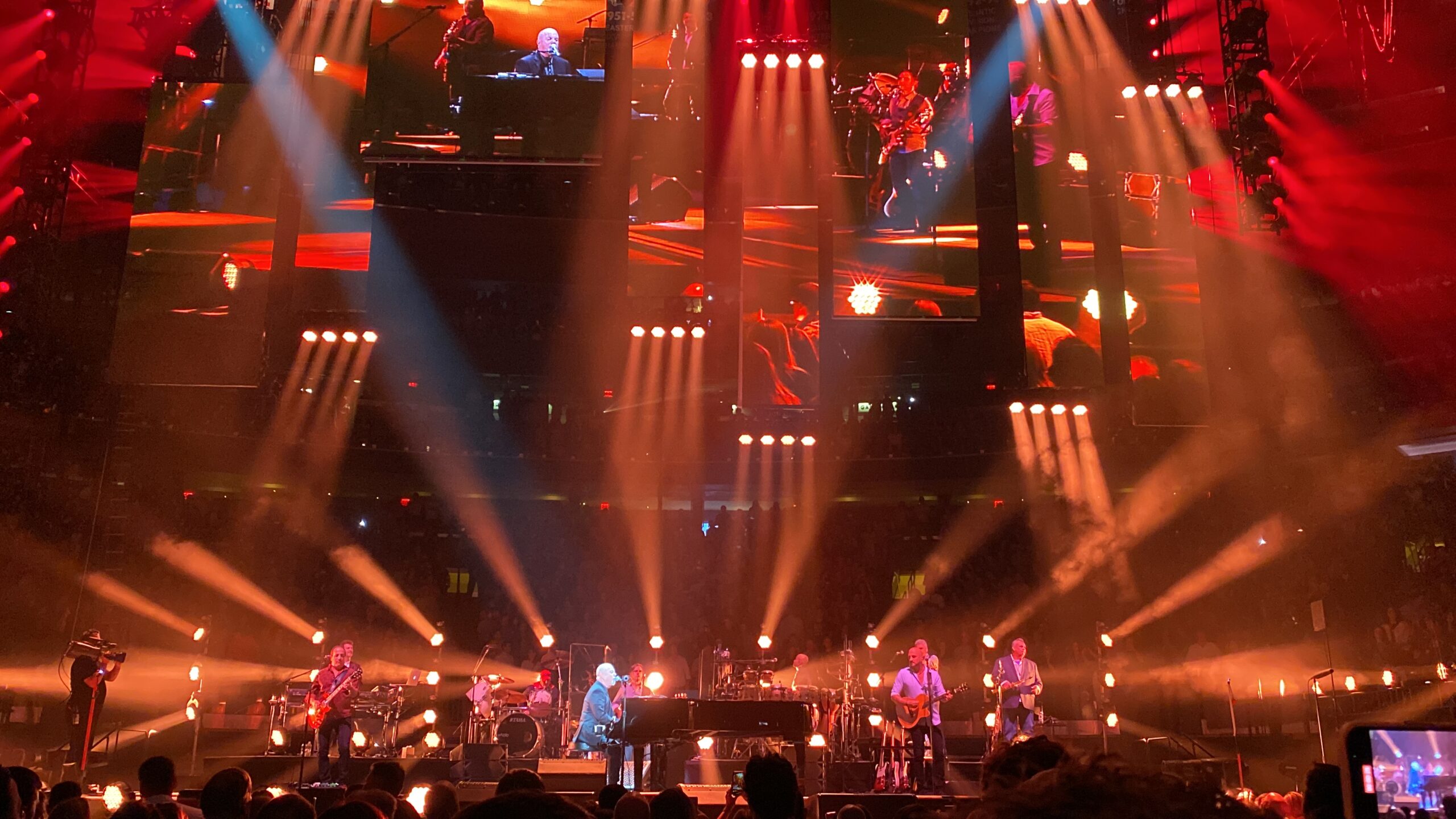 Billy Joel Celebrates 80th Consecutive Show at Madison Square Garden with NY Rangers Veterans
With live events finally taking place again after nearly two years, there was a greater-than-usual buzz in the air this past Friday (June 10, 2022) at Madison Square Garden. Billy Joel performed his milestone 80th residency showcase at The World's Most Famous Arena with nearly two hours of his unforgettable catalog of classic records.
Beginning shortly after 8pm, Billy Joel began the show with "Miami 2017 (Seen the Lights Go Out on Broadway)" — and uproar from the crowd ensued from the very start. The roars of 20,000 attendees at the sold-out event were consistent throughout the nearly two-hour ensemble. Billy proceeded with "I Go To Extremes" and "Just The Way You Are," followed by an unveiling of a commemorative 80th show banner. Revealed along with two veteran New York Rangers, Mike Richter and Adam Graves, fittingly as the Rangers are currently in the NHL Stanley Cup playoffs, the banner unraveled just above the stage for an emotional and memorable moment.
The 26-track set listing continued with hits such as "The Entertainer," "An Innocent Man," "Don't Ask Me Why," and crowd favorite "Vienna." Billy was entertaining, as always, and his crowd interaction truly showcased his effervescent and infectious personality as well as his sense of humor. Joking with the crowd between songs, Joel proceeded with a more recent release, "Modern Woman," into hits "And So It Goes," "Movin' Out (Anthony's Song)," "Allentown," and the up-beat "My Life," which had the entire arena on their feet as they could be heard moving — and caught grooving — along.
"New York State Of Mind" is always a show highlight for Billy Joel, but this is especially the case during his MSG residency shows. One of our personal favorites, "Downeaster Alexa," was up next, followed by "Zanzibar," "Always A Woman," and "Only The Good Die Young," Billy always does a superb job at curating the perfect setlist, incorporating his greatest hits, some lesser known gems, and his personal favorites. Along with his impressive and talented band, Billy Joel has certainly still got it, proving he is indeed the Entertainer, even to this day.
Wrapping up his showcase, Billy performed "River Of Dreams," "Scenes From An Italian Restaurant," and closed with the bone-chilling "Piano Man." After giving thanks to the audience, Joel returned for a five track encore, which had the entire venue rocking above Penn Station until the very last note. Included in his encore for the 80th residency showcase were "We Didn't Start the Fire," "Uptown Girl," "It's Still Rock N' Roll," "Big Shot," and "You May Be Right."
The Nocturnal Times was there to celebrate Billy Joel's 50th consecutive residency performance. This time, we joined the iconic musician to commemorate his 80th residency showcase at MSG — and Joel has performed nearly 140 times at The Garden across the span of his over-six-decade-long career. An unforgettable evening with one of the world's most unforgettable artists of all time.