Beyond Wonderland 2017 Reveals The Endless Sea Theme, New Stage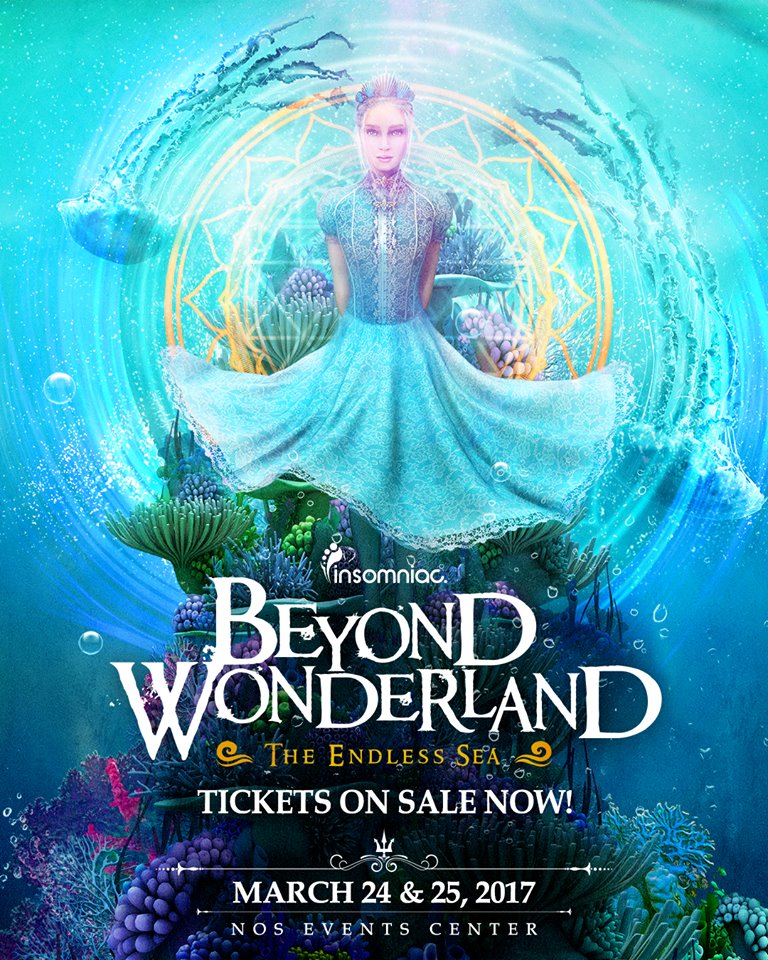 The Insomniac spring festival Beyond Wonderland: The Endless Sea edition has officially released GA and VIP tickets to the public
The ticket sales went live today (Tues, Jan. 10) at 12:00pm PT for the 2017 Beyond Wonderland. The two-day festival will be taking place in its original home of NOS Events Center in San Bernardino, California this Friday, March 24 and Saturday, March 25.
Included on the 2017 Beyond Wonderland lineup, which was announced today (Jan. 24) are Audien, Diplo, GTA, Hardwell, Illenium, Markus Schulz, MK, and Paul van Dyk, among many others.
The 2017 Beyond Wonderland will be coming to you with a bit of a twist. Not abandoning the Alice in Wonderland identity the festival has built itself around, they will be hosting a newly themed festival with Insomniac's The Endless Sea edition. Alice will be making the trip into the mysterious Endless Sea alongside the royal Queen and loyal Fox.
View the full Beyond Wonderland 2017 lineup:

To go along with the new Endless Sea theme there will also be a brand-new stage from the creative minds of Insomniac. To join the five other stages of Beyond Wonderland: Queen's Domain, The Outer Realm, Cheshire Cove, Upside-Down House, and Boombox Art Car, The Aquarium will be the latest piece of production from Insomniac to surface. Surely the team won't fail in making good use of the stage design and adding that extra underwater element for Beyond Wonderland: The Endless Sea.
Insomniac practically wrote the book on proper festivals and will surely be offering their many amenities at this year's Beyond Wonderland. Free water, rolling art cars, top quality dance acts, and newly themed costumed characters are all to be promised at the event. GA tickets start at $149, and VIP are available to those 21+ for $249 with fees. VIP perks do include private dancing areas at the Queen's Domain, The Outer Realm, and Cheshire Cover, charging stations, and kandi-making stations.
View the release trailer below:

Buy your tickets to the seventh installment of Insomniac's Beyond Wonderland HERE.
For more information on Beyond Wonderland: The Endless Sea follow them on Twitter, Facebook, and Instagram.