Axwell /\ Ingrosso Terminal 5 Events Hit NYC on March 17 & 18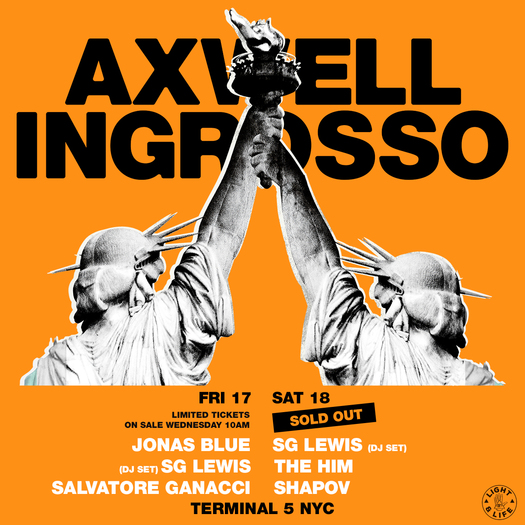 Join Axwell /\ Ingrosso at Terminal 5 in NYC for a long awaited return on Fri., March 17 and Sat., March 18.
As Spring approaches in New York City so does the influx of talented DJs ready to play their first shows of 2017. At the top of the list are international superstars Axwell /\ Ingrosso who just announced a venue switch to Manhattan. On Friday and Saturday, the Swedish duo will make their New York City return by way of Terminal 5. Following its initial announcement, an issue with the original venue couldn't be avoided and the event was moved.
Needing no introduction, Axwell and Sebastian Ingrosso were for a long time known as two thirds of Swedish House Mafia but have since toured the globe together as a musical power house in their own right. Gracing the main stage at festivals around the globe and selling out venue after venue to thousands of adoring fans is just a small piece of what Axwell /\ Ingrosso are known for. The stance that has always held true is their spread of love and positive vibes through music.
In recent years Terminal 5 has become a premier event venue where the NYC faithful have sold out early and often. Terminal 5 is a go to space having already hosted countless A-List DJs including Axwell /\ Ingrosso in the past. Tickets for Axwell /\ Ingrosso at Terminal 5 go on sale Wednesday, March 15th at 10 am. See you on the dance floor!