Awakenings NYC Reveals Full Lineup For Feb. 14 Showcase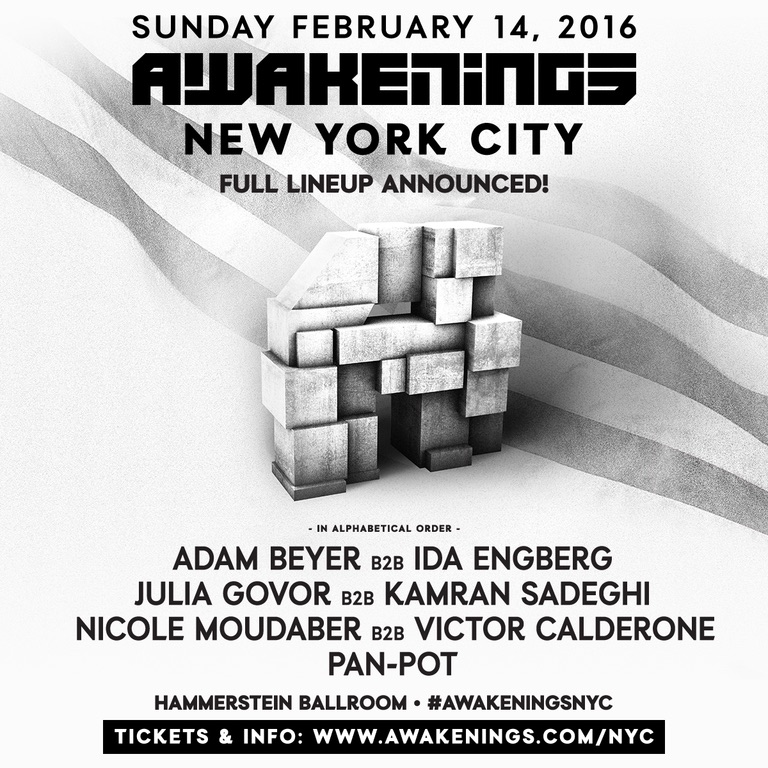 After years of building one of the world's most prestigious brands, AWAKENINGS is set to make the heavily awaited North American stand alone show debut
What started as small-time raves in Amsterdam in the early 1990s, Rocco Veenboer the founder of AWAKENINGS, could never imagine how far his vision and passion would take him. In a time before iconic main stages and firework displays, Veenboer received his own bit of production inspiration on holiday in America. Veenboer attended two Grateful Dead shows, and that's when the idea hit him: Combine the art of stage design and lighting with the musical display of pure techno.
Fast forward 25 years and AWAKENINGS has spread to: four multi-day events, six different locations, and three separate continents, for a total of 13 days of AWAKENINGS events already scheduled for 2016. This February the 14th the wait is finally over and Americans get to experience AWAKENINGS on its home turf. New York City was chosen to host the spectacle, providing the perfect setting to bring AWAKENINGS in. The city that never sleeps and home to the current Techno mecca of the country, you can count on NYC to represent well for its first headline American interaction with AWAKENINGS.
The weekend itself has many reasons to cause for celebration. The day of the event happens to fall on Valentine's Day, prompting even more feels for the special date. It sets up for a memorable night between couples, or a chance at starting something new with a completely original first date. The weekend also doesn't end the night of the event, as the following Monday is Presidents Day, a federally nationally recognized holiday. You know attendees will be taking full advantage of an extra day to recover before resuming "normal" daily life later in the week (as if there would be any type of restraint involved as is).
With a premier event of this scale, you need a venue to be just as grandiose. The Hammerstein Ballroom will be home to AWAKENINGS first run in America. What started off as an opera house in 1906, the venue has built a reputation over the last century hosting big name acts throughout the decades. Swedish House Mafia was a recent visitor, performing in 2013 just before the icons went their separate ways. The massive size of the venue with their 75ft high ceilings, makes for an articulated acoustic sound. It also gives Veenboer the perfect canvas to layout an awe-inspiring techno wonderland, which will have attendees feeling they're in a Berlin after hours soirée.
If it carries the AWAKENINGS title, you know that the world's highest caliber artists will be at the event. The full lineup has been released, and it's everything you could want for a flagship show. AWAKENINGS will jam-pack seven of the industry's leading artists into one night. The iconic Adam Beyer will be playing a B2B set alongside Ida Engberg, a tandem act that has put on unforgettable sets in the past couple years. Julia Govor, former military band performer, will also be doing a B2B set with Kamran Sadeghias. And in a real homecoming performance Victor Calderone is also slated for a B2B performance with Nicole Moudaber. Pan-Pot will be the only artist of the night to take on the decks solo.
AWAKENINGS has time, place, setting, and talent all locked down for their very first ever stand-alone headlining act in the U.S.  There won't be any other event like this for some time, even in the hub of the fast paced New York City. In particular such an event as AWAKENINGS will show Manhattan a party like never before, going to the early hours of the morning expecting to shut down at 6am.
Make sure to be a part of the historical dance music event, and buy your tickets HERE.