What It's Like Being Audien [Interview]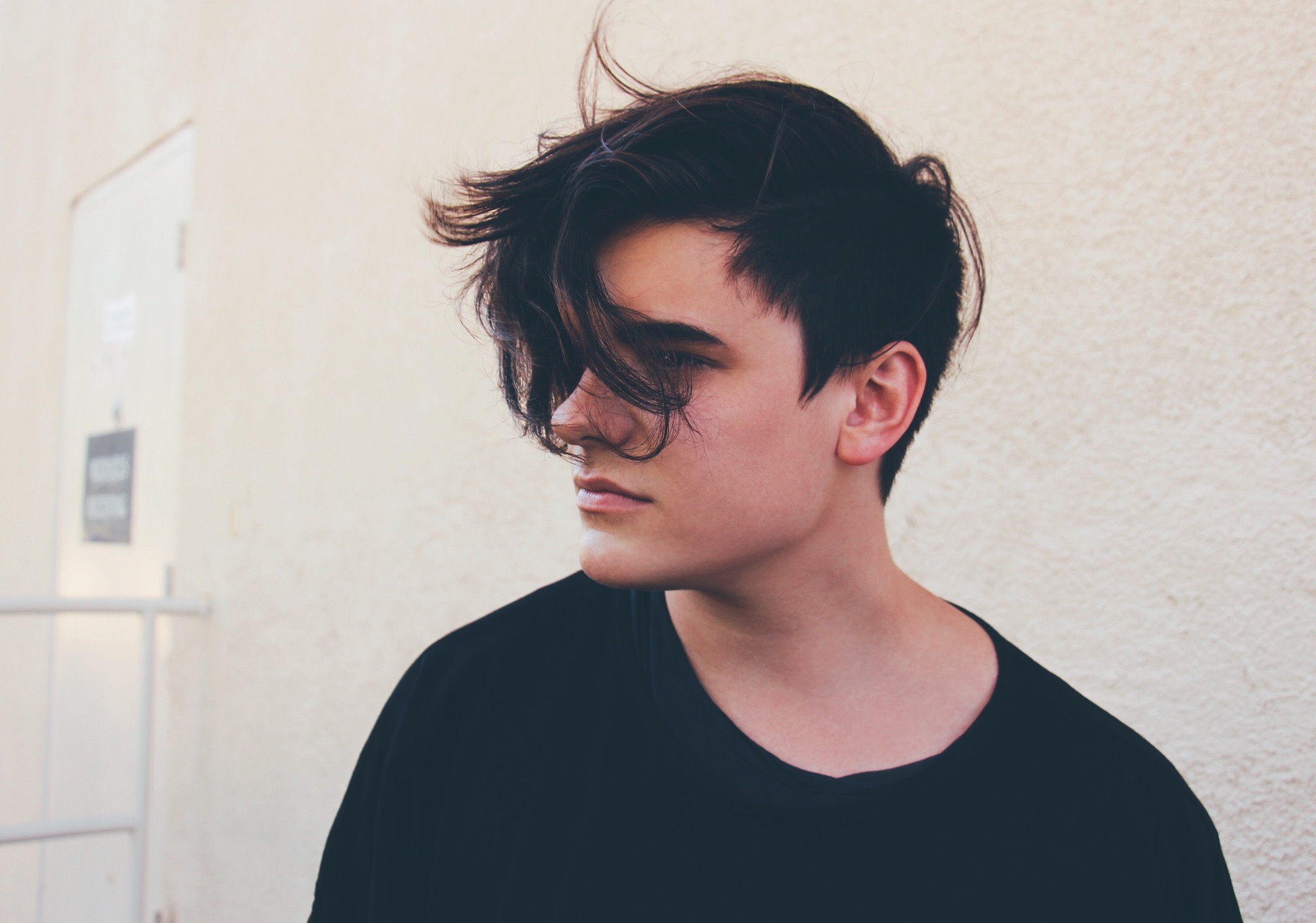 Audien—DJ, producer, remixer, musician and artist extraordinaire—reveals what it's like growing up an electronic music fan to partaking in major collaborations and playing some of the world's biggest music festivals.
Recalling his days growing up in the small town of Mystic, Connecticut, Nathaniel Rathbun has been surrounded by music for as long as he can remember. With both parents as music fans, and his mother working in radio, he remembers playing video games and having interest in their soundtracks. The Audien then, however, wasn't like the Audien that we're used to hearing today. Nate fills us in on his early days of making music, which he describes as "incredibly uptempo and happy hardcore."
Even though Connecticut isn't too far from New York City—one of the most renowned cities for nightlife in the world—Audien recalls the scene in his area growing up—or lack there of. When he first started DJing, he would attend illegal warehouse parties in Providence, Rhode Island, just so he could get a taste of electronic music, somehow. The passion continued to grow as did his expertise—and now you can find Audien playing DJ sets at some of the biggest music festivals in the world. To him, there's still nothing more gratifying about his profession than when he completes a new song. Watching the crowd react to a track he's completed and become familiar with it—in his eyes, there's nothing better.
Those familiar with electronic music have likely experienced—or at least heard of—the Electric Daisy Carnival. The annual Insomniac festival just concluded its 21st edition with a 3-day event at the Las Vegas Motor Speedway. This year, Audien provided carnival-goers with a set at the circuitGROUNDS. Together, Audien b2b 3LAU took on North America's largest dance music festival. Describing EDC Las Vegas as "as good as it gets," Audien had nothing but great things to say about the production, attention to detail, and dedication to experience at EDC, also noting that the circuitGROUNDS received major upgrades over the last several years. Having a chance to perform alongside his friend, fellow DJ, and Las Vegas native, Justin Blau, better known as 3LAU, he reveals that he and Justin both enjoyed the collaborative process as something different for their fans.
The timing of the b2b set with 3LAU was nearly impeccable, seeing as though the pair just released their "Hot Water" collaboration feat. Victoria Zaro last month. "Hot Water" immediately made its way to our Top Electronic Tracks of 2017, but Nate tells us that he had been working on several early versions of the track before showing it to Justin (3LAU). After a few sessions and finally bringing in Victoria Zaro on vocals, the final project was complete and the "Hot Water" was released through Astralwerks.
He got his start with his 2009 single "Rise & Shine," which was released through Ferry Corsten's Flashover Recordings imprint. During the following year, Audien released tracks on Enhanced Progressive and other electronic labels. From Spinnin' Records to Anjunabeats, Armada Music to Astralwerks, and Air Up There to Black Hole Recordings, Audien accredited discography reads tracks like "Wayfarer," "Circles" feat. Ruby Prophet, and his 2015 radio-smash with Lady Antebellum, "Something Better."
In recent years, Audein was called upon for remixes by Michael Jackson ("Slave To The Rhythm"), Bruno Mars ("Treasure"), Armin van Buuren ("This Is What It Feels Like" feat. Trevor Guthrie), Bastille ("Pompeii"), Nick Jonas ("Chains"), Van Halen ("Jump"), Coldplay ("Adventure Of A Lifetime"), and Halsey ("Colors"). In his earlier years of remixing and producing, Audien remixed the likes of Arty, Aly & FIla, Ben Nicky, and Alpha 9.
Later this summer, Audien makes his return to Electric Zoo Festival. The New York City festival is celebrating its ninth edition with Electric Zoo: The 6th Boro on Randall's Island this Labor Day Weekend. Fans can catch Audien on Saturday, September 2 at the Electric Zoo main stage.
The Nocturnal Times Exclusive Q&A Interview: Audien
The Nocturnal Times: How and when did you first begin exploring music? Did you know from the very beginning that you wanted to produce electronic music?
Audien: I've been surrounded by music since day one – my mom worked in radio and both of my parents were music fans. I really arrived at electronic music through playing video games and becoming interested in the original music and soundtracks within them. The first type of music I produced was incredibly uptempo happy hardcore.
The Nocturnal Times: Growing up in Connecticut, what was the dance music scene like for you? Do you recall some of your very first nights out?
Audien: The dance music scene, or honestly all scenes, were pretty dead where I grew up. I'd have to travel to illegal warehouse parties in Providence, Rhode Island to get a taste of live electronic music. That's also where I first started DJing.
The Nocturnal Times: We're fresh off EDC Las Vegas, North America's largest electronic music festival. Looking back now, what are some of the highlights from your experience playing b2b with 3LAU Under the Electric Sky this year?
Audien: Well EDC is as good as it gets. The production, the attention to detail, the dedication to the experience are all next-level. This year we played circuitGROUNDS, which got an amazing upgrade since the last time I saw it. I think above all, Justin and I enjoyed the collaborative process and offering something a little bit different for our fans. It was obviously an incredible launching platform for our single as well.
The Nocturnal Times: You recently joined forces for the release of "Hot Water" with 3LAU. How did this come together and what does this track mean to you?
Audien: Well, I had been working on a few early versions of "Hot Water" when I first showed it to Justin. We were hanging out at his place in Vegas and just sharing stuff we were working on. We identified Hot Water as something we could turn into a collab, and started sending new ideas back and forth. Eventually, Victoria came in and nailed the vocals.
The Nocturnal Times: What can you share with us about the process behind creating "Hot Water?" Was this collaboration different from your usual production routine or style?
Audien: On any collab you have to be willing to compromise and let some of the other artist's ideas shine through, I'm not so sure that's easy for any producer, haha. Justin and I addressed this early on by deciding we would do something different than either of us had done before. By charting new sonic territory I think we both felt equally excited and uneasy.
The Nocturnal Times: Your collaboration with MAX, "One More Weekend," was recently released via Astralwerks. How did this come together and how was your experience creating the track with MAX?
Audien: MAX is an incredibly talented dude. "One More Weekend" was a track I wrote with an awesome production trio called Captain Cuts. When I met MAX he was interested in doing something together and I thought he would sound great on it. But, he took a step further and not only quickly delivered a perfect vocal but he also wrote a great bridge for the record as well. He was a pleasure to work with.
The Nocturnal Times: Have you been playing "One More Weekend" in your sets lately? Are there any plans to release any remixes or remix the track yourself?
Audien: There are a few remixes on the way, including one really cool one that was just released by the artist, It's Different (listen below).
The Nocturnal Times: What are some things that excite you most about your profession? What are some of the lesser known pitfalls to what you do?
Audien: Great question. The most exciting things are by far finishing a new song, and playing it back for the first time, and then watching live audiences react to it as they become increasingly familiar with it. The pitfalls are plentiful. DJ life can be lonely, and the business is not always artist-friendly. I think most artists would agree that the intersection of art and commerce is a very complex thing – sometimes your business and creative interests don't always align and that can be trying.
The Nocturnal Times: What would you be doing at this very moment if you weren't an internationally acclaimed DJ/producer?
Audien: I'd probably want to be doing something in real-estate – maybe flipping houses.
The Nocturnal Times: You're playing at Electric Zoo in New York this Labor Day Weekend. You've played in year's past on Randall's Island before, so what are some of your fondest EZOO memories?
Audien: I love EZOO! A couple of years ago I arrived at the festival about five minutes before the skies opened up and cancelled the event. Fortunately the car that transported us to the festival hadn't left to make the next run yet, and my team and I got right back in and bounced back to the hotel. A ton of others got stranded in a flash flood. Weather aside, though EZOO gave me my first main stage look, and the crowd is always so great.
The Nocturnal Times: With nearly a decade of experience in the industry, producing and DJing, what are some of the biggest lessons you've learned over the course of your career?
I think the key to this thing is to find what it is that makes you unique, and then when you get bored of it, don't be afraid to experiment and push yourself further.