Armin van Buuren Enters Summer with "Therapy" & 'A State Of Trance 2018' Mix Album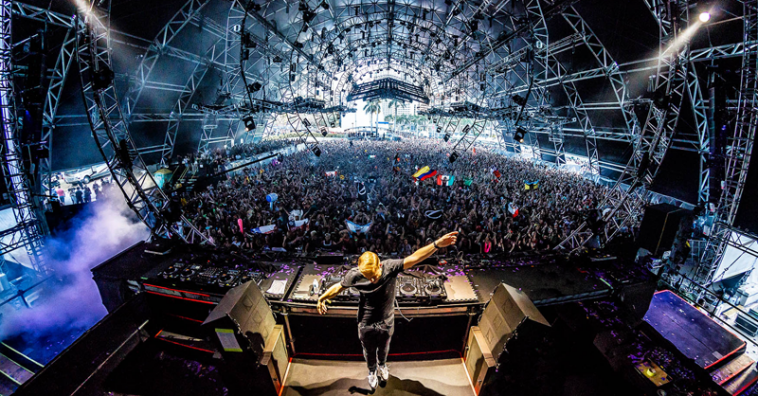 We're now a few weeks post Trance King Armin van Buuren's recent single "Therapy," and the world's reaction has been nothing but great vibes all around on this summer hit. The five-time #1 DJ in the world nailed this collaboration with global star James Newman, and can absolutely add this to his ever-electrifying repertoire of dance anthems.
As far as "Therapy's" tuneage goes, just one play of this track is bound to get you hooked. With the summer jam on repeat, every play gets better and better as its silky vocals, relatable lyrics and soulful chords mesh together to create a truly irresistible song. "Therapy" is almost like the cherry on top of Armin's recent singles that have shown off a fresh side to his creative genius. Following hit tracks like "I Need You," "Sunny Days," and the latest fully funked out "Sex, Love & Water," "Therapy" continues the streak of groove by Armin and his stellar team ups. Fans have caught a glimpse of The King flirting with new styles and sounds, and it only proves that whatever this champion sets his mind to can do no harm in the world of dance. "Therapy" thrives as a reflection of the past but also means so much to Armin's fanbase today, as they've evolved with him and are forever spellbound to his genuine existence in the scene, and his relentless passion for producing finely-tuned euphonic masterpieces.
What some fans may not know is that the music video for "Therapy" is actually a blast from the past for Armin. Telling the whimsical story of his high school crush, whom he at one point fell head over heels for, the romantic video sets the scene for quite the dreamy paradise. Invoking feelings of a heart warming yet simultaneous sexy soul search, the production is an all around stunner. "Therapy" has been nothing but amplified by its truly out of this world music video. Filmed with boundless shots across the beautiful Moroccan city of Marrakesh, "Therapy" glows with golden colors, landscapes and pure elegance.
Though the recent March madness of Ultra has passed, the tunes have stretched far beyond the festival's confines and have manifested into yet another eclectic and heavenly mix: A State Of Trance 2018, an assortment of trance anthems to carry out 2018 on high power and stamina. Each and every year since the first ASOT mix album in 2004, Armin has taken it upon himself to explore the depths of all things trance, and compile the earth shattering tracks into albums that trance fans worldwide hold as their mecca and look forward to with each coming year.
ASOT 2018 has collected an outrageously diverse array of artists, sounds, and melodies, and has been completed in two CDs. CD1 (On The Beach) features artists such as Seven Lions, Estiva, Alex Sonata, Joel Hirsch & HALIENE, Three Dives, GNX, Purple Haze, Armin's own collaboration with Shapov, and many more. Sure to liven up any summer party at the beach or island like Ibiza with nonstop sunshine rays, CD1 has already shaped up to be Summer 2018's go-to album. And you probably guessed it – CD2 completes the set as an In The Club soundtrack. From Simon Patterson, to David Gravell, to Protoculture, to Christina Novelli, to Giuseppe Ottaviani, to DRYM, to Armin's "Popcorn" track vs Alexander Popop, and last but not least Armin's track with Rising Star featuring Fiora for "Just As You Are," the ASOT 2018 In The Club CD is jam packed with riveting bangers to dance the night away to.
Listen to ASOT 2018:
The A State Of Trance compilation series has laid its foundation in Armin van Buuren's sensational A State Of Trance brand. A State Of Trance has extended and advanced into numerous other forms like the ASOT event series, the ASOT Label, and perhaps the most beloved one, the ASOT radio show, hosted by the legend himself. Broadcast every week to an estimated 42 million listeners in more than a hundred different countries around the world, the radio show has proven pivotal in placing Trance music on the map and this amazing mix album cements its position even further.