Armin van Buuren "Embrace (Andrew Rayel Remix)" feat. Eric Vloeimans via Armada Music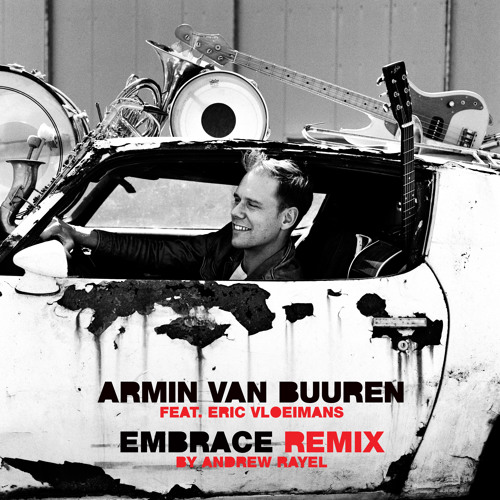 Out now: Andrew Rayel remixes Armin van Buuren's "Embrace" feat. Eric Vloeimans
It may be nearly nine months since the release of Armin van Buuren's latest studio album, Embrace, but that doesn't mean he's stopped cranking out the dance floor destroyers. The title track from van Buuren's latest artist album, "Embrace," has just seen a new official reworking from the classically trained producer and DJ, Andrew Rayel.
"Embrace" is an uplifting and euphorically driven track that has been transformed into an even more melodic yet hard-hitting anthem with Rayel's interpretation. Between Armin, Eric, and now Andrew, "Embrace" is a colliding of three musical geniuses with an end result that boasts qualities from each of the musicians. The trumpet-heavy original "Embrace," which starts off AvB's album of the same name, maintains its signature sounds in the Andrew Rayel remix, which concludes with force and ammunition.
Listen to Armin van Buuren "Embrace (Andrew Rayel Remix)" feat. Eric Vloeimans:

Armin van Buuren "Embrace (Andrew Rayel Remix)" feat. Eric Vloeimans is available HERE.
Andrew Rayel's official remix of "Embrace" has been released alongside a variation of the track from Arty. Later this Summer, fans can catch the Find Your Harmony leader, Andrew Rayel, at the eighth installment of Electric Zoo NY: Wild Island on Randall's Island during Labor Day Weekend. Armin van Buuren has been spending his Summer touring the globe with his Armin Only: Embrace World Tour as well as his annual residencies in Ibiza.
For more information on Armin van Buuren, visit arminvanbuuren.com. Find out more about Andrew Rayel at andrewrayel.com.
Listen to what else is new at Armada Music at armadamusic.com.