A State Of Trance Drops Massive Lineup for 2023 Edition, ASOT REFLEXION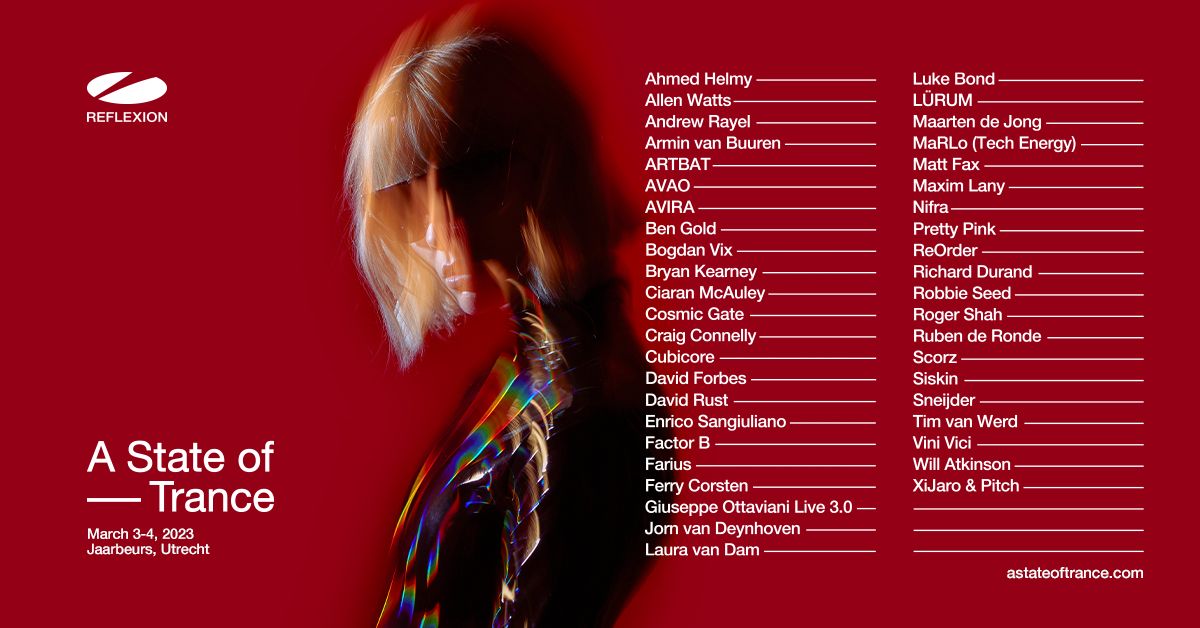 A State Of Trance that has been in the works for years now: the lineup had already been announced for some time, with the forecast of the event first in September 2021 and then in February 2022, both events canceled due to restrictions due to the pandemic: but this time we are here, the event will take place in Utrecht in the Netherlands.
For the event on Friday March 3rd instead, the celebration day of 20 years of A State Of Trance (Technically we are now on 22). To celebrate this joyous occasion, head honcho Armin announced a further stage: in addition to the main stage (called Reflexion Stage), where the Dutch legend will play 6 hours the great trance classics (+ warm up set by Ruben de Ronde), there will be another celebration stage (the Oval Stage) with Allen Watts, Ciaran McAuley, Factor B, Luke Bond, Nifra and ReOrder.
Framing this evening of announcements, Armin van Buuren presented a new team, a new radioshow intro, a new logo and a new layout: but there are many novelties for the event of 3 and 4 March. WE can not wait to see what the new guise of A State Of Trance will bring with it over time. But those 40.000 that are attending this moment in time can surely be sure that this will be joyous occasion to attend.
In alphabetic order, the line-up for the event of March 4th:
Ahmed Helmy, Allen Watts, Andrew Rayel, Armin van Buuren, ARTBAT, AVAO, AVIRA, Ben Gold, Bodgan Vix, Bryan Kearney, Ciaran McAuley, Cosmic Gate, Craig Connelly, Cubicore, David Forbes, David Rust, Enrico San Giuliano, Factor B, Farius, Ferry Corsten, Giuseppe Ottaviani Live 3.0, Jorn van Deynhoven, Laura van Dam, Luke Bond, LURUM, Maarten De Jong, MaRlo (Tech Energy), Matt Fax, Maxim Lany, Nifra, Pretty Pink, ReOrder, Richard Durand, Robbie Seed, Roger Shah, Ruben de Ronde, Scorz, Siskin, Sneijder, Tim van Ward, Vini Vici, Will Atkinson, XiJaro & Pitch.