5 Unforgettable Sets from BUKU Music + Art Project 2018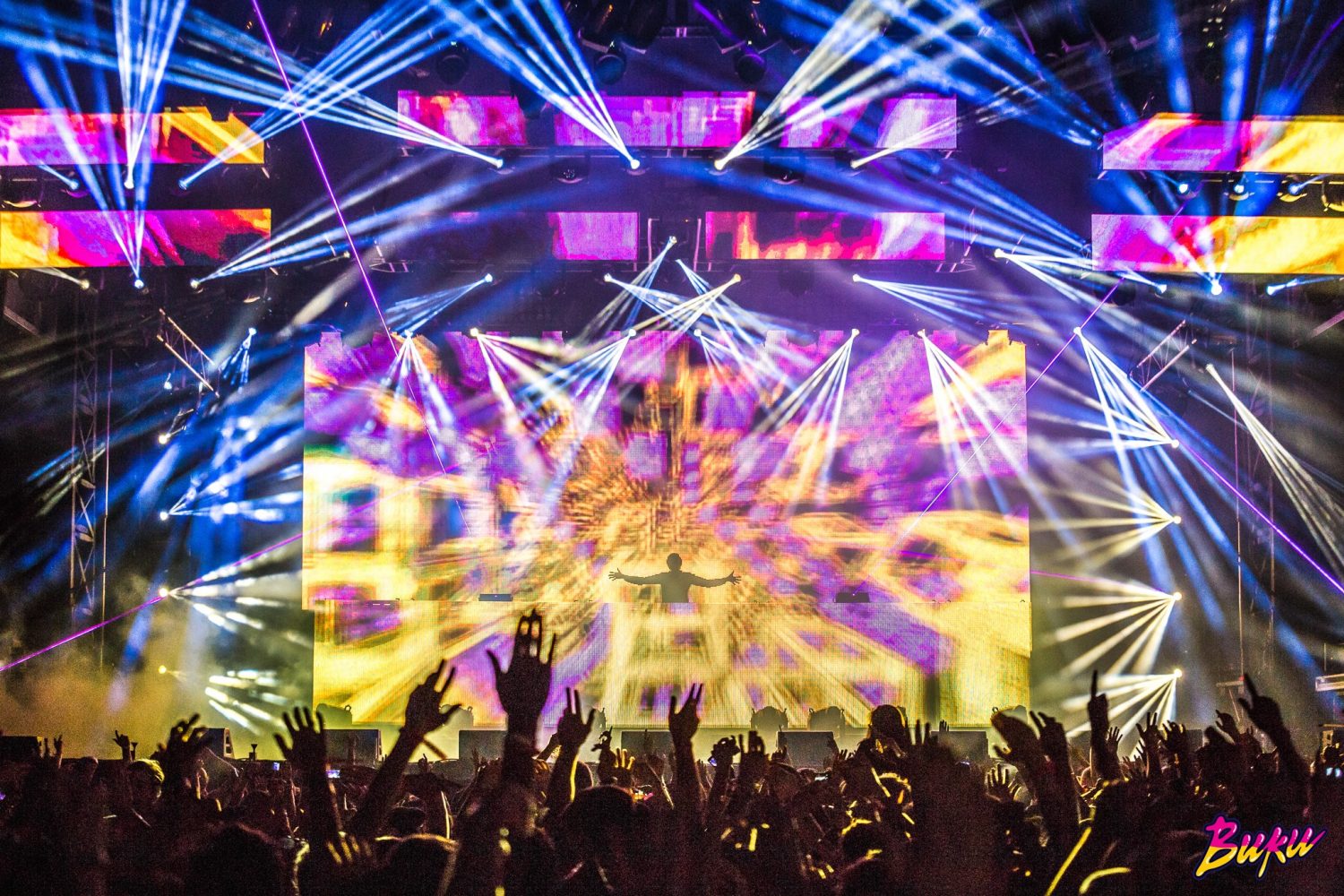 What a weekend it was during 2018's BUKU Music + Art Project! We've done some reflecting and recapped 5 of our most memorable sets from the two-day festival. Of course, there were many more but the following each went above and beyond to bring home a performance that won't soon be forgotten.
Alison Wonderland
Girl-power queen Alison Wonderland took things to a spiritual level Friday evening inside the massive Float Den stage, set prettily beside the Mississippi River and twin bridges of the breathtaking Crescent City Connection. A true artist who drives the crowd through a personal journey with her hauntingly deep lyrics and explosive passion, Alison boasts an ethereal stage presence that beams straight through the crowd with each succumbing track. The crowd surrendered to the Gods that night as everyone bonded on a spiritual level. The set featured her extremely brand-new track "No," released only the day before and of course found on her upcoming Awake release, due on April 6. During this one she took a seat right on the floor, chilling out with her beloved fans belting her heart out. She ultimately rocked the house with "Happy Place" underneath rainbow lasers and flashing visuals, and undoubtedly took everyone to "Church" with her recent spiritual single.
It wouldn't be an AW performance without falling to the floor headbanging, which occurred on numerous occasions, one of which was during her slamming remix of Dua Lipa's "New Rules." Other moments included shaking the teenage hearts of fans with the drop of Paramore's "Misery Business" into RL Grime's "Core" all whilst "U Don't Know" was ringing in the background. Recent hype jam "Plain Jane" made the cut, as well as blaring classics like "I Want U" while screaming partiers waived their "W's" high up in the air. Always wearing her heart on her sleeve, Alison captivates fans worldwide with her irresistibly lovable character and painfully real presence. Broadcasting music and songwriting as her escape to life's hardships, it is no wonder fans feel they can so easily understand her and all that she represents, as was no doubt the case in the Den Friday night. Her neverending interaction with the crowd makes for an unforgettably relatable performance, exuding intensity with every eruptive drop and soulful lyric.
Virtual Self
Taking the night home on Friday was none other than Porter Robinson in his new life form, Virtual Self. He threw down one of the most ridiculously adrenalizing sets of the entire weekend. Closing out Day 1 of BUKU, every inch of space at the Float Den was plastered with fans experiencing Virtual Self's full-on madness. With each song came more intensity, more rolling energetic beats pounding in everyone's bodies and endless bass coursing through veins. Despite about 10 minutes of technical difficulties towards the beginning of the set, Virtual Self made a phenomenal recovery and it was soon to be forgotten. For anyone who knows it, perhaps one of the best moments of the set was Virtual Self's drop into the mesmerizing "Ayla" by Tiesto. A trance fan favorite, this one had jaws dropping to the floor beneath an electric blue and green laser sky. Tiny angelic voices circling around, video-game like elements, and powerful lasers striking the crowd right in the face added to the overwhelmingly mind-blowing sensation ringing throughout.
He also of course incorporated most of the tracks off his self-titled 5-track Virtual Self EP. Soaring everyone in the Float Den to remarkable heights with "Particle Arts," "Ghost Voices," "a.i.ngel (Become God)," and "EON BREAK," Virtual Self took the cake that night – creating a bewildering out-of-body experience. Flashing white strobes and alien-like laser beams formed a cage around his classically simple table set-up to take fans on a futuristic exploration unlike any other. Incorporating a vast array of music styles from drum 'n bass to hardstyle to trance to even old school Dance Dance Revolution-sounding tracks, Virtual Self exceeded expectations with an utterly fascinating live experience and out of this world deliverance.
Illenium
Continually rising powerhouse Illenium rocked a sunset performance on Saturday evening during Day 2. Opening with "Crawl Outta Love," he tore the non-existent roof off the Power Plant as the day quickly progressed into darkness, bringing more vibrant color and giant sounds to life. Right from the start, you knew it was going to be a show to remember – groups all over the white rock-coated ground put arms around each other and belted familiar tunes with both old and new found friends. Fans all across the festival were repping their love hard, sporting their Illenium jerseys all squaded-up across the place. His live Awake performance featured company on stage from Dabin and Said The Sky, aiding in the overall grandiose experience. The overwhelming power blaring out of the speakers was jaw-dropping, especially during that special time of day when you shift from the magic golden hour into the raging dark night.
The set transcended into another dimension with "Tiny Fractures," while an insanely emotional deliverance of "Rush Over Me" took control of the crowd as smoky colors circled overhead. His smash collab "Feel Good" alongside Daya and Gryffin took things a step further, also priming fans for Gryffin's incredible performance to follow. Illenium additionally incorporated a sick live remix of Flume and Tove Lo's "Say It," starting out soft but dropping it super hard following the second chorus. K?D's remix of fan-favorite "It's All On U" took things to unbearably higher heights – the slow-moving emotional lyrics burst straight through your heartstrings and ring on well past the set's end. All-in-all, if you haven't seen Illenium live yet, this was 100% a true representation of the epic-ness he so consistently brings forth to the table. If you weren't there and didn't get your fix, hopefully you caught his DJ set at the Joy Theater after party later on that night.
Gryffin
One of the most unexpected moments of the weekend turned out to be an absolute knockout live performance by Gryffin. Lil Uzi Vert's last-minute cancellation gave the right of way for this skyrocketing artist to step up and take over the Power Plant for a full hour of straight vibes, energy, and zest. Originally scheduled to play later in the evening at the Wharf, his night took an unforeseen turn for the better during his first show in NOLA. From his classic soul-filled tracks like "Whole Heart" and his remix of Years & Years "Desire" to his team up with Illenium and Daya for "Feel Good," Gryffin did an incredible job incorporating his own style with guitar and a slew of other artist's songs and sounds. He brought out Said The Sky on drums, and seamlessly spent his performance transitioning from the keys, to guitar, to his decks, and back again. What an incredible live experience – if you have the chance to catch Gryffin live, DON'T MISS OUT.
The young sensation just got off his North American LIVE tour and has been taking the scene by storm, so it's safe to say seeing this last-minute performance was a no-brainer. Spreading nothing but good vibes, tossed in the mix was Marshmello's "Silence" which obviously had everyone bumping right along to the soulful lyrics. His original hit "Heading Home" was a piercingly emotional few minutes beneath a dark night sky. Only appearing on the scene as his debut track in 2016, it hit #1 on Spotify's Global & U.S. Viral Charts – no wonder it was such a powerful moment. Gryffin's surprise main stage show honestly couldn't have been a more perfect performance. Following the heartfelt heavenly set we can hope for loads more talent to come forth and wholehearted tunes in the future from this musical genius.
REZZ
Rockin' down the Float Den to close out the weekend, REZZ threw down an astonishingly mesmerizing set. Kicking off the party with "Edge," she hit with a bang and almost immediately had fans going so nuts they started scaling the beam structures inside the Den – a surefire sign of utter mayhem. REZZ has a unique way of captivating the crowd with her wildly deafening beats and the incredible booming bass that courses through your entire body. Her classic dark and sinister style took everyone on a trip with favorites like "DRUGS!," "Diluted Brains," and "LIVID." "Fourth Impact," her trippy collaboration with K?D took the night to another dimension to pair right along with the out-of-this-world vibe she puts out. She is able to continually manipulate the masses with "SPACE BOSS" by Liquid Stranger and Space Jesus, one that she regularly circles in her sets because well, after all, she is a Space Mom.
A young and ambitious superstar, REZZ's unparallelled synergy and experimental approach had the house bouncing and circling right along with her brightly glowing eyes. Unleashing the true beast out in everyone, she honestly had the crowd going absolutely ape sh*t. What a way to bring the two-day BUKU extravaganza to a close. The Float Den reached well-beyond capacity as the night came to a raging halt, and all in attendance left with her buzzing tunes ringing in the back of their minds for days to come.
Photos By Spencer Tarbox
Instagram: @spencertarboxfilm