30th Annual International Dance Music Awards Nominees Unveiled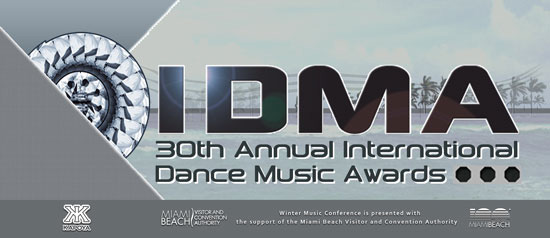 The International Dance Music Awards have unveiled the official nominees for this year's awards; which are set to take place on Thursday, March 26th of the Winter Music Conference in Miami, Florida. The highly anticipated award's show, now celebrating its 30th year, is the longest running awards show dedicated to the dance music industry. To honor the very best in dance music, each year the IDMA's collect over two million votes from music fans in 209 countries. A highlight of Winter Music Conference, the IDMA's connects the legends of the dance music world with up and coming talent in hopes of launching new artists into the industry.
To celebrate the achievements and musical talent of 2014 the IDMA's will honor the very best in dance music with 57 categories of awards. The categories range, from honoring the "best" tracks of different dance music genres, to honoring the "Best Producer," the "Best North American DJ," the "Best European DJ," and "Best Breakthrough DJ." Leading in nominations this year is trance legend, Armin van Buuren, with an extraordinary seven. His weekly radio show, "A State of Trance," is being honored, along with his "A State of Trance" compilation and his own trance releases.
One of the most coveted awards is the "Best Global DJ," which boasts an impressive list of nominees this year including; Armin van Buuren, Calvin Harris, Carl Cox, David Guetta, Hardwell, Martin Garrix, Skrillex, and Tiësto.
The IDMA's also recognizes other aspects of the dance music world and it's culture including; the "Best U.S. Club," "Best Global Club," "Best Music Event," and a range of categories for the "best" DJ products (Software, Controller, Headphones).
The IDMA's truly honors every aspect of the dance music community, its culture, and production. For a complete list of the nominees and a chance to cast your ballot for this year's IDMA's visit, http://www.wintermusicconference.com/events/idmas. Voting will be open until March 2nd.