Wolfgang Gartner at Webster Hall NYC With Gladiator on Sat., March 12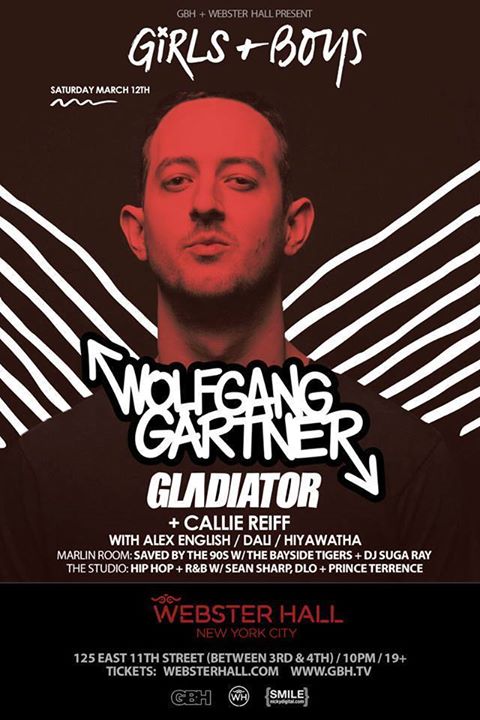 Wolfgang Gartner has announced that he will make his long awaited New York City return with a performance at Webster Hall on Saturday, March 12, 2016. The performance comes following a yearlong hiatus from touring, which signifies the longest career layoff since he began performing in 2003.
After leaving his mark on the electronic dance music (EDM) community before his departure, Gartner's return to the stage would be the shot of originality that today's breed of dance music needs. The GRAMMY-nominated producer released his second LP on Kindergarten Recordings, 10 Ways To Steal Home Plate, five years after the release of his debut album, Weekend in America.
Listen to 10 Ways to Steal Home Plate:

 
It has been over a year since Gartner last electrified a crowd, leaving his fans growing in anxiously in anticipation for his return. So, it's only fitting that he returns to the heart of Manhattan to give the fans what they want… another unforgettable experience.
To make things more interesting, Wolfgang Gartner announced via his Facebook page that he would be focusing more on his music as well as still being able to connect with the crowd. Luckily, he will be performing two special live shows in L.A. and NYC this March to coincide with his latest LP release. The album contains ten tracks, including collaborations with A-Trak, Sirah, Wiley, Trina, J Hart, Bobby Saint, and many others.
Doors open at 10 pm, giving the renowned DJ/producer ample time to prepare for what's sure to be an epic night.
Act fast and purchase your tickets for Wolfgang Gartner at Webster Hall HERE.