Win 2 VIP Tickets for Super8 & Tab at Pacha NYC on Sept. 11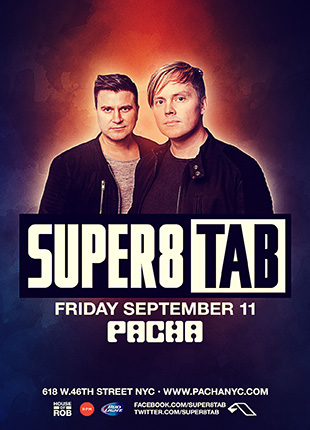 Acclaimed dance music DJ/production duo Super8 & Tab are making their long-awaited New York City return. On Friday, September 11, 2015, join the Finnish trance music act for a highly anticipated DJ set at Pacha NYC.
As no strangers to electronic dance music (EDM), the Anjunabeats duo possesses an extensive repertoire, which includes a slew of original productions, collaborations, and remixes.
The trance duo released their debut Empire album in 2010 with its follow-up Unified in 2014. Both of Super8 & Tab's full-length albums are equipped with familiar tunes and dance anthems. Their popular 7 Skies collaboration, "Rubicon," which rocked DJ sets for months ahead of its official release, was included on their Unified album.
When it comes to original productions and collaborations, Super8 & Tab are responsible for successful single releases such as "Helsinki Scorchin'," "Needs To Feel," "Suru," "Elektra," "Black Is The New Yellow," "All We Have Is Now" feat. Betsie Larkin, "Code Red" with Jaytech, and "Arc" with Tritonal.
Super8 & Tab is also familiar to many for their continuous work alongside vocalists Julie Thompson and Jan Burton. The pair has released "My Enemy," "Your Secrets Safe," "No Frontiers" "Let Go," and "Patience" with Thompson and "Empire," "Mercy," and "Black Is Back," with Burton.
On the remixing frontier, the guys have provided interpretations for Armin van Buuren ("I'll Listen" feat. Ana Criado), Above & Beyond ("Oceanic," "Can't Sleep"), Paul van Dyk ("New York City" feat. Ashley Tomberlin), Gareth Emery ("Citadel"), Markus Schulz ("Perception" feat. Justine Suissa), Kyau & Albert ("Velvet Morning"), Tritonal ("Piercing Quiet" feat. Cristina Soto), and Ferry Corsten ("Made Of Love" feat. Betsie Larkin).
The Nocturnal Times has partnered with Pacha NYC to give away a pair of free VIP tickets for the event. Entry is easy; just follow the simple steps below.
Enter to win two free VIP tickets for Super8 & Tab at Pacha NYC on September 11 from The Nocturnal Times:
a Rafflecopter giveaway

*Contest ends on Thursday, September 10 at 11 p.m. EST
For bottle service and VIP Tables call 212.209.7500. Tickets for Super8 & Tab at Pacha NYC on Friday, September 11, 2015 are available HERE.